Best 10 Samsung Galaxy S6 edge+ cases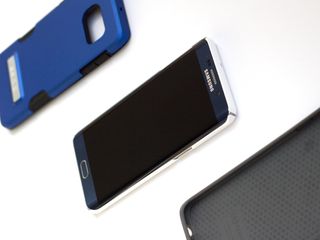 We're rounding up the top ten cases for the Samsung Galaxy S6 edge+. These span the gamut of slim cases, heavy-duty rugged cases, wallet cases, and anything else that will keep your edge+ covered.
As always, we're eager to hear what you're using, too. Leave a link in the comments to your favorite Galaxy S6 edge+ case.
Urban Armor Gear
The Urban Armor Gear case for the Samsung Galaxy S6 edge+ offers tough protection. Extra rubber cushioning around the corners take the brunt of of impact from drops, while a hard plastic backing keeps your phone covered from scratches. Users keep full access to important inputs and buttons, like volume, 3.5 mm audio, USB, and power. You can pick the UAG case up in a grey, silver, and red finish.
Samsung Clear View Cover
The Samsung Clear View Cover offers simple protection for your screen while still letting you take calls without having to open it. The software on your S6 edge+ software recognizes when the cover is closed and continues to display the clock, alarms, and incoming call alerts. Touch input is recognized so you can expand each for a preview. Of course, you also get some coverage around the back, too. Gold, silver, and blue models are available.
Spigen Slim Armor
The Spigen Slim Armor case is a two-layer case with a built-in kickstand. An air cushion around the corners provide a little extra room for the case to collapse slightly when dropped. A raised lip along the top and bottom provide additional clearance for the front of the screen, while leaving the edges open for your usual gestures and functions. The Spigen Slim Armor case is available in gold, grey, teal, and purple.
Ringke Fusion Crystal
If you want to keep showing off the style of your S6 edge+, the Ringke Fusion Crystal is a well-loved clear case. Dedicated plugs protect USB and headphone ports, while you still have passthrough access to the hardware keys. There's also a lanyard loop if you need one. A special coating helps keep scratch marks to a minimum, and minimizes static which usually traps dust between your phone and the case. You can also get a variant model with a dark grey border around the rim.
Speck CandyShell Grip
The Speck CandyShell Grip is a stylish two-tone case with rubber interior and ridged back. Those ridges add a ton of grip, perfect for those that are nervous about occasional slips. Extra padding at the corners is always welcome, helping protect against common drops. There's a generous range of color options available, including black and white, blue and purple, green, and plenty more.
Heavy Duty Supcase
Supcase has an extra-tough case for your Samsung Galaxy S6 edge+ with an integrated screen protector. A belt clip holster comes included for additional flexibility. Rubber plugs cover USB and headphone inputs to protect against dust. From a sheer style perspective, the Supcase looks like it means business. You can get the Heavy Duty Supcase in black, blue/black, green/grey, and white color schemes.
OtterBox Symmetry
The OtterBox Symmetry series is a well-respected lineup of two-layer cases. Hard plastic and rubber sections work together to protect against both scatches and impact. A raised lip around the screen ensures extra security. OtterBox has been doing phone cases for a long time, and they test the heck out of everyone they make. You can rest assured that they're well-made. There are plenty of color options for the Symmetry case, including black, white, pink, and blue.
Verus Layered Dandy Wallet
The Verus Layered Dandy Wallet case lets you store three credits cards and some cash alongside your Samsung Galaxy S6 edge+. A magnetic clasp keeps the front leather flap secure, and a cutout for the earpiece lets you take calls while it's closed. You'll also get all-around protection, even for the corners, but ultimately you're getting a healthy dose of classic style. Black, brown, and red leather options are available.
Incipio DualPro
The Incipio DualPro case is a simple, effective, hybrid case. A soft-touch layer lets you press the hardware keys through the case, while the hard layer provides solid protection against the elements. It's a subtle combination, but one that works quite well if you want something that's no-frills. You can grab the DualPro in pink, grey, and black.
Seidio Dilex Pro
Seidio's Dilex Pro two-piece case for the Samsung Galaxy S6 edge+ has a built-in kickstand. An integrated hard plastic and soft rubber layer ensure your phone stays protected from all angles. The Dilex Pro includes a felt-lined holster clip for storage while on the move. Black, blue, and red colors are all available.
Your favorite case for the Samsung Galaxy S6 edge+?
Those are our picks for the best protection available for the S6 edge+, but sing out in the comments with a link to your favorite cases. We're always on the hunt for more!
Simon has been covering mobile since before the first iPhone came out. After producing news articles, podcasts, review videos, and everything in between, he's now helping industry partners get the word about their latest products. Get in touch with him at simon@futurenet.com.
I've heard they are pretty durable as is, naked. Hail Putrid Pile

Negative Dam It's Feels Good To Be A Google Gangster

You have a source that you aren't just going to Google search? Hail Putrid Pile

Yeah I do actually. Here's what you do. Go outside and stand on the street. Hold your "naked" S6 over your head say Okay Google then fling your naked S6 into the air and let it hit the concrete. Let us all know how things work out, post pictures or a video. I can't wait to watch. Dam It's Feels Good To Be A Google Gangster

Okay so you don't actually have a source... Thanks. Hail Putrid Pile

Aceluceros75 profile pic is of a 300 dollar phone. You couldn't expect him to have any credibility could you? Posted via the Android Central App

I've got a Nexus 6 as well, not sure if you are sane. Hail Putrid Pile

Yeah because it takes a rocket scientist to understand the need for a quality case. Dam It's Feels Good To Be A Google Gangster

Been using my Note 5 without a case since launch, and have zero scratches, dings, etc on the device. The 7000 series aluminum is strong and durable as hell, and the glass has been great as well. Posted via the Android Central App

For my money it's ringkie and spiegon for me thin case for sure Posted via the Android Central App

VOLS WIN!!!!!!!!!! Posted from my Nexus 6/Nexus 7 2013/Surface Pro 3

Nice 4th quarter game you had there. Posted from my Nexus 6/Nexus 7 2013/Surface Pro 3

It was indeed. Not all wins come easy. It's still a win though

I have a Spigen Liquid Crystal case on mine. I'm probably going to get the Otter Box, though. Samsung Galaxy S6 Edge Plus

It has a built-in case that works perfectly fine. I've dropped my Samsung Galaxy S6 Active several times while riding a bike and had no adverse effects. Posted via the Android Central App

Where do you see the word "active"? - I'm the guy at the bar turning the TV with his phone during your favorite sports game. -

They are not talking about the Active. Dam It's Feels Good To Be A Google Gangster

I have a Case Mate clear case on my S6 Edge. It looks good, and works good enough. Posted via the Android Central App

This is the best case for the s6e plus. As thin as you can possible get and very durable and only 10 bucks. https://www.amazon.com/dp/B010R0PL06/ref=cm_sw_r_awd_ayBgwbAT8PN37?tag=h... Posted via the Android Central App

I'm a big fan of the heavy duty Supcase. I have one on my device and its awesome. Dam It's Feels Good To Be A Google Gangster

Is it bulky? +++ Insert witty signature, watch as others not get it, profit +++

Yes very bulky but it's worth it for me because I'm always involved in some kind of activity that could be disastrous to an unprotected device. Dam It's Feels Good To Be A Google Gangster

I just worry about losing the charging but that case caught my eye +++ Insert witty signature, watch as others not get it, profit +++

Exactly. Dam It's Feels Good To Be A Google Gangster

I'm debating back and forth if should give the Edge+ a go. With a case on, my phone looks like every other Samsung phone that has ever been released. The Edge+ is a whole new ball game. Posted via Note 5/AC App...

It's an absolutely stunning phone. Perhaps the most striking ever created. Posted via the Android Central App

No kidding. I enjoy it allot. But the Nexus 6 gets more use, but that's due to consistent performance, unlike the S6edge+ Hail Putrid Pile

After about a week with the n6, I can now make the informed claim that it is way over hyped. Now I admit, I'm not the most tech savvy, as many people here are, but I know what works, what is gimmicky, what is important, what is broken, etc. I find the mx2 to be a way more pleasurable device to use. I say that specifically because that's the phone I chose over the n6 People tend to stick to their guns, I get it, but it's a near impossible objective argument to make that Samsung didn't make the best phones in 2015. My $.02

You didn't mention the Samsung concert that only covers the corners and the back of the phone. I absolutely love it!

Blue Otterbex symmetry on mines...love it Posted via the Android Central App

Try this I-blason case. Excellent!
https://www.androidcentral.com/e?link=https%3A%2F%2Fwww.shareasale.com%2...

The Samsung Galaxy S6 Edge+ is arguably the most beautiful phone available to date. A lot of these cases turn the phone into something garish and fugly. I understand people wanting to protect it but I am all for something very discreet. Samsung's own selection of cases at least go some way to keeping up it's appearance.

I am still confused. I couldn't get a Note 5 in the UK. I wouldn't fancy holding a naked S6E+.
Do the edges work/display in any of these. Can you swipe them.
Is it then just a Note 5 without the pen.

I have a Kate Spade case. It has kept the integrity of the phone and judging by the amount of times I've dropped it while juggling a latte, it's pretty protective too. No dings, scratches or cracks (she knocks on wood-like substance).

Do not buy the Samsung Clearview cover!! Apparently the plastic used is stronger than the gorilla glas. Your phone will be covered in scratches in no time

Spigen cases are better than all of these listed in the article. Several to choose from on amazon. Posted via the Android Central App

Spigen lost my business when they wouldn't stand by their warranty. +++ Insert witty signature, watch as others not get it, profit +++

I am using the Spigen Neo Hybrid case for mine and it is the best case I have personally owned. Posted via the Android Central App

I have a Neo Hybrid Carbon case inbound for my S6E+. Good to hear you like your Neo Hybrid. Posted via my Galaxy Tab S 8.4" running IronROM v2.x

How slim is the Spigen Neo Hybrid? Would you say you're a person who is more concerned about protection of a case of our preservation of sleekness?

I hear that on a scale of 1 to 10 the UAG case is a GO! Posted via the Android Central App

The best case is the Obliq. You can get is in Clear to preserve the pure beauty of the phone and it also has a kickstand and it has lips to protect against a drop, plus I also added a layer of tempered glass over the screen. I am really surprised that it did not make this list !! http://www.amazon.com/gp/product/B012HM5620?dpID=51rIb8ccvNL&dpSrc=sims&...

I bought the otter box symmetry the day i bought my phone... its alright protects the phone fone isnt to bulky but feels so cheap im actually looking for a diferent one the feels more premium... any suggestions
Android Central Newsletter
Get the best of Android Central in in your inbox, every day!
Thank you for signing up to Android Central. You will receive a verification email shortly.
There was a problem. Please refresh the page and try again.