Barnes & Noble readying themselves for new Nook Color?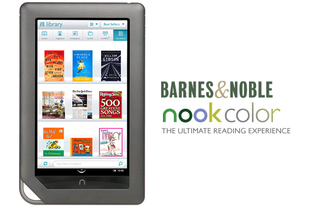 The Nook Color is somewhat of an Android phenomenon, and according to the folks over at The Digital Reader the sequel is potentially just around the corner.
Sources close to them from Barnes & Noble have previously leaked information regarding a successor to the popular e-Reader. Now though they go one better and claim that there will be a "major announcement from the company" on November 7.
One of the sources goes on to detail changes that are to be made in-store, with a "Nook boutique" to be created complete with LED TV's, and touch screen POS systems.
There are no spec's mentioned, or for that matter, no Android mention but with the development that Barnes & Noble have put into the platform there's no reason to believe they wouldn't return again with an Android offering. We'll just have to wait it out on this one, but with the Kindle Fire due it isn't such a crazy thought that Barnes & Noble would try and beat them to market with a new Nook.
Source: The Digital Reader
Android Central Newsletter
Get instant access to breaking news, the hottest reviews, great deals and helpful tips
My og nook color is still running strong with cm7.1

Hopefully comparable (specs-wise) to the Kindle Fire. Mainly the dual-core processor.

This is what I've been waiting for. I've held off on getting the NC since I already have a Nook STR and with the NC2 just around the corner. I'm anxious to see the new NC2 and hope it addresses some of the issues I've had with the NC.

Hell, I loved my Nook Color...But when the Flyer dropped to $299, it kinda' made me sell my NC and move on. I got $200.00 for my NC with around 400 retail V epubs on it...(Yes, I only bought around 20 of them) and a 32GB SD card, but it was still good for me. I love my Flyer as an ereader, and the full internets and market makes it a WIN! Trick the NC a little, and it will put out ANY Fire.

How about NOOKcolor with NFC? Bring your NOOKcolor in, find the book you want on the POS system, tap your NOOKcolor enter a pass and voila.

Hack-ability has sold a lot of Nook Colors for B&N. I hope they don't go nuts and try to lock this down too tight. I also hope they incorporate library borrowing into it. Sure, it costs them a few ebook sales, but realistically library borrowing without having to side load would put them a step ahead.

I'm all over it. I'm a readin' mofo.

I'm really looking forward to hearing their announcement. I adore my Nook Color, but if the new one is extra-shiny, I might have to give my current one to my father. :)

They should have charge stations in the store
Android Central Newsletter
Get instant access to breaking news, the hottest reviews, great deals and helpful tips
Thank you for signing up to Android Central. You will receive a verification email shortly.
There was a problem. Please refresh the page and try again.