AT&T offering 50% off phones on-contract online this week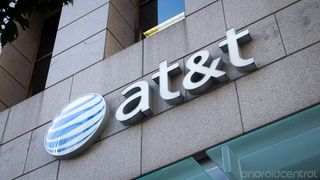 Trade-in program for $100 off a new device in-store also available
AT&T has stealthily slipped a pretty great promotion into the fine print of its current trade-in offer which gives 50-percent off all devices when purchased on a 2-year contract from its website. The main offer, which requires trading in a qualifying device no more than 3 years old for a $100 discount, is only necessary for in-store purchases. The much more enticing deal is in the fine print, which shows that every on-contract device AT&T current sells between $0.99 and $199.99, including brand new devices like the Galaxy S4 Active, is 50-percent off until June 30th.
There's no special code or hoops to jump through to grab this promotion. Just add any device up to $199.99 to your cart, select any voice and data plan and the promotion will show up in your final shopping cart when you check out. Saving $100 in the scheme of things probably isn't enough to make anyone switch over to AT&T, but if you were planning on picking up a new on-contract device at the carrier this week is a good time to do it.
More: AT&T (opens in new tab)
Android Central Newsletter
Get instant access to breaking news, the hottest reviews, great deals and helpful tips
Andrew was an Executive Editor, U.S. at Android Central between 2012 and 2020.
Over the weekend, there was a glitch that allowed you to get a month-month plan and get the full retail price for 50% off. I got a red galaxy s4 for $350 after taxes.

Exactly what I tried but failed lol. Took too long

what do you mean by took too long?

I was contemplating buying one and when I finally decided to bite the bullet it wasn't available anymore.

aha wow. well you really missed out :P that $300 discount was a no-brainer and an impulse buy

Yea I know lol. Glad you got one though!

Of course this offer doesn't include the Galaxy S4 32GB. Of course it doesn't. :-(

As it says, only devices $0.99 to $199.99.

Last night this promo was including month to month sales. I thought about it too long and when I went back to buy an S4 they fixed it to only 2-year agreements -_-

If only I was on AT&T I would upgrade now. Posted via Droid RAZR M on the Android Central App

I wish this was for Verizon. Maybe I will get lucky and they will have the same deal.

Of course they would have this deal before I'm eligible for my upgrade in mid July! Posted via Android Central App on my Samsung Galaxy Note 10.1

Makes me want to make the jump to AT&T instead of waiting for the Verizon HTC One. If the 64GB was half price I would have done that in a minute.

I ordered. Red S4, everything went through something then AT&T sent an email the next day saying it was canceled. Now I'm going into dispute for them not honoring my order.

Tepid sales of the GS4 and iPhone, and now this ATT deal is further evidence that the smartphone market growth is quickly cooling off. obviously it was bound to happen at some point, but I think its been happening sooner than most people expected.

Walmart.com has the 32GB S4 for $209!! I just got it and sold my old S2 for $125 on ebay.

I picked up a black 16gb GS4, no contract for $355 with overnight shipping. It's not here yet, though - apparently "overnight" means a few days to AT&T. It'll be here Tuesday. No contract!

How are you able to do this? I have a business Prime account with share plan, no upgrades for any of the 5 lines. Is it possible to get the 50% off online. Tried and cant seem to check out.

You'll need to consider your data plans BTW. AT&T effectively makes you choose between sending texts at .20 each or buying unlimited ($20) on top of paying for data (3GB is $30). Just be mindful that you'll be paying an upgrade fee the first month and your bill will in all likelihood be higher than you expected.

I just went through this a week ago when I realized I could get unlimited minutes, messaging, and an extra GB of data for the same cost I was already paying (less than a dollar difference) by switching my to a MobileShare Data Plan. Existing:
Minute Plan - $60
3GB Data Plan - $30
Unlimited Messaging - $20
TOTAL $110 New:
4GB Data Shared Plan WITH Unlimited Minutes and Messaging - $70
Smartphone "inclusion fee" - $30
Total $110

I'm debating between an Iphone 5 or a HTC One....

Yeah some sorta offer from AT&T at least Posted via Android Central App
Android Central Newsletter
Get instant access to breaking news, the hottest reviews, great deals and helpful tips
Thank you for signing up to Android Central. You will receive a verification email shortly.
There was a problem. Please refresh the page and try again.