AT&T HTC One Android 4.3 update passes certification, pushing out next week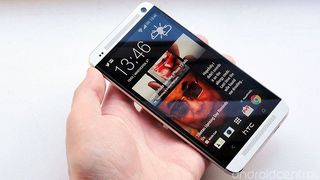 HTC America President Jason Mackenzie has confirmed on Twitter that the Android 4.3 update for AT&T's HTC One has passed carrier certification and will be pushing out "early next week."
HTC is in the midsts of pushing out its Android 4.3 update for various regions and carriers. Sprint's HTC One got Android 4.3 this week, while the U.S. developer version and Canadian versions got it last week. T-Mobile is expected to get the 4.3 update by mid-October, while Verizon is slated for the end of the month.
The update brings HTC's flagship up to the latest version of the OS, while adding in new (to the U.S.) HTC Sense features like additional video highlight templates, Instagram support in BlinkFeed and the ability to disable the on-screen menu button.
Source: @JasonMacHTC (opens in new tab)
Good news for One users on AT&T. 4.3 update passed AT&T certification today. Will begin to push to your phones early next week. @HTCUSAGood news for One users on AT&T. 4.3 update passed AT&T certification today. Will begin to push to your phones early next week. @HTCUSA— Jason Mackenzie (@JasonMacHTC) October 4, 2013October 4, 2013
Alex was with Android Central for over a decade, producing written and video content for the site, and served as global Executive Editor from 2016 to 2022.
Very cool. Looking forward to the update.

Come on VZW! Please don't bloat it down!!

Heck yeah, no more black bar with the 3 dots! Posted via Android Central App with the HTC One

Looking forward to hammer the "check update" button starting next Monday.

Be careful with that. I hit mine earlier this week, then went back the next morning; it told me I wasn't able to check again for so-many hours, which would have made it 24 since I checked the first time!

So how long does carrier certification take for the iPhone? The whole thing is crazy. Posted via Android Central App

Apple release the OS to developers 2-3 months before its official release. so to carrier around same time. that's the reason why there is no delay with iphone.

Exactly. Posted via Android Central App

Not true. When the latest 7.0.1 came out, it was INSTANTLY pushed with no long timetables. Posted via Android Central App

I thought Samsung would bring out 4.3 for the S4 long b4 HTC would for the One.
Good job HTC!! Samsung WTF?!?! and of course verizon is last!! VERIZON SUCKS ASS!!

Yet you continue handing over 3x what you should ever month to them. VZW is the worst. Even AT&T's coverage is better these days.

Only reason im still with verizon is im paying $80 a month for unlimited data. :)

That's how much I pay with T-Mobile & I get amazing service. Posted via Android Central App

Holy crap...I'm paying $30/mo. for unlimited LTE with at&t...but I am grandfathered in. Supposedly they throttle at 5gb...but it hasent happened to me yet. Posted via Android Central App

I am officially jealous. Is that the total cost of your plan? If so, that's a smoking deal. Posted via Android Central App

So have you gone past the 5gb and not been throttled? I'm curious because I also have the 30 dollar unlimited plan but haven't made it past the 5gb.

I went over 5gb and i got a text telling me I'm going to be throttled, idk if they ever did or not though...

i meant i pay $80 total for unlimited for verizon, not just my data plan.

While I think it's way too early to WTF Samsung, I gotta hand it to HTC.
I have to admit I had stopped considering this phone, but am now kind of eyeing it again. This is how you win customers in a crowded field

Samsung rather take a bit longer and do it right the first time. HTC still didn't fix the purple tint on the latest update. #HTCfail

I have an htc one and have never had this issue nor has my friend that has the htc one but yet again we didn't get them on launch and was probably a launch phone problem. BTW I have had more problems with my samsung note 2 than my htc one(no issues).

Starting to think this may be a hardware issue. Sent from my Motorola side view pager 4-5683-968

100% hardware. Call HTC's repair center and INSIST on a replacement. They tried the "an upcoming software update will fix it" with me and I fought and fought. Sent it back to them THREE times and all they did was flash the OS and send it right back. I ended up getting Tier 2 involved, sent them before and after photos, and ended up getting a new device. It's running the exact same software and the camera is absolutely perfect. So, hardware indeed. I hear this issue come up all the time, so it's evident to me that they have a hardware defect that they are pushing off on software. Don't let them do this. Stay on top of them and be calm and professional but firm. Insist that they replace the hardware because no software update will fix broken hardware.

I agree. I'm shocked as hell that they beat Samsung. It's not enough to make me consider getting an HTC next time but it's still impressive. Posted via Android Central App

Samsung is slacking
I have gs4 and im waiting Posted via Android Central App

I'm guessing T-Mobile is grappling with integrating wifi calling into the ROM and it will be released after Oct 15. Safe assumption?

I guarantee that's what it is. But I'm glad, sometimes I need Wi-Fi calling. Posted via Android Central App

Meanwhile over here in HTC One X land....

... and EVO LTE land. Posted via Android Central App

Congrats to you and your EVO LTE! :)

Lol! This! I still love my HTC One X though. Props to HTC for getting 4.3 to people with One's. When we get Sense 5 on AT&T it'll be amazing

Great news. Can't wait. Posted via Android Central App

Time to go back to stock, I guess.

I have unlocked htc one with software number: 1.36.599.1 for the latin america region... my phone still in android 4.1 and no update yet :( someone told me: "HTC never update latin america phones"
Is this true??? I waiting for 4.3 update :(

Really? That is weird Posted via The Android Central App

so i have an EVO 4G LTE. got the new update for that phone today. "stability improvements". I notice nothing. Any chance that me and my EVO posse (yeah i said that!) will receive a legit update. perhaps to 4.2.2 or 4.3 or maybe when its out there in the wild, 4.4? I'd be happy even if android version stayed at 4.1.2 and I just got sense 5. could this be a "preparation" update to get the phone ready for a larger one? it was 133 MB. i'd like a version update. come on. HTChange.

Llabtoofer doesn't think so. Sent from my Motorola side view pager 4-5683-968

Word is end of the year for you guys. Posted via Android Central App

But what about the UK, Alex? Come on Vodafone! Posted via Android Central App

I'm hoping early next week translates to Monday. Posted via Android Central App

Too late HTC, swapped your device out for a Galaxy Note 3 and I'm not looking back.

Good don't let the door hit yea where the good Lord split yea Posted via Android Central App

+1 Posted via Android Central App

+2 Posted via Android Central App

YES! Posted via Android Central App

I'm not sure if this has been said but more Android OEMs need to publish timeline dates like HTC has done with the HTC One. I'm extremely impressed! Posted via Android Central App

Nice to see an official release been on 4.3 for a while Posted via Android Central App

Now hopefully the One X update will come out soon.

Finally!!! good news Posted via Android Central App

I read somewhere (probably here on AC) that bluetooth is worse in 4.3. As it is now my HTC One gets totally confused talking to my 2011 Toyota Sienna. The factory head unit thinks the phone is paused when the phone is playing and thinks it's playing when the phone is paused. My iPhone 4 never had a hiccup with calls or audio. If I cant get this resolved then I think an iPhone 6 is in my future. Unfortunately, I think 4.3 is my only hope. Posted via Android Central App

Yikes! Driving a mini van and longing for an iphone? Say it ain't so!

A lot of people are saying they are surprised that htc beat samsung to this update. But I am not surprised after my experience with the original Note and galaxy s. I just wanted to get away from samsung and their untimely updates. I figured anything would be better. It seems I was right. and to those fools who would claim that sammy is taking their time to get it right, you better hope that's the case, with all the garbage they try to pack into those things! Posted via Android Central App

I've been kind of spoiled with updates. I bought a Galaxy tab 2 7.0 in March, which originally had ice cream sandwich, bit longer had 4.1 jelly bean right out of the box, and a month ago, I just got the update to Android 4.2. It's a great update, which is nice that Samsung is supporting a two-year-old device. Some things are much more like touchwiz and not like vanilla Android (like on the 4.1 ROM), bit I like having my soft keys and not those physical keys Posted via Android Central App

I have heard people say this was a good phone and say that it is very skinny. Posted via Android Central App

Android 4.3 for AT&T HTC One launches Tuesday

Hahaha.i got bored from 4.3 , my nexus 4 was updated before a month and a week , and htc at&t are still testing Posted via Android Central App

Android 4.3 Jelly Bean is uses on just 1.5 percent of devices: http://www.alerts4it.blogspot.com/2013/10/Android-4.3-Jelly-Bean-is-uses...

you guys thinks this update will come for the HTC ONE X too?

then it can be a great news.
Android Central Newsletter
Get the best of Android Central in in your inbox, every day!
Thank you for signing up to Android Central. You will receive a verification email shortly.
There was a problem. Please refresh the page and try again.