Asus Transformer update includes Netflix support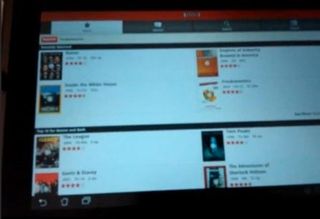 We're you expecting Netflix support to come with Android 3.2 on your ASUS EeePad Transformer? I'm sure a lot of you were. Well, as we now know -- that didn't happen. The update rolled out and no Netflix support was to be found, unless you hacked it onto the device.
A new update is rolling out now though and it places your beloved Transformer at build number 8.6.5.9 and brings along Netflix support for the ride. You'll find some other software enhancements as well, such as an update to the the dock software -- that got bumped to EP101-0213. Want to see a video of it in action? Jump past the break or if you're just looking to discuss the update, you can hit the Android Central forums.
Thanks, Mason!
WOOHOO... NETFLIX is working... for now...

Changelog from xda forums: Build number: 8.6.5.9-20110816
Wifi updated: v5.2.58
GPS updated: v5.5.8
MobileDock version updated: 0213
Bluetooth v6.20
Android compatibility mode for apps added.
Keyboard on/off switch when docked added.
Selectable cursor type option added (arrow or circle).
Mouse cursor trackpad movement reversed.
Device faster to turn on.
More MyZine options added, and now re-sizable.
Dock typing lag greatly improved.
Multiple languages (with regional dialects) added.
Compass issue fixed.

maybe im missing something, but how are yall getting netflix to work on the asus transformer?

Hallelujah! I was underwhelmed by the "improvements" of 3.2 over 3.1 a few weeks back, but this new build with Netflix support of today make up for that. My Transformer is almost perfect now. ;-)

ASUS rocks! Their PC components have always been rock solid for me with excellent driver support and now I'm getting that with my tablet.

I agree. I also use their components when I build computers and are really good. Could not be different with the Transformer.

Yep, I'm another Asus fan - can't remember the last PC I built that didn't have an ASUS mobo. Transformer is just great, (excepting battery life ain't as good as promised, and I'm getting a couple o' FC's with the browser). The bundle with the keyboard is the same price locally as a 16GB iPad2, so I'm wondering why anyone would buy the iPad... I wasn't much impressed with tablets, but the Transformer has made me a believer. BTW, you only get NetFlix in the US - European models (like mine) just get the other improvements.

Anyone know the app dock he's using?

Doesn't appear to work with rooted TF's. Double-checking now.

Yeah, that's a big negative. Shows a yellow exclamation in a triangle with an Android dude when you try to apply the update. Only choice is to hold down power to reboot. Update is still pending when I do that.

If you flash the stock recovery back, then you can get the ota update to work. You will loose root but can easily reroot

Have you tested this? I used the one-click root bootable CD method.

still cant get netflix app in the market =0(

Download the .apk here http://www18.multiupload.com:81/files/B85826EC0101A9AEB01FB6CC03E59E8675... and that should get u going.

somebody really dropped the ball on this. There are too many places to stream tv/movies for free now. I gave up on Netflix and found better and cheaper (FREE). Too bad NF, you had a good thing.

Can someone tell me if this works in Canada or not? I really don't want to re-active my NF subscription just to find out that it doesn't work here.

No it doesn't work with Netflix Canada. But if you can get a US subscription and a VPN connection with a US IP address you can watch Netflix in Canada and benefit from the extra content the US service has.

This fragmentation is really turning me off from Android. Apps that should just work on all Android devices with capable hardware will work on some, but not others. It doesn't matter who is to blame -- Google, the manufacturers, or the carriers. I just want my damn devices to work! I'd go with iOS devices if I didn't hate Apple so much because of its arrogant initial handling of the iPhone 4 "antennagate" fiasco and its current lawsuits against Android device manufacturers. If iOS played Adobe Flash (pr0n), then I might give Apple more consideration. Then again, there are ways to get Flash content on iOS, like the SkyFire browser.

what i want is bluetooth headset support and skype video will we ever see that?
Ron F

Help. I am really new to this. I can not figure out how to download the app to get NF. I tried the embedded link a few comments above but it was fishy once I started downloading. Is there a better link?
Android Central Newsletter
Get the best of Android Central in in your inbox, every day!
Thank you for signing up to Android Central. You will receive a verification email shortly.
There was a problem. Please refresh the page and try again.