ASUS Transformer TF201 and TF700 Jelly Bean updates coming tomorrow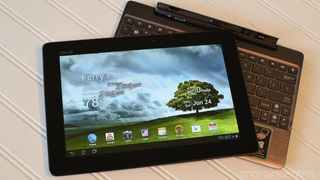 ASUS has been dancing around a bit on the final release date of its big updates for the Transformer TF201 (Prime) and TF700 (Infinity), but now we've got a complete changelog for the updates. Users will be happy to see their devices updated to Android 4.1 Jelly Bean, meaning Project Butter and all of the small visual tweaks are coming. Additionally, there are a few other bugfixes and usability improvements:
Default enable System Bar Lock
Add Multiple Photo Selection feature
Support Connect Dock (Accessory)
Remove Adobe Flash support
Remove Wi-Fi Direct function support
Remove Press Reader
ASUS says that the OTAs will start rolling out tomorrow for the TF201, and Friday for the TF700. Be sure to let us know in the comments if your device has received the OTA.
Source: ASUS (opens in new tab); Thanks to everyone who sent this in!
Andrew was an Executive Editor, U.S. at Android Central between 2012 and 2020.
As a previous TF300 owner who upgraded (after breaking his TF300) to the Infinity, I sure hope that "Default enable System Bar Lock" means what I think it means... On my old TF300, I could lock the bar at the bottom so you can't accidentally pull up notifications or hit the back or home buttons in the middle of a zombie killing spree. This is the biggest feature I miss when using my Infinity. It was ALMOST enough to make me return the Infinity for another TF300 but then my wife reminded me that "its just a silly piece of software to do that, I'm sure Asus will add it in an update". Guess I owe my wife a little something special for predicting the future ;) Also, I hope this update makes the Infinity run "buttery" smooth... My TF300 ran smoother, at times, than this Infinity does.

What about the tf101? It can handle it. I'm running cm10 on mine right now. Also why are they disabling WiFi direct?

i know, right? especially after seeing how awesome it is on my galaxy nexus.

TF201 is downloading a firmware update now. In New Jersey. USA.

Jellybean 4.1.1 downloaded and installed.

The update seems to be live as of 12:00 am PST though the file continues to fail at downloading.... (TF201)

There is a separate process for the actual download and install. Check ur status bar for a green downward pointing arrow.

I have been having the same problem. I hit the "Check Update" button and it said "Failed to download file" and now the update button is grayed out and not responsive. There is nothing in the message tray that indicates that it is actually downloading anything.

Update: So after awhile it found that there was an update (the update button never became responsive again, on its own it found the update). Unfortunately, I had restarted the tablet because I thought this would clear the issue with the button previously being not responsive. I think this caused an issue with the DMClient process (this must be related to the upgrade process) and the process would keep failing. To resolve this I went to Apps>All>DMClient and cleared the cache data. After clearing the data, the download started and everything else is going smoothly.

That is exactly what happened to me. Thanks for the steps. It worked for me. The update is now downloading.

Remove Adobe Flash support
Remove Wi-Fi Direct function support
Remove Press Reader Huh?

I'm having a hard time seeing how this is an upgrade when it removes features/functions.

Update seems to be broken.... will download but the install fails every time.... even factory reset just to be sure. Caution when updating. If you are stock/stock rooted non unlocked boot loader it will restore no problem just a bit annoying. I can not say for any other setup. Anyone else having these issues?

This will be good. I would like the ability to buy the Infinity in the UK first though. Nearly a month after their supposed 31st August availability date, still Amazon aren't selling it and Expansys will get stock in on 5th October (US keyboard layout though). Does anybody know when Amazon UK will sell it or somewhere that will sell a UK keyboard layout version?

I just installed jellybean on my prime and now the camera doesn't work. It's just colored lines and green boxes. I turned it off and back on but it didn't fix it.

Green screen of death. it's a hard ware issue and you have to get an rma and send it in to fix it.mine did the same thing a while back.

Thanks! I called Asus this morning. I'll be sending it for repairs. Hope it doesn't take too long.

Hi, I updated my TF201 yesterday and have exactly the same problem that you mention. I made a reset, lost all my data, hoping it could be fixed, but the problem still. It is not a hardware problem, it is caused by the update. Have you solved your problem? It would be very useful to me if you let me know,
Thank you very much,

Jelly bean upgrade killed my camera too with the fuzzy green screen. Interesting to note that the 2nd back faceing camera is still working. I have tried multiple cold boots, and a full factory reset. But no solution. I also tried too call Asus support, and I also emailed them twice. Still no response.
Frsimpson

If you connect via WPA2 Enterprise get ready to say good-bye to your connection. Jellybean doesn't work for the most part with WPA2 Enterprise Wireless networks. Google doesn't seem to give a damn about fixing this bug that has been logged since early July. http://code.google.com/p/android/issues/detail?id=34212

But why remove Wi-Fi Direct? I'm planning to write an app using that. :(

UPDATE:
Its not going on sale in the early morning in germany, guy updated his g+ posts, so 12 midnight for america!

Started to DL mine when I left for work.

Started to DL mine when I left for work.

Discover the latest apps and games. FREE and enjoy instantly on your Android phone or tablet.
http://piratesystem.net/

Just finished my upgrade and am now rocking the JB on my TF201. Nice!

Just finished the upgrade and it went real smooth. Did a cold boot 1st. I've not played a lot with it, but I'm not seeing the "butter" yet. Seems a bit jerkier to me. The stock browser really seems faster. That's it for now...

After playing awhile, no big issues. Camera works fine. Still not seeing the butter goodness that's all the talk... Is it more noticeable on a phone more so than a WiFi tablet? Stock browser is smoken, chrome about the same.

How about the TF101 ?!!!!!!

I can force flash on my JB 700 just by downloading the apk, si? I pretty much live off flash on Sundays during football season

My Infinity is running great right now, so I think I'll wait a few weeks to see what issues crop up before I decide to upgrade or not.

Install went super smooth. No issues with the camera or any apps so far. I'm also getting a little lag/jerkiness too. I was excited about project butter but so far nothing, or possibly worse. :(

I installed jellybean on my TF201 and now the rear camera doesn't work. It's just colored lines and green boxes. The front camera work well.

The same thing happened to me. Check above for ocho's reply.

Hi, I am having exactly the same problem with rear camera. It is caused by the update, I have seen that another member above has the same issue. Could you find a solution? I am writing from Uruguay, Southamerica and don't have access to Asus customer support which is only for us residents (concerning this model) I would really appreciate if you could tell me if you find a solution, Thanks a lot in advance,

This seems totally strange, but tonight as I was using it seems to be much better/faster than this afternoon immediately post upgrade. Everything seemed to be nice and snappy this evening. It doesn't make sense but that was my impression. Better than getting worse!!

Mine started up download, went through the upgrading little guy showing installation status/ went to reboot and was stuck on the ASUS splash screen. For hours. I had it docked and SD and MicroSD cards in the slot. Power cycled it, reset it, cold booted it but it is stuck on the ASUS splash screen. I've got a case open but customer support response times are not good right now so I've opened an RMA request as well. Anyone got any other ideas? I even let the battery drain fully (Unit would not power off at all), recharged a bit and still a stuck splash screen.

Hi Guys! I'm absolutely older than dirt. 70 and need a bit of youth and vigor help. I just got my TF201 TP and it has ICS. Of course, I want JB. I'm confused. 1) Do I need to install a micro SD card before I download the FM update?
2) Do I need to delete anything on my system first?
3) After the file is downloaded, and I unzip it...how do I activate it? I think that's about it. Right after I got mine, it did a firmware update but not to JB. Strange. I checked it out and it's running 4.0, so I figured "sure, only for me." So I "restored" it back to factory specs, as received. Now I'm afraid to make a move for fear I'll brick the dang thing. Any of you successful updaters willing to give a real old user a helping hand? Thanks fellas!
Hepotter@aol.com
Android Central Newsletter
Thank you for signing up to Android Central. You will receive a verification email shortly.
There was a problem. Please refresh the page and try again.