ASUS reportedly looking to buy HTC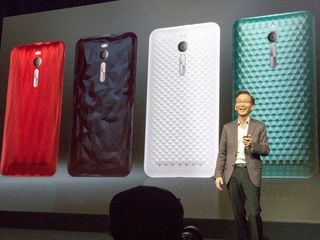 Talking to Reuters, Chief Financial Officer David Chang said that the subject was broached internally:
After a dismal start to 2014, HTC has managed to turn profitable in Q4 2014, and has continued the momentum with a slender $11 million net profit in Q1 2015. However, the Taiwanese vendor's latest handset, the One M9, failed to meet expectations, with the brand now forecasting a net loss for Q2.
ASUS, on the other hand, is gaining ground in the Android segment with its ZenFone series. The manufacturer's ZenFone 2 was well-received in China and India, and ASUS is now targeting Western markets by launching the device in the U.S. and Canada. In the PC segment, ASUS continues to be a force to contend with in the component as well as notebook categories.
As Chang says in his quote, chances of an acquisition are remote. If we hear anything to the contrary, we'll let you know.
Source: Reuters
Harish Jonnalagadda is a Senior Editor overseeing Asia at Android Central. He leads the site's coverage of Chinese phone brands, contributing to reviews, features, and buying guides. He also writes about storage servers, audio products, and the semiconductor industry. Contact him on Twitter at @chunkynerd.
If they really want to buy HTC, I have 2 things to say... 1) Do not mess up their hardware design 2) Do not mess around with HTC Sense and do not fill it with bloat or ruin the design. Instead, take elements of it to improve the Zen UI. That's all.

1. disagree, improve the crud stale design
2. agree

I find it so funny how it's crud...yet last year was the best thing since sliced bread to every reviewer. I went from a DNA, to an M8, to an M9. So I am certainly a little HTC bias, but that design and Sense is what keeps me coming back. It's not crud...they made the M9 design WAY lighter and easier to hold. It fixed the issues people had with the M8 on the form factor side. Auto companies don't make a new chassis every year, they go 2-4years with one and make tweaks. The M9 is the M8.5 , a refinement Posted via the Android Central App

Yet they downgraded in some. My M9's camera is average, screen quality is not as good as the M8, Battery drains quicker than my M8 for some reason, and the less said about the 810 the better. I should of stayed with the M8 to be honest. And considering that the lead designer of the M7/M8 left HTC, I wonder what's next?

They didn't downgrade. 1. The camera isn't average. It's an awesome camera. The software has been its let down. The hardware of the camera is on par with the S6 G4 and iPhone 6. The hardware of the camera is almost identical to the Lumia 930. The M9 uses the new version of the sensor in the Lumia 930.. 2. The screen on my M9 is much better than you screen on my M8 3. This whole battery life is has vattey life is bullocks. My M9 last twice as long as my M8 did. Screen on and stand by The 810 is a great chip. You know there is more than one person designing right? Posted via the Android Central App

It lasts twice as long ehh? Posted

Is he for real? Posted via the Android Central App

I'm sorry you don't like facts. Posted via the Android Central App

You've lost your mind. The M9 was a mistake and a downgrade from the M8. Hopefully the M10 will bring HTC back to relevance

Indeed, he needs to find his long lost mind Posted via the Android Central App

Yes Posted via the Android Central App

I didn't have any problems with the m8 looking like the m7 a lot it was only one year after the m7 Posted via the Android Central App

Anyone who thinks a design needs a major overhaul every year or every two years is stupid and should shut up. Posted via the Android Central App

well considering their sales have plummeted I'd say there's something behind the argument. it might be stupid, but that's the market and if HTC wants to stay relevant they need to understand that ... and a lot of people are sick of the black bar and inferior battery, I don't think them wanting those two issues to be addressed is asking much. Posted via the Android Central App

I agree. I think that's the stupidest thing to say. The M8 won multiple awards for its design, so why not just make it look a bit nicer and that's it? I mean they can't keep it basically the same and expect people to come back like drones AKA iPhone drones because HTC doesn't have that kind of following but a few tweaks is all it needs. I think a lot of reviewers are just being whiners to be honest because once they see the camera sucks their whole review goes negative and they start complaining about the design. Anyways in regards to this article I hope this happens because I've heard many good things about Asus computers and their phones too.

I'm just saying the m9 isn't getting any awards for racking in money for HTC and that's unfortunate Posted via the Android Central App

It's that stupid useless HTC logo bar bezel. Make it part of the actual touchscreen and call me in the morning. HTC phone size to screen ratio is horrible. Dude. What if the word "NEWS" on the AC widget actually linked to the news page? #nopecuzthatwouldbecrazy.

agreed ... I think that's the reason so many people are upset with HTC. I don't waste my time commenting on things I hate. I'm just frustrated cause it's a black bar away from being an amazing device. Posted via the Android Central App

1. Asking for change just because for the sake of change..? What's wrong with the build? I'll agree it might be nice if they did some subtle changes. But the build quality on htc handsets are best in class. Posted via the Android Central App

I don't see many people asking for a major design change. if they simply got rid of the black bar, and realized boomsound isn't gonna attract new buyers if it means taking up that much space, I think most people would be fine with that. Posted via the Android Central App

Let's also not forget that HTC isn't a major marketer at least in the states Posted via the Android Central App

it's true, if they had a third the budget of Apple or Samsung they'd kill. I'm just like everyone else, passionately frustrated cause it's a black bar and camera away from being a killer device. Posted via the Android Central App

They could've put the speaker grilles the same way like those on the Xperia Z2. Seriously, the Nexus 6 has slimmer bezels and it has dual speakers as well...

I guess the 6" display has something to do with it, but who knows ... either way, HTC needs to figure it out or ditch the boomsound. it's very disappointing cause it's obvious so many of us really want to love the M serious. hopefully they got the memo and they're working on it (that ink phone has me scratching my head though). Posted via the Android Central App

I kind-of agree it's stale but it certainly ain't crude Posted via the Android Central App

1. Yes, they need to innovate.
2. Have them run near-stock like Motorola and have timely updates!

They have timely updates. They are one of the fastest. Sense is better than stock or near stock Posted via the Android Central App

They need to change the design to make it symmetrical.
They need to fix the camera.
They should get rid of sense and replace it with Zen ui Posted via Android Central App on 1+1

1) Yes
2) Yes
3) WHAT THE HECK?! NO! HTC Sense runs circles all over ZenUI in both design and performance. In fact, ASUS should take a page from HTC's UI design and optimization for their ZenUI, not the other way around.

1. No they don't
2. The camera was just fixed via a software update. The camera problems to date have all been software related on the M9. Not hardware. The hardware of the camera is some of the best camera hardware around.
3. No sense ui is the best thing about Android. Posted via the Android Central App

oh, well that solves it, the HTC camera is now "fixed." and here I was thinking it was inferior to every single comparison to the S6/G4/iPhone that I've seen. I guess I must've just been seeing things, so glad you cleared that up for me. Posted via the Android Central App

ou have a low IQ. The camera issues the M9 had were all software. How hard is that to understand. That is just a fact. And the update that HTC has just our proves it. The issues have not been the camera hardware it has been HTCs automode and post processing algorithms. When you switch the phone to manual and raw and teal the settings you can take pictures that put the S6 and G4 to shame. See the camera hardware on the M9 is top of the lone hardware. The software and algorithms are what has hurt it. And this last software update according to every site that has reviewed it proved it. Why don't you like facts? That's right because you hate HTC. You want to Blane a software failing on camera hardware which isn't the case Posted via the Android Central App

Heh now you resort to insult on ones personal than arguing based on fact eh? S6 and g4 to shame? LOL Posted via the Android Central App

In manual and raw mode yes. It has an essentially and improved version of the same sensor in Lumia 930 which is still considered the winner in smartphone photography. You don't rwe very well so you? The hardware of the M9s camera is on par with the S6 930 G4 and iPhone 6. It's the software that's the problem. How is that hard to understand Posted via the Android Central App

Jesus f'ing Christ I wish you would proofread you're posts!! Posted via the Android Central App

Proofread your own comment.
It is your not you're.

On par i could agree but putting a shame is just ridiculous, an overstatement from someone who clearly put his subjective arguments while insulting other people. Great job for you, but i pity htc to have a fanboy like you, i would root for htc in different way Posted via the Android Central App

you make some valid points, but the name calling hurts your credibility. I'm serious about that and hopefully you'll consider it. if you want people to take your opinion seriously, start by leaving out the name calling. Posted via the Android Central App

Lol camera fixed Sent via carrier duck. They were out of pigeons

are u serious? you're the first person I've heard make that argument. I can't imagine you've actually used both phones if that's your conclusion. Posted via the Android Central App

I have owned every single HTC flagship. And thate not my conclusion. That's a fact. And a fact of several people over at elevate and other forums. So try again.

I have a S6 and can confirm what Daredevil is saying, HTC camera it really good too with this last update.

Lol, my friend had the m9 for a week and returned it immediately.

Your friend sounds daft if they returned it Posted via the Android Central App

Say anything you want, and you still can't stop the ship-jumping from HTC which is still happening right now.

You know what they say, "a sucker is born every minute ." HTC, here is your chance to dump your failing hardware business on a sucker. Better take take that money and run.

You are a truly pathetic sad loser Posted via the Android Central App

Oh right, i see you insulting people on these comments, how brave Posted via the Android Central App

Bad idea. Just let HTC die. Take their scratch and dent aluminum to the grave with them. Fanboys will rejoice at their funeral. Yes indeed. However, if Asus can get HTC to ditch the black bar, get a better camera, add a removable battery, and ditch the metal, then I'd support this idea Posted via the Android Central App

Scratch and dent aluminum? Have you even used an HTC phone? They are built like tanks. My M8 looks great and I haven't ever used a case and have dropped it on concrete a handful of times. The camera issues are software related and are being improved with the latest firmware update. HTCs issues have mostly been marketing related. With deeper pockets they could turn that around. If you want all the features you listed just go get a G4 and enjoy. Personally I like my phone's with a bit of personality. Posted via the Android Central App

My mistake y'all. I wasn't being serious in the slightest. I was mocking some of the fanboys who repeat the same tired remarks in every HTC article. Btw I'm a happy M9 owner. Posted via the Android Central App

Well other then metal, everything you said was kind of right. Their M9 camera is a shame on flagship device. Not even sure how it passed QA and made it to launch. Posted via the Android Central App

The sensor is capable. It's the software that's letting it down. The lack of OIS may also be partly to blame as well.

You are a cretin. Posted via the Android Central App

Niceee Posted via the Android Central App

The black bar and Sense are the two things I hate. Sense can be dealt with. That black bar has to go. It's been three years now on a design that was meant for capacitive buttons.

Taiwanese company buy Taiwanese company. Interesting. *grab popcorn* Posted via the Android Central App by OnePlus One

Please don't buy htc and ruin my favorite phone I do not like any other oem Posted via the Android Central App

Can't see the future but eventually it could be that or die Posted via the Android Central App

Lenovo bought Motorola. Do you guys think they have ruined Motorola? If Asus buys HTC do you guys think they would ruin them? Not sure if Chinese companies have different thought processes than Taiwanese companies. Posted via the Android Central App

Can't tell if Lenovo have ruined Motorola until they release a phone that they have designed themselves. Posted via the Android Central App

Hopefully after all HTC keeps doing what they been doing. Hopefully this will mean less bezels, better camera, and better chassis. It's sad that even Sony is making better overall phones than HTC.

No one but fools care about the bezel. Also enough with his rubbish that the camera on the M9 is bad because of hardware. It's bar only because of the software powering it. Nothing wrong with you chassis The phone uses the new version of the sensor found in the Lumia 930. Posted via the Android Central App

you sound like the girl who keeps defending her abusive boyfriend Posted via the Android Central App

What I said is a verifiable and proven and documented fact. But see you don't care about facts since you just hate HTC and want to bash. Posted via the Android Central App

LOL, he never gets tired insulting people here, he doesn't help much for htc even though i root for htc too but this person just...just... Meh... Posted via the Android Central App

I don't know think you know what insulting someone means Posted via the Android Central App

I'm honestly not a hater on HTC, far from it. The M7 was one of my favorite phones ever. Unfortunately you only get one chance at first impressions, and even though their software improved its camera, people already judged it. Then the S6 went over the top with theirs, and we started hearing about the G4, so the M9 became an afterthought. Also, I don't think Evleaks render did HTC any favors. I didn't mind the black bar on the M7, it was concerning on the M8, and when I saw it on the M9 I lost interest. If I was a hater I wouldn't waste my time commenting. I'm not suggesting the M9 is some awful device, far from it. I just think they need to make some minor tweaks, but I don't think they're negotiable. That's just my opinion, and if they kept everything the same except for the bar, I'd have one right now. Posted via the Android Central App

I saw your other comments before, is that not insulting? Calling people cretin? Do you have anything to say? Facts? Anything? Please... Posted via the Android Central App

Two of Sony's most recent phones have huge issues. One has less than 2GB storage available to users and another has to have heat warnings because the processor gets too hot due to the design of the phone being too thin.

It will be a match made in heaven! Posted via the Android Central App

If Asus buys HTC they probably won't be hands off like lenovo and Motorola they'll change things I think Posted via the Android Central App

Wow, that would be interesting. If it improves on HTC's design and gets rid of Sense this could be a game changer.

HTCs design doesn't need changing. And sense is the best Posted via the Android Central App

Sense's aesthetics are outdated and in need of a refresh. Even Touchwiz passed it up with the S6. Sense also feels clunky with with its lack of transition animations. Stock lollipop smashes sense, and even touchwiz on LP regardless of device is now noticably higher in quality. The SD 810 on the M9 is also an aggressively throttled, overheating POS! And the camera is subpar which is to be expected from HTC. Good thing they isn't relying on the m9 with the release of other flagships these last few months because it's predecessor is easily the better handset overall.

Currently using the s6 edge and touchwiz, especially the themes make me ignore what andoird has to offer. Right now, able to change theme once in a while is just so much better than boring stock android.

If they are so outdated why did Google copy them for Lollipop? Posted via the Android Central App

Please. Google copied sense for Lollipop to say it is outdated is nonsense. The camera isn't actually subpar. The camera software is. Is it really that hard to understand. The hardware for the camera is on par with the S6 and G4. It's camera software is what hurts the phone. Posted via the Android Central App

Shouldn't the title of the article be "ASUS doubts they'll buy HTC"/

Wait.... So this is a complete non story. Only a passing comment was made which Asus says is a very remote possibility. So why even write up this nonsense? Boy AC loves to beat up on HTC. Stories like this are just lazy writing designed only to sound like there is some "breaking news" but in actuality, it's just a hollow waste of space. Anyone can write a cheap headline....Please take the time to write something thoughtful instead of National Enquirer-like... The end of HTC is near...pieces. Posted via the Android Central App

Ac loves to beat up on HTC? Watch the last podcast at least what Phil says Posted via the Android Central App

Now now, that's no way to talk about AC. You should be ashamed of yourself. Posted via LG G3

I support it simply because, while HTC has certainly disappointed recently, they have been a critical part of the evolution of Android and it would be a shame to see such a player exit the android smartphone market permanently. If they are bought by Asus I would hope that some of the good parts of HTC will survive.

I think that's rumored news it's not possible to sell the htc company because the htc gadgets are on top level 3 of whole gadgets developer if the m9 is deficit prophets in 2015. It's not cause to sell the copany htc is one of the best gadgets htc by nxt generation it will develops more the best device. the asus company will dreaming to purchase htc because htc is already well-known all over the world as a top 3 device.

Your grammar and punctuations made your comment hard to read.

Seems like a good corporate match. I generally like ASUS stuff and fin
d ASUS hardware to be heavy duty, but needing some refinement. My ASUS experience is mainly with their laptops. HTC definitely has the name and the polish. Solid Hardware from ASUS meet style and polish FROM HTC? Maybe the M10 will be a two part transformer phone ...Ha! Posted via the Android Central App

htc is strong and can't exit the mobile business ...I've had htc since 4 years and I really like it ..htc is the first company to create a smartphone (my touch series ) and it won't lose to Samsung ...It's impossible for the company to be sold ..
They need to focus on the camera instead of the sound ...They must cooperate with canon or nikon to improve the camera performance and they must increase the ram to 5 gb and the camera to 6000 MAH ... And to increase the advertisements and finally to find the way that attracts customer's attention

Fortunately I have and use both, IMO the merge of both raises the potential building the best Android phone ever. Each product has its strength and weakness, so both company must put their ego aside and just define a new TERM OF REFERENCE for their products objectively. That's all because their existing strengths are complementary and so do (or can be) their markets too. Just streamlining the products and focusing on each comparative value in their class respectively. Let's try it,,,,,
Android Central Newsletter
Get the best of Android Central in in your inbox, every day!
Thank you for signing up to Android Central. You will receive a verification email shortly.
There was a problem. Please refresh the page and try again.