ASUS Padfone 2 gets rumored pre-announcement specs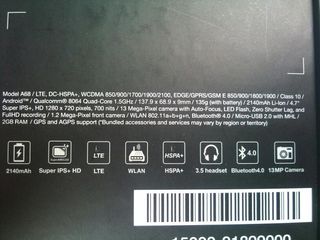 We're expecting ASUS to unveil the Padfone 2 on October 16, but why wait for details? This is the back of what looks to be the back of the box for the next smartphone from ASUS, and breaks down all of the important specs.
Model A68
LTE, DC-HSPA+: WCDMA 850/900/1700/1900/2100, EDGE/GPRS/GSM E 850/900/1800/1900, Class 10
Qualcomm 8064 quad-core 1.5 GHz processor, 2 GB of RAM
137.9 x 68.9 x 9 mm, 135 g
2140 mAh battery
4.7-inch Super IPS+ 1280 x 720 display
13 megapixel camera with zero shutter lag LED flash, auto-focus, and HD video recording
1.2 megapixel front camera
Wi-Fi a/b/g/n
Bluetooth 4.0
MicroUSB 2.0 with MHL support
Keep in mind that this is coming from some random dude on a Chinese forum, but it looks convincing enough to me. We had already heard from some leaked benchmarks that the next Padfone would have a quad-core processor, and this certainly corroborates that. What I'm mostly interested in is the dock and tablet companion devices; how much will they cost, and will they do anything more than the originals? What would the ASUS Padfone 2 have to offer in order to pull you away from more established smartphone makers?
Source: Mobile 01
Via: Engadget
Simon has been covering mobile since before the first iPhone came out. After producing news articles, podcasts, review videos, and everything in between, he's now helping industry partners get the word about their latest products. Get in touch with him at simon@futurenet.com.
Nice specs excluding the battery. A little bit larger battery and we are good to go.

Looks fake. Says Super IPS +, HD in one spot then says Super IPS+ HD in another. Yet the little clipart box says SuperAMOLED and is smaller than the other boxes. IPS and SuperAMOLED are different display techs. Plus the text doesn't line up on the specs. Why do people take the time to make these stupid fakes.

Looks fishy to me...if you look closely,the screen icon reads SuperAMOLED

good cacth superAMOLED on the graphic, IPS+ HD discription... LOL

I've always been very interested in the Padphone device, if they ever line up with a new release when I'm looking for a new tablet and have a phone upgrade I would really consider picking one up.

I would be very surprised if it's 3G pentaband.

Both my Transformer Prime and my Nexus 7 had quality control issues. I'll not get this even if it comes to Sprint which is the carrier I use and will not switch away from.

Looking very promising :) Needs to have Ubuntu for Android though!

According to http://fotoforensics.com/analysis.php?id=0bf3496fc12d7516b2af2d2a99698f7... it looks altered and I would say completely fake in my opinion.

Pentaband! I suspect this will be one of the next Nexus phones. Nexus Padfone, anyone?

Just need pentaband and that battery is enough to sell me on the model (given it to be a sane price, $599 at launch or lower)

Looks pretty bad ass to me. Covering all Networks including T-Mobile's HSPA+ and the hardware is no less than spectacular. The only thing I don't see is int memory. The specs are much better than any new Nexus device put out and that is a shame. You would think putting out only one phone a year Nexus could give us a device with great hardware. IMO the best Nexus phone is the Nexus One. Jerry and Phil seem to give Nexus a pass on their hardware by saying their specialty is the software, I think that is just bull, when people and me included tears apart the new I-Phone we also look at the hardware, why does Android Central give them a pass on their hardware. I am the biggest Nexus fan, have them all but pretty sick of buying lame ass hardware. Total bull shit, give us some kick ass hardware and the phone will not be able to stay on the shelves.

I guess we'll know for sure tomorrow...Crossing fingers for coming to Sprint
Android Central Newsletter
Get the best of Android Central in in your inbox, every day!
Thank you for signing up to Android Central. You will receive a verification email shortly.
There was a problem. Please refresh the page and try again.