ASUS announces pricing and availability for the Transformer Pad TF300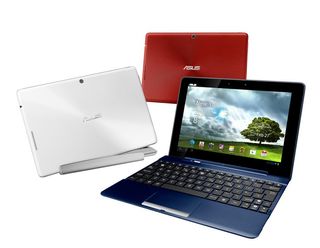 Back when ASUS announced the new Transformer Pad 300 at Mobile World Congress they left pricing and availability up in the air. Here we are now a few short months later and ASUS is now ready roll the NVIDIA Tegra 3 quad-core processor powered tablet featuring Android 4.0.3 out to the masses starting with online sales beginning on April 23rd and in-store options happening on April 30th depending on stock availability.
The Transformer Pad TF300 will be available in royal blue immediately but other colors such as torch red and iceberg white will be available in early June. US Pricing is $379 for the 16GB model, $399 for the 32GB model with the optional docking station retailing for $149. Keep in mind, if you're a ASUS Transformer TF101 or Transformer Prime TF201 owner, the docking station is not backwards compatible.
If you're not sure if the Transformer Pad TF300 is for you, no worries. We've got you covered with a full review of the device, spec sheet and more. If you're going to be picking up, drop a comment and let us know.
I don't know who's taking these decisions at ASUS, but having several incompatible models of the dock is just idiotic.

Especially when the TF101 first came out, Asus said that the dock would be compatible with future Transformer models.

Yes, but I think most would agree they are glad the dock was vastly improved over the TF101 models! So much so, that there was no way to keep the older ones compatible considering the changes in connection.

not only that but the color decisions are terrible, ALWAYS have a black model.

what is the difference between the original TF prime and this one? im still within a month of buying it at Bestbuy. i might take it back and save my self a hundred bucks @phil @jerry any change you could do a comparison? anyone else want to chime in?

The Prime, TF201 has a brighter Super IPS+ display of about 600 nits, whereas this TF300 has just the Super IPS display of about 350nits, making it similar to the Galaxy Nexus in brightness. Also, the Tegra 3 is 100MHz slower (1.2GHz) than in the Prime (1.3GHz). However, the TF300 uses newer DDR3 memory vs DDR2 in the Prime. The Prime has better, more sturdy construction but the new ones don't seem to have the wifi and GPS issues as severely as the original.

dang i poseted twice sorry :(

Tough choice between the TF300 or wait on the Infinity.

I want an Asus tablet. Any word on when the 700 series will come out? It will either be this tablet or the 700 series for me? More than likely this tablet since there isn't any indication the 700 will be out anytime soon.

I've preordered mine from office depot. Hopefully I;ll receive it this week

I'm holding out for the 55" tablets...

These are pretty good prices.
Now if they go back and check their work before releasing these so there are no more major snafus, and actually build enough to handle the demand they will have a winner. But yet another short supply situation or broken gps and their credibility will be shot.

Will this be available online at bestbuy.com or direct through Asus only?

Looks like its on sale on Amazon. I'm buying the blue one

Does anyone have any more information on when the White will be available and if it will be available through Best Buy?
Android Central Newsletter
Thank you for signing up to Android Central. You will receive a verification email shortly.
There was a problem. Please refresh the page and try again.