Asphalt 8: Airborne adds the Lamborghini Egoista supercar and Area 51 tracks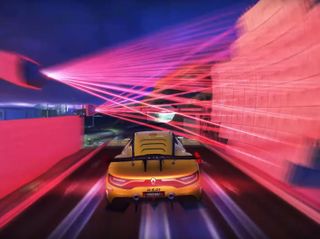 Gameloft has released what it is calling its biggest content update yet for its popular arcade racing game Asphalt 8: Airborne. The update, which is now available in the Google Play Store includes a new location, a new game mode and lots of new cars, including the video game debut of the Lamborghini Egoista supercar.
Here's what's new:
New Location: Enter Area 51, this world's most top-secret racing facility. Look out while flying; you're not alone in the sky!
R&D Series: Two speed machines will be revealed via R&D! Stack up amazing & exclusive rewards, while test-driving those beasts to the max, to make them yours
15 New Cars: Alongside the Lamborghini Egoista, the Lamborghini Asterion, Renault Sport R.S. 01, Nissan Skyline GT-R (R34) & 11 other sports cars will be revealed. Look for each one, coming out over the next days & weeks.
New Game Mode: Make the switch in the brand-new Tag Racing mode!. Experience the thrill of racing with 3 different cars in 1 single race!
Holiday tracks: Feel a cold rush as you streak across 3 winter-themed tracks!
Thanks to everyone for the tips!
Wow Posted via the Android Central App

After level 5 you better be ready to shell out some cash or your not going any further. Dam It Feels Good To Be A Google Gangster

Not so much. I played well past that to the point of it being too repetitive and never handed over a penny. Sometimes, I'd have to go back a few levels and do some grinding to upgrade my car but that was no big deal cuz I liked the game. If you are shelling out cash, you're either in too big of a hurry or your need to be a better driver.

That's cool Posted via the Android Central App

It also adds triggering a separate download on every new race, eating up your data plan. Posted via TCP/IP

I noticed that when I started playing the other day. Annoying! It's not like it didn't already require a 800+MB download to boot the game up after the update. Ugh! Posted via the 6P!

I don't think the new Lamborghini is going to influence a lot of new gamers to download the game. I miss the Lamborghinis of the past. :-( Posted via the Android Central App

I couldn't even get the download until yesterday morning so I missed the first race that gives everyone the Mercedes. Posted via the Android Central App
Android Central Newsletter
Get the best of Android Central in in your inbox, every day!
Thank you for signing up to Android Central. You will receive a verification email shortly.
There was a problem. Please refresh the page and try again.