Are you still using a Galaxy S9 in 2020?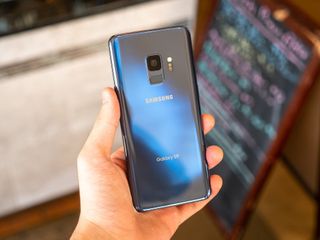 (Image credit: Hayato Huseman / Android Central)
When talking about smartphones here on AC, we tend to keep the discussion around devices that have recently launched and ones that are coming up on the horizon. These tend to be the most exciting/interesting gadgets to talk about, as they have new features, specs, etc.
For most people, however, they aren't buying a new phone every few months or every year. Instead, they'll buy a phone and hold onto it for two years or more.
One of our AC forum members recently asked if they should finally upgrade their aging Galaxy S9, with the conversation playing out as follows.
With that said, this thread got us to wondering — Are you still using a Galaxy S9 in 2020?
Android Central Newsletter
Get instant access to breaking news, the hottest reviews, great deals and helpful tips
Joe Maring was a Senior Editor for Android Central between 2017 and 2021. You can reach him on Twitter at @JoeMaring1.
I am still using an S8. What does that mean?

It means you're smarter than most when it comes to being misled down the primrose path of unnecessary upgrades that offer nothing really new, or needed, or of any advantage at all! Good for you! On top of that...you are saving mucho-moola!

Although I did notice an improvement with my current S9, my S8 was rock solid and I could still envision using it in 2020.

I'm honestly still using a Galaxy S7! And just in the past couple weeks, the camera has completely given up the ghost. I've tried all the suggestions I could find to resolve it, including resetting the phone, and no luck. I'm now using an old point-and-shoot and having to transfer image files. I'd welcome an S9!

I'm still using my Note8. It's cracked, I replaced the S Pen multiple times but it's still ticking. Think I'll upgrade to the next Note device tho.

Still using the S7. I broke my original like 2 months before my insurance was ending so I decided to just pay the $150 for a new one instead of upgrading phones and have now been using the S7 for nearly 3.5 years. For me, smart phones became good enough around 2015 so I'm chasing upgrades anymore. Whenever my S7 dies, I will probably jump up to a S10 or something else over a year old.

Still using the s9+ and it moves just like day 1. No lag, no issues at all. I still don't see a huge difference two generations forward. Will probably ride this workhorse until it dies or there is a compelling reason to upgrade.

I'm on S9 and I still love it. No punch hole and The Jack, which is a godsend for my 2nd car! I am eyeing for an upgrade but I'm absolutely in no rush at all. Even the battery doesn't bother me after all that time.

I passed my S9 to my daughter last year. I had to replace the screen, back, and battery after a drop but otherwise it's working great. The cameras were a dissappointment but otherwise still a great option for a smaller phone.

Still on the S9+. Battery life may have dropped a bit, otherwise, no issues at all. There, I just cursed myself, looking forward to joining the S20 crowd by the end of the week.

I am still on my NOTE 8 and will keep it till the wheels fall off. I am just pissed that samsung will no longer update my device cause of the 2 update rule they have. yet they update lesser equipped phones that are not considered their "flagship" i know my phone is 3 years old but still better than a lot of devices currently on the market.

Eh? I just bought my S9 3 months ago! No reason to dump it. Getting Security updates and Android 10 last month. Daft article.

Even with a Pixel 4XL, LG G8 and an iPhone Xs, my day to day device remains my Galaxy Note9. There's absolutely nothing wrong with using a device that was released in 2018. If I still had my S7Edge, this year would've been the year I would upgrade it, since 2020 is the year it reaches its end of life for security updates. My new upgrade cycle going forward is going to be based off of end of life security update. So, if I can resist the urge, my Note9 will see an upgrade to the Note22 once the Note23 launches in 2023 ☺

My S9 is just about 2 years old now. Works great, good camera, and the updates seem to be getting implemented more quickly now. I'll use this phone until it breaks.

Same here. No regrets. Upgraded from a Galaxy S6 Active with battery life slowly fading. My wife and mom also purchased one the same week, early April 2018.

If I can get the battery replaced on my S9, I'll keep using it for a long time, as it has never given me any trouble so far. i've had it since its launch date, and until i get a decent offer on newer phones, i'm keeping it. One UI 2.0, March security update, no lag, plenty of apps available, what else could you need?

I just got my S9 in September... I wanted an S10+, but they didn't have any Lifeproof cases for the S10+, so I got the S9 because they DID have a Lifeproof case for that. I absolutely will not walk out of the store with a new phone without it being in a Lifeproof case for its protection. I actually went through 2 Lifeproof cases on my S5 before I finally couldn't get good batteries for the S5 anymore (I could get genuine samsung batteries for it, but they all swelled during charging and would pop the screen right out of the frame)... and those cases made the S5 last over 6 years. No wonder OtterBox bought Lifeproof. edit: My S9 is running android 10... what about it is considered obsolete?

Got the one plus 7T about a month ago after having the S9 for about 22 months. It was working fine. Zero issues, other than a slightly decline in battery life.

Well my dad is still using the Galaxy S7 just saying .... I wish I was him sometimes when in comes to tech!

I've got an S9+ which has been a fantastically reliable workhorse.. the battery isn't as good as it once was (but only to be expected I guess).. it's the dual SIM model so was ideal for my needs... I didn't see any reason to upgrade... Until the S20 Ultra came out.. I've now got one and can fully appreciate the improvments over the S9+ in almost every area.

I am still using an S5, and actually took pains last year to buy a refurbished S5 at less than $100. I moved my SIM and memory cards into it and uploaded my last backup. Frankly, the smaller physical size, and the accessibility to battery, SIM AND a 3.5mm headphone jack, all make this still a good platform. The ever increasing size of newer devices, and the requirement to go to a dealer to get a new battery are deal breakers for me. I don't need or want a behemoth phone. I want a small very functional device. I also want that physical headset jack. The option to go to a wireless headset ALWAYS existed: don't take away my wired option... which they have done in the S20.

So what are the downsides of the Galaxy S9? I want a phone that has a decent sound quality for phone calls and a lot of memory for apps. I do not play multi-player games, nor battle/shooter games. I prefer strategy games , solitaire card games and Sudoku. I usually use games to kill time in waiting rooms. I do not watch movies on my cell phone. And I definitely do not need the lastest and greatest since my cell phone is not attached to my hip at all times or surgically implanted in my hand.

Im still using s5 and s6edge, the s5 is so stronge after i replaced a new battery, i have no hope to replace it in the future, both have otg to offline raw files from my dslr

Still on a S9+ since launch. The screen had an issue in October (not responding) - but it was replace under warranty and they (SAMSUNG) replaced the battery at the same time. It stopped charging by wire but this was also fixed under warranty so no real reasons to change as the battery is now fresh again. Might upgrade next year.

OMG!! How do us plebs even stand ourselves?? Oh the drama of using a phone that wasn't just released last month. Give us a break.

I purchased a brand new Galaxy S9 ,256 GB, gold color by spending 330$.
I am happy with all performance including camera but except battery which last 24 Hours only.
I didn't go for the new android update because, by updating I will loose call recording facility, which is very important in my life,because I am a 66 years old ,forgetting most.
Comparing to S10, S9 is best.

Using an S9. Replaced a cracked screen a few months ago. Phone is running great! Trying to hold out till the S21 is released next Feb./Mar.
Android Central Newsletter
Get instant access to breaking news, the hottest reviews, great deals and helpful tips
Thank you for signing up to Android Central. You will receive a verification email shortly.
There was a problem. Please refresh the page and try again.