Are you going to use a screen protector on the Galaxy S9?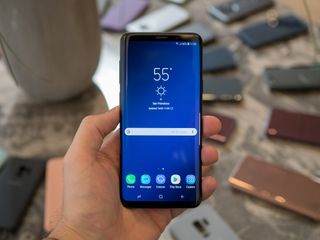 Samsung's Galaxy S9 is a beautifully-designed piece of tech, and will likely remain as one of the year's best-looking phones as we go about 2018. However, as flashy as it may be, that's not to say it's the most durable thing in the world.
The Galaxy S9 is made mostly out of glass, and the curved edges on the front make the screen incredibly prone to unwanted scratches and cracks thanks to the slippery nature of the phone. A screen protector is one of the best ways to retain the good looks of the S9 while ensuring your display stays as pristine as possible, and there are already a lot of different options to choose from.
Some of our forum users recently started talking about which screen protectors they'll be using on their Galaxy S9s, and this is what they had to say.
Now, we want to hear from you – Are you going to use a screen protector on the Galaxy S9? If so, which one?
Android Central Newsletter
Get instant access to breaking news, the hottest reviews, great deals and helpful tips
Joe Maring was a Senior Editor for Android Central between 2017 and 2021. You can reach him on Twitter at @JoeMaring1.
I hate the way screen protectors make the phone feel. I've had my S8+ without a screen protector since launch day with no issues. I do have it in an Otterbox though which has saved it from a couple of drops.

I've never used screen protectors and don't plan on starting anytime soon.

Nope! Screen protectors ruin the beautiful displays.

I use wallet cases on my s8+. With gorilla glass 5 I never use a screen protector. Had it for a year, not one mark on it. No need a!

Didn't with my s8+ so not with this one either. I take care of my phones well.

I am. I used my iPhone X for 2 weeks without one and it was scratched up pretty bad in a few places. Not sure which one yet though.

Haven't on the past 3 curved screen phones since my s6. Not starting now.

I love the way a screen feels without a protector, but I love a screen without scratches even more. I tried going without one with my S8+ and somehow managed to scratch the screen. I have a Spigen neoflex on my S9+.

Used armoursuit on my s8plus and put it on my s9plus. Like was already said, I don't want scratches on my screen.

I definitely will use a screen protector on my expensive s9+....

Joe, please don't use your opinion as the lead sentence in a factual article. I have a case already, now waiting for my s9+.

No I will not. I like the smooth reaction time of the naked display. I think the screen protectors make my GS9 feel and look cheap!

Since I don't carry nails in my pockets, no I will not. I have never use screen protectors on any of my phones. Takes away some of that nice experience of using an expensive premium device.

Yeah, I decided to this time around. I usually just use a case but didn't use anything on my S7. It look beat to hell when I trade it in lol... Suprised & happy At&t gave me 300$ for it! Went with the Whitestone domed glass screen protector. Feels like a nude screen and works with all cases(from what I can tell). Installation is a chore though & I got minuscule bubbles on the right edge (still contemplating a replacement or return) but otherwise its awesome.

I know it is a different phone, but I highly recommend the Whitestone Dome. Installed on my pixel 2xl, and looks amazing! Ordered one for my wife's pixel 2...as she is not so careful with her tech. Installation was a bit more involved, but patience and the mounting tray make it fairly easy. I am finding that the plastic "stick on" protectors don't sit well on the curved screens.
Android Central Newsletter
Get instant access to breaking news, the hottest reviews, great deals and helpful tips
Thank you for signing up to Android Central. You will receive a verification email shortly.
There was a problem. Please refresh the page and try again.