Archos G9 Honeycomb tablets coming Sept. 20, from $299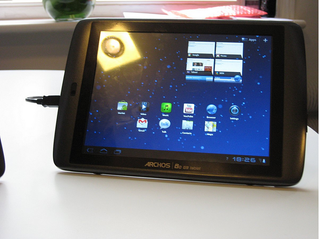 Following up on their introduction of the G9 range of Honeycomb tablets back in June (see our hands-on) , Archos has announced that the devices will be available starting September 20. The big news is that the starting price point for these comes in at just $299, the first manufacturer to go under $300.
For that you get the 8-inch Archos 80 8GB packing an OMAP 4 ARM Cortex A9 dual core processor at 1GHz, Android 3.2, and unlike previous Archos devices these come fully loaded with the official Android Market.
Pushing on a bit further, the Archos G9 "Turbo" devices will begin to appear later on in the month. These push the OMAP 4 up to a pretty hefty 1.5GHz and will be appearing for sale from September 30. These include the 16GB and 250GB variants of the 80, and the 16GB and 250GB big brothers to the 80, the 10 inch Archos 101. All but the 250GB 101 come in at under $400, which is pretty competitive pricing.
Check out our hands on with the devices back at the launch event after the jump.
Source: Businesswire
Hands-on with the Archos G9 tablets
Android Central Newsletter
Get instant access to breaking news, the hottest reviews, great deals and helpful tips
I might have just found my next tablet. First?

I think this is the right price point. I know that there is cost in these things, but if I can get a netbook that will do significantly more than a tablet for half the price I'd rather do that. I know the specs don't match up, but the capabilities do and that's where it should count. The way I see it, tablets should cost $300 as a standard (but nooooo apple had to ruin that too).

These devices are great because of their hard drive capacity. Anyone know if these can be dual booted with Ubuntu?

At that price point, I may actually cave in and get a tablet. The fact these have hard drives with large amounts of space make them winners. Also, I like the kickstand! :)

I wonder if the last gen of archos tablets are going to get any honeycomb love? I love my 101, but am getting envious of not having honeycomb.

Very keen to see these reviewed, make it so AC!

Wait... Honeycomb on a Cortex A9 chip? I thought Honeycomb was Tegra 2 only, and ICS would be the One True Android build. If Archos got Honeycomb running on Cortex, there's absolutely no excuse for Vizio, Lenovo, etc., that are still shipping Gingerbread tablets.

This may have just given the $250 Amazon "Android" tablet (or my plans to buy and root a Nook Color)a bit of competition. Drive those prices down! I'll be very interested to see a hands-on thorough review.

I've been vacillating about buying a tablet for almost six months now. This one does look like it hit the right price point but it seems to me that we are on the cusp of an entirely new generation of tablets running ICS with quad core hardware. As appealing as this tablet is I feel like the next generation of tablets are finally going to get to that level where they will have solid long lived performance. Something like what I think of the current state of PCs. Sure there are always going to be better and faster for the most cutting edge games and the like, but PCs today have gotten to the point where anything but gaming runs just great and the "need" to constantly update is very diminished. I think the current tablets are still struggling with those basics (even though they are pretty good) but the next gen should finally bring that time when it "just works" for most everyday tasks.

8" is a great size. I own a 7" and a 10". the bigger tablet is pretty much used for web browsing as its to big and gets heavy to hold with one hand. The smaller is used for ebook reading. I think the 8" will be a good compromise

I currently have the 7" Nook Color with CM7. Its a great device, but my 50+ year old eyes would prefer something a little larger. Will an 8" device make a difference? Or do I need a 9" or 10" device? Can't wait for Ice Cream Sandwich so all my devices run on the same Android OS.

I am fairly happy with my G8 Archos 101. It is great for reading books via Google Books or in ePub formats; decent video for movies and Youtube; great for games (I love rpgs). There is a Linux dualboot available for you more techie people, and I spend hours every day with my Archos...which no one in the world has ever heard of, it seems sometimes. I am interested in the G9 series and will probably nab the bigger one promptly for its high powered video.

Here we go again. Manufacturers seem desperate to hide at least one critical specification. And this one is typical: memory. They go on and on about storage: http://www.archos.com/products/gen9/archos_80g9/specs.html?country=us&la... Yet not a SINGLE word about how much memory it has. Do they have something to hide? Is it not 1GB? It is 512MB? 768MB? Such a device will suck without 1GB of RAM.

If you look at the hands on there is this: "Speaking of options, we're told that certain models will ship with 512MB of RAM, while others will a full gigabyte. We're not thrilled about the prospect of Honeycomb on less than a gig of RAM, but at least this won't be the case on every G9." I would not buy one without 1GB of RAM, but at least people will have options. I have been considering the HTC flyer, but the $499 price just did not sit well with me. This looks much better.

Android is about choice.
When companies do things like this they help make Android tablets a more viable choice over IOS devices.

i wouldnt wipe my a55 with any archos device.... i bought one and within a month it died on me..... $200 wasted... never again.

i wouldnt wipe my a55 with any archos device.... i bought one and within a month it died on me..... $200 wasted... never again.
Android Central Newsletter
Get instant access to breaking news, the hottest reviews, great deals and helpful tips
Thank you for signing up to Android Central. You will receive a verification email shortly.
There was a problem. Please refresh the page and try again.