Andy Rubin teases wild ultra-tall Essential smartphone design with color-shifting mirrored back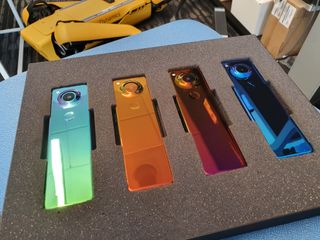 Andy Rubin on Tuesday teased … something. The Android co-founder Tweeted images of a wild new smartphone concept that looks ready for your pocket. Is it the Essential Phone 2? Is it something completely different? We don't really know. All we know now is that it looks weird.
https://twitter.com/Arubin/status/1181688574975983616
Rubin called the device a "radically different form factor" with an an unusual elongated design. It's incredibly tall in relation to its width. No specs are revealed, but you can see a larger camera bump on the back and what looks like a fingerprint sensor.
The skinny display looks like it's only about an inch and half wide, maybe two inches at most. That's unlike anything else on the market right now. As a result of the different form factor, Rubin revealed a first look at the device's "new UI," which appears to feature card-like apps.
Rubin is no stranger to introducing radical form factors. He co-created T-Mobile's legendary Sidekick and then went on to create the Essential Phone, which had lots of unique hardware ideas. This new device, which doesn't yet have a name, is his most radical yet.
Whatever Rubin is teasing looks to be nearly complete. Rubin did note, however, that he and his team are still dialing in the colors, which he said feature a GEM colorshift material. They look to be highly reflective and dramatically change colors with different viewing angles and lighting.
https://twitter.com/Arubin/status/1181688540540764160
Essential confirmed to The Verge that what Rubin teased is indeed an Essential product and is in "early testing." Hours after Rubin spilled the beans, the official Essential Twitter account chimed in with some professional photos of the phones. It's also using the hashtag "#ProjectGEM" to refer to the device:
Rubin has sparesly (and sometimes oddly) used his personal Twitter account. This is Rubin's first tweet in nearly a year, since publicly refuting reporting on the details of his divorce — a thread that would eventually be tied into information of much more serious allegations from his time at Google, including details of his payout from the company following his resignation under allegations of sexual misconduct. Rubin has also previously spent time away from Essential itself following allegations of "inappropriate behavior" at the company.
Despite that history, Rubin still seems very much involved in the product roadmap of Essential, however robust it may (or may not) be.
A new fad that will fade away?

Yeah, I don't care what this sexual abuser is doing.

Well the colors are pretty.🤨

That's a chocolate bar with Google maps on it! 🍫😂

It took some adjustment to get used to 2:1 ratio (18:9 in marketing speak), then we have Sony with its super tall phone which is only good for wide screen movies, and now this half a phone. Oh well, at least it will be easy to hold... maybe.

Nobody will buy this......it doesn't say apple or Samsung on it

Looks interesting, wonder it'll be more of a companion device than a main phone.

I applaud their attempt at innovating, but it makes the device so niche that no one will buy it. Sure, it works with a a launcher, dialer, maps, etc. Will it work with a game that wasn't designed for the wacky form factor? Can anyone actually read a website on that form factor? It seems rather pointless to me.

It wouldn't be any worse than the game only taking up 3/4 of the screen. And websites would scale to the width, so more of it visible, but at a smaller scale...

Can't be worse than Palm's android phone.

My inside sources tell me the key is not in its verticalness but its sideways. It's a 20 megapix display that shows semi-panoramic full-3D videos, goggle-free, at 300 frames/second, alternating between the eyes for 150 f/s per eye, using pivoting micro-shutters each 5x5 microns. It's an updated mechanism originally pioneered by Texas Instruments for their micro-mirror projection system. The eyes are sensor-tracked, and the shutters can adjust for up to 15° variation in the viewing angle; the image is 99.87% blocked for the alternate non-viewing eye.

As an essential ph-1 user this is pretty disappointing. Was holding out for an actual successor to PH-1, but we get half of a phone instead.

Perfect kid phone maybe? Text, call, basic apps and perhaps games, but minimal and perhaps more for using visual apps than consuming content. Seems lots of folks want to use their devices less these days, but larger phones promote the opposite from my perspective

Don't know what this is yet, but it is not just a smart phone or intended to replace a smartphone.

I would agree with this. Phones reached their peak. There is not much more that can be invented. This is not a phone only device....

From all credible reports, Mr Rubin is a pretty crap human being. Perhaps we should support someone else.

That is no smartphone, that is an abomination..

How would this fit into the pocket???

Did you see all the pictures? It is no taller then the phone you have now. Is half the size of current smart phones, so why wouldn't it fit in your pocket?

Interesting, actually shaped like a phone not today's oversized pocket toy. Wonder, coming from Essential, if it will get some fair reviews.

I've really been wanting to try Sony's extra tall displays but this seems more than a bit overkill.

I like it! I've "fantasized" about a slender smartphone for years. It all comes down to the UI, though...!

While these "easier to carry than your normal phone" phones seem appealing, FOMO has always kept me carrying my main one. If the smaller form factor could really do everything my usual phone did, it would probably be my usual phone.

They hinted at a companion device a long time ago...which I'm fine with and would love something that is smaller for different parts of my day (workouts, going to a party, etc...) But I hope this companion device doesn't mean that they won't announce a PH-2, as well. Don't see why they wouldn't make both and sell it a bundle. But I'm guessing this "companion" device will be highly compatible with all the other major Android phones
Android Central Newsletter
Thank you for signing up to Android Central. You will receive a verification email shortly.
There was a problem. Please refresh the page and try again.