Andy Rubin teases wild ultra-tall Essential smartphone design with color-shifting mirrored back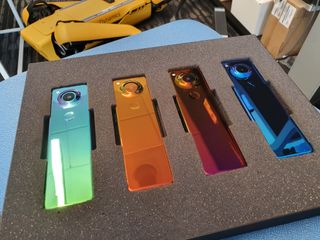 Andy Rubin on Tuesday teased … something. The Android co-founder Tweeted images of a wild new smartphone concept that looks ready for your pocket. Is it the Essential Phone 2? Is it something completely different? We don't really know. All we know now is that it looks weird.
https://twitter.com/Arubin/status/1181688574975983616
Rubin called the device a "radically different form factor" with an an unusual elongated design. It's incredibly tall in relation to its width. No specs are revealed, but you can see a larger camera bump on the back and what looks like a fingerprint sensor.
The skinny display looks like it's only about an inch and half wide, maybe two inches at most. That's unlike anything else on the market right now. As a result of the different form factor, Rubin revealed a first look at the device's "new UI," which appears to feature card-like apps.
Rubin is no stranger to introducing radical form factors. He co-created T-Mobile's legendary Sidekick and then went on to create the Essential Phone, which had lots of unique hardware ideas. This new device, which doesn't yet have a name, is his most radical yet.
Whatever Rubin is teasing looks to be nearly complete. Rubin did note, however, that he and his team are still dialing in the colors, which he said feature a GEM colorshift material. They look to be highly reflective and dramatically change colors with different viewing angles and lighting.
https://twitter.com/Arubin/status/1181688540540764160
Essential confirmed to The Verge that what Rubin teased is indeed an Essential product and is in "early testing." Hours after Rubin spilled the beans, the official Essential Twitter account chimed in with some professional photos of the phones. It's also using the hashtag "#ProjectGEM" to refer to the device:
Rubin has sparesly (and sometimes oddly) used his personal Twitter account. This is Rubin's first tweet in nearly a year, since publicly refuting reporting on the details of his divorce — a thread that would eventually be tied into information of much more serious allegations from his time at Google, including details of his payout from the company following his resignation under allegations of sexual misconduct. Rubin has also previously spent time away from Essential itself following allegations of "inappropriate behavior" at the company.
Despite that history, Rubin still seems very much involved in the product roadmap of Essential, however robust it may (or may not) be.
Get the Android Central Newsletter
Instant access to breaking news, the hottest reviews, great deals and helpful tips.