What's new in Android Oreo?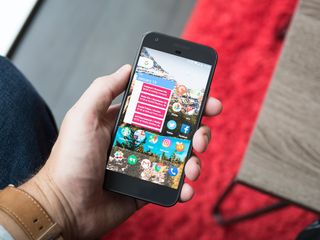 Android Oreo brings several changes to existing features as well as all new features. Since it first arrived in 2008, Android has been a very fluid bit of software. The mobile space is always evolving and Android has evolved along with it so it could meet the needs of people like us who use it every day.
With the first developer preview of Android Oreo, we got a glimpse of some of the new features. Now that Android 8.0 is final, we know exactly what to expect from the latest version.
Here's everything you need to know!
Background limits
Starting with Android 7.0, Android can restrict certain activities an application wants to do while it's in the background. Oreo builds on this beginning and places top priority on saving power and improving battery life without the user (that's us!) having to do anything or install anything,
New limits on implicit broadcasts (sending "signals" for other apps or activities to act upon), background services (activities of an app that continue to run when it's not on the screen) and location updates (checking to see where you are using Android's location services) are automatic. This means it's easier to build apps that don't have an impact on battery life and the user doesn't have to manage anything.
This is a new area for Android, so developers are encouraged to study the documentation and try out the background execution and location limits before Android Oreo is available for consumer devices. Background execution limits are a pretty big deal, even though we don't see any changes on our screen.
Notification channels
Android N brought a new framework for notifications and ways for developers to use it so we get more information in a space where real estate is at a premium.
With Android Oreo, Google is introducing new Notification channels: grouping notifications together by their type. Notifications are still managed by the app that delivers them, but users can control how things are displayed on a per-channel basis. This way we can decide things like how a news app notifies us or a music player shows a persistent notification. Notification channels is a new way for us to control the rich notifications that Android apps bring to us.
Some of those rich notification changes come in the form of a custom notification when media is playing. Google's examples use the album art or video thumbnail to build a colorful interactive notification.
Notification channels are required if a developer targets their app for Android Oreo, and are an all or nothing affair. If a notification isn't assigned to a channel it won't be displayed.
More: Everything you need to know about notifications in Android Oreo
Picture in picture for handsets
Google is moving PiP display support to Android phones.
Currently, Android TV has a native PiP display method but handsets use a standard multi-window view versus an overlay. With the new way of doing things, and apps can be designed so that the supplementary window is strictly for content and controls or other bits of app chrome can be placed elsewhere.
With Android Oreo, we can shrink the view of an app into a small secondary window that can be positioned by the user at run time. For example, a YouTube window can be shrunk and moved so that you can take notes in a second app while it's playing.
This also brings a new way to handle screen overlays and methods for a device to launch an app or activity (a portion of an app) on a remote display. An app can run on more than one display at a time, and the developer can decide which screen to launch an app on when the user starts it up.
Adaptive icons and badges
The Google Pixel Launcher brought adaptive icons, and now Android supports them systemwide and natively.
Options can be given for different shaped masks that define the outside border (think squircles) and icons can be animated. Adaptive icons will be supported in the launcher, shortcuts, device Settings, sharing dialogs, and the app overview screen.
Google has built this out in a way that's easy for developers. They provide an icon as normal and a background, and the system stitches them together using a mask that the home launcher defines.
Additionally, new icons support badges for new content. Called "Notification Dots" they are a lot like badges we've seen before. Google adds things like a preview pane from the home screen you can access from the icon shortcut as well as app-exclusive shortcuts, such as replying to a message.
More: What are Adaptive Icons and why do I want them?
Font resources in XML
Android Oreo promotes fonts to a full resource type.
This means that fonts can be defined the same way colors and other resources are in application layouts using XML, and developers will have more control over the fonts and style they use. This might mean we can have apps with their own custom fonts without any complicated procedures by developer or users.
Google is bundling all their own free fonts into downloadable packages that can be used here, and this can apply to emojis, too!
Project Treble
Project Treble is a fundamental change in how Android is created and how third party vendors — companies like Qualcomm or NVIDIA — can add their required software outside of the main Android framework. It's a major undertaking and has been a long time coming, but it should alleviate much of the slow update problem we see from companies who make Android phones.
The Pixel and Pixel XL are the only existing phones that will be able to use Project Treble's features, but phones shipping with Android 8.0 or later will have full access. We hope they take advantage of it!
More: How Google's Project Treble will help fix one of Android's oldest problems
Autofill APIs
Platform support for autofill means better security and a powerful way for an application to store repetitive information.
With the new Autofill API, a user will be able to choose a source for autofill data, and applications that need to store and retrieve this sort of data no longer will need to act as an Accessibility service. An app like a password manager can bundle its own activity for using the autofill API and we can choose it when we need it much like choosing a new keyboard. An app could also be built that acts as a global storage for autofill data without being associated with any one particular program.
Wide-gamut color for apps
Developers building applications for Android Oreo on devices that support wide-gamut color can now leverage those displays.
Apps like photo editors and image viewers can make use of this, and the developers simply need to enable a setting letting the system know the app is wide-gamut color aware and embed a wide color profile. Some of the support profiles are AdobeRGB, Pro Photo RGB, and DCI-P3.
Connectivity
Android Oreo brings some changes to the way our devices communicate with other devices. Welcome changes include:
High-quality Bluetooth audio through the Sony LDAC codec. Your favorite songs will sound even better through Bluetooth connections. The latest developer preview also has support for the AptX codec, so music through Bluetooth can sound better than ever.
NAN (Neighborhood Aware Networking) connectivity using the Wi-Fi Aware specification. Devices with supported hardware can communicate with each other using Wi-Fi without a central access point.
Telecom framework introduces new ways for third-party calling apps to work with each other and with your carrier's special features. New APIs now support apps that don't need to use the universal system phone app to display calling information and this data can be displayed and controlled over Bluetooth.
Keyboard navigation and Pointer capture
Android on Chromebooks means we need a better way to use all the features of an app through the keyboard and mouse. Android Oreo focuses on building a better model for arrow and tab key navigation. This is one of those things that are both better and easier for developers and end users.
Keyboard navigation brings the familiar "Meta-Key+Tab" keyboard navigation to Android apps using what's called keyboard navigation clusters, and Pointer capture give an app or game control over the mouse pointer through the default trackpad or an external mouse.
Audio enhancements
The new AAudio API was built for applications that need a high-performance and low-latency audio path. Audio data can be read and written via normal streams and the AAudio API handles the routing and latency.
The first versions of the AAudio APIs are not yet complete but are a great way for developers who need these features to provide feedback. We want the people building an equivalent of GarageBand for Android to have some say in how the new features work!
Additional tools for developers, like audio focus enhancements and a new volume shaper class will make our music sound even better, and new ways to access media files mean developers can do a lot more with apps that play them.
WebView enhancements
Android Oreo enables the multi-process mode for WebView components from Nougat as the default and adds a new set of APIs that provide version information, better ways to terminate a web view window, a method to determine the priority of rendering a web view, and the Google Safe Browsing API.
These make applications that use web development languages better stability and security, and users will benefit if developers enable Google Safe Browsing for remote URLs.
Java 8 APIs and runtime optimizations
Android Oreo supports new Java Language APIs, including the new java.time API introduced with the latest version of Java 8. Optimization for the new runtimes is also included for better performance and stability in apps designed for Android Oreo.
If you're interested in developing apps for Android 8.0, this is just the tip of the iceberg. Visit the Android Developers blog for the full scoop on the changes and example code.
Updated August 2017 with the final version of the change log for Android O.
Android Central Newsletter
Get instant access to breaking news, the hottest reviews, great deals and helpful tips
Senior Editor — Google Ecosystem
Jerry is an amateur woodworker and struggling shade tree mechanic. There's nothing he can't take apart, but many things he can't reassemble. You'll find him writing and speaking his loud opinion on Android Central and occasionally on Twitter.
I hope they also include aptX for high res audio, since LDAC is only used on Sony's headphones. Actually, I hope they use aptX HD, but beggars can't be choosers.

According to Android Police, they are supporting aptx.

I read that article; nothing in Google's documentation specifies support for aptX, Android Police is presuming it will include support since that is the dominant codec.

It seems that aptX is indeed supported. I noticed that the neckbuds that I use at work sounded much fuller so I looked at the bluetooth stack to see that it was using aptX. I don't think that I have anything with me at work to check for aptX HD.

I want the limitation to use fingerprint to unlock the phone only if it was locked using the hardware lock key to be withdrawn. One needs to enter the PIN/Pass/Pattern to unlock the phone if it was locked via software lock (like double tap). This was introduced in Marshmallow. Is there a feedback system in place to send suggestions to Google?

I agree that that should be the OS-level policy. But if that feature is important to you right now, Nova Launcher is a a temporary solution. You can set it so that a double-tap (or any supported gesture) on the home screen locks the device as a device administrator and requires PIN to unlock.

Thats not what he meant.
He wants it so if you double tap to lock, the fingerprint can then unlock.
Currently it cant

Oh, I see. Yeah, I misread the original comment.

Yup, this drives me crazy. I pick up the phone and try to unlock via my finger print scanner only to realize I must have double tapped to lock previously. Very annoying. Fingerprint scanners should have a global override and trump all other locking methods.

Nova launcher has a feature that requires a 5 second wait, but afterward you can use your finger print sensor instead of pin/gesture.

I wonder if AAudio will reduce latency while using Android Auto

How about get us all Nuget before we talk about O, they cant even do that

What do you mean? Google already pushed Nougat to their phones.

It's not up to Google. Once they release it, it is up to the phone manufacturers and carriers to get it pushed out. Barking up the wrong tree.

I don't understand the logic... "Google please stop improving Android..."?

Google has already made Nougat. Its been out for some time. If your phone doesn't have N yet... Speak with your carrier and phone manufacturer.

While it is up to the carrier and hardware oems, maybe there should be some onus on Google to push those parties harder as it reflects badly on the platform as a whole with the way updates on anything but the latest flagships are so slow to arrive.

Maybe that would have made sense in the past...but with Google selling their own phones now I think they could give two *****. They have an easy answer, "buy a phone from us".

If that is important to you, then you'll have to start focusing on phones that get their updates quickly or go with the Pixel line.

I've had Android n for over a year. I keep telling ppl if u want an android phone get a pixel or nexus. If u want a samsung, HTC or, LG don't expect updates. It's not Googles job to update those phones.

Not Google's problem that you want a Samsung or LG device or any other none Google device. If you want updates get a Google device.

Is the Bluetooth actually going to work the way it's intended and should this time around ?

How is it intended to work? Mine works great with my wireless headphones and wireless speakers.

If you mean both pieces of equipment that use the same version of the Bt spec work great, then yeah. Just like every other release. If you mean one piece is something more than 6 months old. then no.

Cool! I think the Samsung G935U should be getting this update in April, 2019.. Correct?

Hi Google,
Am human and I love your OS. One problem I have with your platform is it's fragmentation. Please take control of what you created. Is Android O solving some of the issues? If not bye! If yes, Thanks

What fragmentation issues are you talking about? How about this, stop being cheap and buy a new phone every two years and you won't have to keep using this trollish played out line.

You sound angry, get a cold drink and rest. Pointless argument

Not angry. Hungry though. Honestly, explain your gripe with this "fragmentation" issue. Back in the day I would be a little bummed that my GS1 didn't get updated as fast as the Nexus 1, or my HTC Sensation wasn't updated as fast the Galaxy Nexus, but those days are long gone. My non-rooted One Plus 3 gets fast OTA updates and is on 7.1.1 I just don't see what the commotion is about. In fact my last two phones (Moto X Pure, GS6 edge) didn't bother me one bit that their updates were a little behind because the day one bugs that I experienced with my Nexus 6 showed me the light. If your gripe is with carrier phones, then that's on you. It simply comes with the territory which is why I switched to unlocked phones. It's the only way to go.

Really? So we're supposed to buy a new nearly-$1000 device every couple of years because those devices are now throwaway, you can't get an update? If that was the case with laptops or desktops -- many of which cost less than a flagship phone -- you'd be screaming.

Nearly $1000 huh? You forget that Mobile phones are still nowhere close to the power of a good desktop or laptop, so yes by those standards they're still hand me downs or off to ebay after two years. My 3 year old beast of a PC and my 2014 Macbook pro are still kicking ass while my old HTC m8 is painful to use. I still even have my M7 and while its wonderful to look at this it's glorious design it's like driving a Chevy Cavalier that has 200000 miles on it. Sure it still works but do you really want to use it. Also, the One Plus 3 costs less than $500, so my deepest apologies to if you're spending more than that.

If you need the best and brightest then you'll set yourself back $700-$800 every year. But if you can handle having a great phone for 2 years then there are $400 phones that are within 5% overall of the top android phones, some argue they are better (ZTE Axon, OnePlus, etc.)

Agreed. I would hands down say that my OnePlus 3 ($400) craps all over my S6 Edge ($850). The S6 Edge was such a dog that I didn't even consider the S7. Samsung will have to pull off some sort of miracle to get me to go back.

Sales show they don't need you back. I think they're doing fine

You know you can get a galaxy S8 for like 499 these days. Lol

I'd like to see from where? I got rid of my S8 last week for an LG G6 64GB International Version for $399. Don't miss a single feature from the S8.

I love how everyone thinks this Fragmentation is caused by Google. Google is making the OS, the Phone manufacturer and your carrier control WHEN that OS gets installed. This is why Google made the Pixel and Nexus lines. They wanted devices that everyone could use and get the latest updates for without the need to worry about the Carriers waiting to "install" their custom apps and custom launchers and bloatware to the phone to label it as a Verizon/ATT/Sprint device. Until Google STOPS allowing their OS to be installed on other devices, or Phone carriers remove their bloatware needs (which seriously, why would they do this) you will continue to see this fragmentation.

Don't even try to be logical. This is the internet, they're angry before even reading the article. And I totally agree with you. Everyone complains but they refuse to buy non-carrier branded phones. Pixel, OnePlus, and hopefully some type of Nexus line again IMO is the only way to go. HTC is actually surprisingly fast with their updates but... now they just to make another phone that people actually want.

People don't buy unbranded because they can't carrier finance them I think,

Google is powerful enough now that they could enforce it as part of their requirements. If you want Google Play Services, you need to meet certain requirements. Putting req's on upgradeability is entirely within Google's power. So they may not have created the problem, but they certainly can solve it.

Open Source definition: "denoting software for which the original source code is made freely available and may be redistributed and modified." Phone manufacturers use Android because it is open source. Google can't control what manufacturers do with it once it's released to them. Google could turn Android into a closed source OS, like Windows and iOS, but then manufacturers would have less incentive to use it, since every brand of phone would be pretty much identical other than screen size and build materials. Sadly, if you really want Android the way Google make it, your only real choice is to buy a Pixel phone.

They have other requirements that are mandatory for oems to get access to the play store and google's own apps, so why not take things a bit further and require more timely updates as part of those reqs, it would cut out one of the easiest comments that the ios media use against android devices and raise the overall impression of the overall brand and OS.

That would involve the carriers playing ball.

and Google has enough sway that they can probably enforce that. i mean, carriers allow them to push out to their pixels pretty quickly.

AutoFill API is a great improvement, I've never liked autofill having to be an accessibility service.

Really like the idea of Adaptive Icons and the system support of aptx.

AAudio could be used by Poweramp... Ugh that would be awesome.

While I'm extremely happy about the AAudio stuff, I'll admit I'm kinda shocked it took them this long to address this considering Samsung solved this problem with Samsung Pro Audio that was 1st introduced with the Note 4 and S6. Better late than never.

I don't trust the "it will save power" crap anymore. They are promising that since Lollipop and it's been quite the opposite.

? Uninstall all your apps, compare every nexus phone.

And somehow, all of Google's power saving solutions seem to reduce functionality in some way. Delay notifications, keep apps from running in the background (isn't the reason we have multi-tasking so that apps CAN run in the background?), delay your emails arriving until you turn the screen on....

Shouldn't we be complaining about battery manufactures and technology in general for still not finding a way to give us efficient power? I'm amazed at how little battery technology has increased.

Most of this stuff is already in Grace UX on my Galaxy S7 but still, nice to see I will not be without these features when I upgrade to the Pixel successor later this year.

Not a single thing on this list is on your Galaxy S7. Sorry.

Samsung Pro Audio might not be the exact same as AAudio but they seem to produce the same desired outcome. The beauty of Samsung Pro Audio is that I can use Amplitube with a cheaper iRig that uses the headphone jack and get almost no latency. Sorry. Not trying to be a pain it's just that guitar amp sim software is the one thing that really lacks on Android.

Maybe I don't understand the impact of some of these changes but IMHO apart from the HD Bluetooth Audio this seems like a boring upgrade, nothing to be really exited about, kind of disappointed to be honest...

There are more changes to come. This is only a dev preview. We won't know about all the new features until a beta or two in.

aaaand... its here and its still kind of boring.

You know, this is why I don't really worry about updates in the Android OS. I mean when I purchase a device sure I want the most up to date version of the OS that I can get, but Google puts out a new version of Android seemingly once a year if not once every few months. Aside from actual security updates you can acquire or mimic a lot of Android features with a good launcher and some apps. Don't have picture in picture? There's an app for it that'll give you a floating YouTube window? Don't have side by side screens to run two apps at the same time? There's an app for that in the Play Store. Don't have the Google Pill? Download it either outright or as part of a launcher. For a while I was running the Moto G1 which was running Kit Kat 4.4.4. Once Google moved on to Lollipop I could've felt left out but running Nova Launcher as I was over the course of a few updates Nova Launcher allowed me to mimic Lollipop. I'm now running the Moto G4 with Marshmallow and you'd swear I was running the Pixel software as Nova Launcher mimics it almost perfectly, even the long touch of icons for additional features. So security updates via individual apps yes, but I really don't sweat that I don't have the most up to date operating system...

Very interesting, thank you.

1. More restrictions to background services. User has no option to allow those that are necessary.
2. Still no direct security updates (probably Google runs out of letters before that happens). Hopefully Play Services is enough to keep gates closed...
3. Lollipop and Marshmallow have enough users to keep apps compatible for many years :D

in regards to #2, what are you referring to? how is that different from the monthly security updates? honest question.

Yawn...wake me up when we get to P. Or when the majority get to N, which at the rate we're going, will be at Z.

Exactly!! well said!...😮😮zzzzz

That is not a Google or Android problem, fragmentation exists due to all not nexus/pixel brands

Actually it very much is a Google problem. They bent over backwards to the carriers and OEM's to get android out there and that is the reason updates will never be like iphones.

I'm also concerned about background limitations​ without whitelisting. Some apps need all the resources they can get (eg dashcam in background, Google maps in front)

But still no integrated system-wide backup and restore capability. I think Android must be the only mainstream computer product that doesn't support this very basic functionality. Pathetic.

Exactly! Dark theme! I want it so bad!

Loving the notification dots, pressing the icon to view/dismiss notifications, widgets. Looking great, also love the pop out video view like that on iPad, Galaxy phone. Nice to see that on the Android build.

Are any of these features region specific? I got the beta on my 6P but neither for notifications nor picture in picture are working right now.

A factory reset my fight the issue. I had issues with DP3 when I updated but after a reset the phone the bugs were gone.

"background services (activities of an app that continue to run when it's not on the screen) "
Incorrect. Services are not activities.
Also, about the same sentence:
"New limits on ... are automatic. This means it's easier to build apps that don't have an impact on battery life and the user doesn't have to manage anything."
It doesn't mean it's easier. And they are not automatic. Only location related restrictions are automatic on all apps.
The rest work only if the app is targeting Android O, and it's not easier because if apps need to do it, now they have to stay in foreground, always having a notification for it. This is one of the most useless restrictions. Developers would either targert lower versions of Android, or cause their apps have annoying notifications just to say it listens to global events...

I hope there's a way to override the rate limiting, otherwise Tasker users might have less luck doing things.

I think that if it becomes a foreground service (meaning it will have a persistent notification), it should work fine.
However, to me it's annoying to see such a thing. I tried to convince Google of other ways to handle it, and many developers agreed, but it didn't help. This includes even a confirmation from the user (like the battery optimization confirmation) to white-list the app :
https://issuetracker.google.com/issues/37140032
https://issuetracker.google.com/issues/36488260
https://issuetracker.google.com/issues/36614503
https://issuetracker.google.com/issues/36867472

Will we be able to see what the battery life percentage is of our bluooth connected devices?

Loving the notification dots, pressing the icon to view/dismiss notifications, widgets

Nop. Which is why stock Android will continue to s*ck hard.

Dark themes were so cool in 2012....

Dude, dark themes have nothing to do with "cool". They save battery life, and my retina from being burned out by garish bright screens, especially on night shift in the dark....

I'd personally be more interested in an article convincing older long term Android users a new OS is worth it. It changes the way things are done, for no reason.
Better security and slightly more efficient / effective battery uee. Hurrah. :(
Just actually improve things that need improving or simplifying in the background, and make navigation more logical. Also allow a theme of choice. As said, all hype to increase device sales and justify salaries. Enough already. Get it right first time Google.

Picture-in-Picture will be useful. That's it. Other than that, Google still fails at delivering A FREAKING BLACK THEME to the OS. Which is why I will continue to bash stock Android and praise TouchWiz and LG UX6 and Oxygen OS and ANY Android ROM that has a black theme in it over the stock crap.

If that's what you bash stock Android over then your priorities are way the eff off and you should feel terrible about that

Ya, this comment sounds childish. Bashing on an OS based on its color...and you ahve many options on top of that.

Yeah, on top of that, "Stock" Android likely means Nexus, which means near instant security updates. Unlike themed TouchWiz. I say this owning both a Nexus and S8+.

No mention of the fact that you need a YouTube Red subscription for YouTube to allow PiP!! Which I think is ridiculous since PiP if generally considered as the most important user-facing feature of Oreo.

Get FDroid and the youtube app called "NewPipe" does PiP already. No ads. Allows PiP, downloads background playback, and stuff like that free and open source.

Meh, what a boring update a la kitkat. More restriction for background stuff. Android is turning into IOS.

Jerry, what about Project Treble, will it come to current smartphones?

My only complaint so far since the upgrade is that I can't seem to remove the "Always-on VPN disconnected". The settings have been unchanged since Nougat (mine are set to "Always-on active"), so I don't know why it doesn't go away.

I had the same complaint. But I fixed it. In the notification bar, slide that notification to the side until you see the gear. Tap it, and on the next screen scroll til you see the "apps running in the background" category. Tap the title, not the slider, and then change the importance setting to low.
Android Central Newsletter
Get instant access to breaking news, the hottest reviews, great deals and helpful tips
Thank you for signing up to Android Central. You will receive a verification email shortly.
There was a problem. Please refresh the page and try again.