Android now has Sprint's tablet section all to itself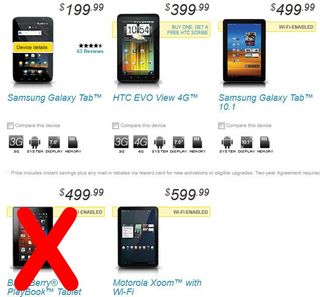 Well, now, that's embarrassing. It seems Sprint's decided not to sell the BlackBerry PlayBook (that's the one that doesn't actually have an e-mail client on it) after all. According to the Wall Street Journal, Sprint's backed off of its plan to sell the 7-inch $499 tablet, and that leaves Android as the only tablet you can buy in a Sprint retail store. Nice.
And you've got your pick of form factors, too. There's the original 7-inch Samsung Galaxy Tab or new 7-inch HTC EVO View 4G, both of which have access to Sprint's data network, or the 10-inch Motorola Xoom or Samsung Galaxy Tab 10.1, which are Wifi-only.
We're almost a little disappointed -- it would have been interesting to see how the tablets competed on a carrier level. Instead, Android will just have to make do with being the only game in Sprint town.
Source; WSJ; via CrackBerry
The WIFI Xoom needs to drop to $499 to become relevant. At $599 that's an absolute joke. So many better choices.

I think it has 32GB of internal storage, so then that price doesn't seem so out of place. But yes, it is a little bit overpriced and there's better options out there for far less money.

Wasn't the price of the Wi-Fi Xoom dropped to $499 weeks ago? I was in Walmart and Target this week and both had the Xoom at $499.

News flash: The Xoom is $499 now.

I got my galaxy tab from sprint, and I wouldn't of purchased it if it had 3g or 4g.... They charge $29 for 2gb and you could just get wifi tethering for the same price and have unlimited 3g and yes 4g...

And how long can you be away from a power outlet with that "4G" Wifi tethering . . . that's a joke

12-16 hours phone, and 36-40 hours tablet..... Just because you don't know how to tweak your settings doesn't mean battery life is a joke.... Your lack of knowledge is...

So you can have your phone wifi tethering for 16 hours... that is quite a while. What settings do you have adjusted to accomplish that?

12-16 hours phone, and 36-40 hours tablet..... Just because you don't know how to tweak your settings doesn't mean battery life is a joke.... Your lack of knowledge is...

How do you get wifi tethering

How is this nice? A lack of competition creates a stale market which is NEVER good for the consumer.

Last word of the first paragraph in the post.

I agree. The more choices we have the better.

Not better than my best buy tablet section...

Lets see gtab 499.99$ 16gb plus a 32gb using a proprietary cable. No HDMI unless u buy another cable but then u lose the SD card. Can't charge while using any cable adapters. Xoom 32gb plus SD card slot for 32gb can leave in while using its own HDMI plug can run a external device has its own power plug better build quilty and can enjoy some ics while u still have honeycomb

So everything is working on the Xoom now?

Well that's good news for u guys. My galaxy 10.1 has worked from the 1st day. The xoom is crap at $600. Ask apple how many people care about 32 gb.

Xoom is $499. You are the second person to report this incorrect price. Dont people read the news any more?

I never really understood the need of a Wi-Fi tablet. If I'm at home I'm either on my iMac or my Thunderbolt if I need something on the go around the house. Sure, I use it for reading on the couch and such but the main use is lugging it around for access to YouTube, the web, Skype, Google Maps and on and on. It would be completely pointless without a data plan. There is no Wi-Fi where I work. There is no Wi-Fi anywhere in my town except for the burger joints. Most of the people I know feel exactly the same way. Never really understood why they launch tablets with Wi-Fi first, if anything do both at the same time.
Android Central Newsletter
Get the best of Android Central in in your inbox, every day!
Thank you for signing up to Android Central. You will receive a verification email shortly.
There was a problem. Please refresh the page and try again.