Android at Mobile World Congress 2013 - what to expect from this year's show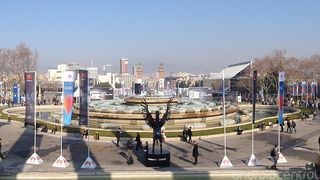 February is drawing to a close, and we're getting ready to head to Barcelona, Spain, for another Mobile World Congress. Usually one of the highlight events of the year in mobile, MWC takes place between Feb. 25 and 28, although we'll start to see the first announcements over the weekend. And despite HTC jumping the gun with the HTC One, and Samsung holding back for an expected post-MWC Galaxy S4 launch, there's still plenty of Android to be found at this year's show.
I'll be there, as will Phil, and Daniel Rubino and Jay Bennett from Windows Phone Central will be joining us to cover the Windows Phone side of things.
As always, it's going to be an interesting week. So let's break down what the major players are likely to bring to Barcelona ...
Sony
Mobile World Congress is traditionally where Sony shows of its mid-range smartphones. This year's high-end offering, the Xperia Z (and to a lesser extent the ZL) debuted at CES in January, and there's no big Sony press conference planned this year. So the new stuff at the Sony booth should once again be mid-range in nature.
The rumor mill has had plenty to say (and show) of the Xperia SP in recent weeks. Formerly known by its codename of "HuaShan," the SP is said to be powered by a dual-core 1.7GHz Snapdragon S4 CPU, and rocking a 4.6-inch 720p display. Ignoring for a moment how crazy it is that such a device is no longer considered high-end, the Xperia SP also looks like it'll bring some interesting design tricks to the table. A aluminum frame is rumored, along with a transparent element similar to Xperias S, P and U. In the past few days there've even been reports that the clear element will be customizable, as was the case with the Xperia U.
We've also heard rumors of an entry-level "Xperia L" being in the works, with a 1GHz dual-core Snapdragon at the helm. Comparatively little is known about this device, but if it showed itself at MWC it'd neatly complete Sony's 2013 line-up with a new budget offering.
We'll also get our first proper look at the Xperia Tablet Z, a so-far Japan-only tablet running a quad-core Snapdragon S4 on a Full HD display. Sony's tablet efforts haven't been met with great international success, but the Tablet Z looks like a decent piece of hardware. It's possible Sony could use MWC to drum up interest in the device, and maybe unveil a Wifi-only version at the same time.
Samsung
The Galaxy S4 won't be at MWC (look for a separate event in mid-March), but that doesn't mean Samsung won't have new stuff to show us. In previous years the Korean manufacturer has launched a bevy of tablets and mid-range phones in Barcelona, and that's more or less what we're expecting this time around.
An 8-inch Galaxy Note tablet has been in the cards for a while, and rumors have crystallized around an 8-inch, 1280x800 display with specs similar to that of the Galaxy Note 2. Recent leaks have shown a design reminiscent of a super-sized Galaxy S3, complete with three-button setup and big, clicky home key. Supposedly the Note 8 will also be one of the first non-Nexus devices to ship with Android 4.2 Jelly Bean, so it'll be interesting to see how Samsung's customized the new OS. These days we're more convinced than ever that the 7-to-8-inch screen size is the sweet spot for tablets, so we're looking forward to seeing how this form factor combined with Samsung's "S Pen" stylus and software tweaks.
The Galaxy Tab line is also due a refresh, and Galaxy Tabs 3 and 3 Plus have been rumored over the past month or so. Little is known, but the Tab 3 Plus is rumored to pack the same 2560x1600 PLS-LCD display found on the Nexus 10.
On the smartphone side, Sammy's already announced the mid-range Galaxy Young, Galaxy XCover 2 and Galaxy Pocket Plus. But one rumored device that's yet to appear is the ridiculously-named Galaxy Fonblet. Said to be a 5.8-inch device with middling specs, the Fonblet is presumably aimed at buyers who want a large-screened phone without breaking the bank. Rumor has it it's based on the Galaxy Player 5.8, a big-screen Wifi media player device. We'll surely debate the value of a mid-range 5.8-incher, but to us that ridiculous Fonblet name is of equal interest.
HTC
HTC's already shown us the HTC One, and the company should have a big booth set up to allow more people to get some face time with its latest and greatest handset. New mid-range and entry-level smartphones from HTC have been rumored in recent weeks -- supposedly the HTC One (M7) would be followed by a mid-range M4 and entry-level G2. But we've heard nothing to suggest that HTC will be bringing these devices to MWC. For the next month or so, we expect the company to focus on just one thing -- HTC One.
LG
As it did before MWC 2012, LG un-bagged its proverbial cat a little early this year, announcing four new Android smartphones before the show. For Android Central readers, the biggest deal as far as LG's concerned will be the Optimus G Pro. Re-vamped with a 5.5-inch 1080p display, the Optimus G Pro launches soon in Korea, and will be heading to other markets including the U.S. later in the year.
For mid-range buyers, LG's announced the new L II series, an upgraded version of the L-style phones we saw in Barcelona last year. The Optimus L3 II, L5 II and L7 II offer increasingly speccier specs and larger screen sizes as the numbers increase, though it's unlikely we'll see any of these models gracing the U.S. market.
And there's also a re-vamped Optimus G for Europe, featuring Jelly Bean, Euro LTE bands and some new LG software tweaks. We'll be sure to get some hands-on time with that on the show floor.
ASUS​
Longtime Android tablet manufacturer ASUS has a press conference scheduled for Monday afternoon, and if a recent trailer is anything to go by, some new dockable devices might be unveiled. ASUS has a history with this kind of thing -- they were first with a dockable Android laptop in the form of the original Transformer, and they've recently dipped their toe into the smartphone world with the innovative but expensive Padfone line. We're thinking more Transformer series tablets, though ASUS isn't giving much away in its teaser video, simply promising a "metallic miracle."
ASUS is also big in the world of budget tablets, and we should get our first look at the MeMo Pad Smart 10, the company's latest entry-level tablet. Look out for plenty of photos of the hot pink version on the site in the days ahead.
Huawei
Chinese stalwart Huawei is holding its MWC press conference on Sunday afternoon, and the star of the show could be the Ascend P2, supposedly a 4.5-inch quad-core handset with a 13MP camera, a whopping 3000mAh battery and Jelly Bean on-board. We came away impressed when we reviewed its predecessor, the Ascend P1 last year, so we're eager to see what Huawei's done to build on this device.
We also imagine we'll see more of the Ascend D2 and Ascend Mate, the two high-end products shown off at CES. Huawei's not given much away on international availability, so there's no guarantee that we'll see those two outside of Asia. In particular, we suspect the manufacturer will have a hard time selling the 6-inch Mate to Western buyers.
ZTE
Also from China, ZTE is holding its presser on Monday afternoon, and it's already teased the Ascend Memo -- a 5.7-inch rival for Huawei's Ascend Mate -- along with a phone powered by Mozilla's Firefox OS.
Speaking of Mozilla, it's got a press conference of its own set for Sunday afternoon, so we'll likely learn a bit more about the OS powering ZTE's creation the day before.
... and more!
MWC is always a busy show, and we can always sure of some surprises. However things unfold, you can follow our Mobile World Congress coverage on the blog from Sunday morning U.S. time. Most of the big news looks likely to drop on Sunday and Monday, but we'll have coverage from the show floor all week, so be sure to stick around for that.
And with that, we're off -- see you in Barcelona!
Alex was with Android Central for over a decade, producing written and video content for the site, and served as global Executive Editor from 2016 to 2022.
So I'm figuring chances are nil for a refresh of the Nexus 10 or the 10.1 Note? There were rumors about Nexus but it seems awfully quick to change that device. Would love a bigger table to complement my Nexus 7 and am unsure what to do.

If you want an S-Pen and all the features that go along with it, get the Note 10.1. Otherwise, get the Nexus 10. I don't think either will be updated very soon. If you want to be cautious, just wait until after MWC before making your purchase. They won't be going away anytime soon.

At least the image in the Asus section now definitely looks like an Infinity symbol. There was an image a week or so ago that appeared to be more representative of the number 8, and zoomed in looked like it had a Windows 8 icon. I'm hoping this means they'll be upgrading the Infinity Pad TF700. http://i-cdn.phonearena.com/images/articles/77208-thumb/asus-conference-... EDIT: Nevermind, it just occurred to me that likely isn't a photo on the 2013 booth. Still hoping for some Infinity news though.

In my fantasy, someone from Google addresses the audio latency issue.

they did, 4.1 and above. http://createdigitalmusic.com/2012/07/android-high-performance-audio-in-...

I'm really interested in hearing about the Galaxy Note 8. I'm teetering on getting a new phone (either the GSII or the Nexus 4), but I'd keep my skittish Inspire 4G and get the Note 8 if it's priced properly.

Looks like Huawei will be the most impressive at MWC this year.
Expect them to show off a new tablet too ;)

Here's Another New Tablet Worth A Look I received and have been testing out a new tablet this week that was launched earlier this month and it is one of the most impressive budget-priced tablets available -- the Novo 9 Spark for $269 offers a Quad Core processor/1.5Ghz-2GB DDR3 and a 9.7" inch screen with an ultra high resolution 2048x1536 ipad Retina type display, along with 32GB memory, Android 4.1 with an upcoming 4.2 upgrade, Google Play Store preinstalled, an impressive 10,000 mAh battery, 4K Digital HDMI output port, and a 2 Megapixel Front Camera and 5 Megapixel Rear Camera with AF and Flash. It comes preinstalled with Google Play and everything runs smoothly -- This new model compares to the Nexus 10 and iPad tablet at a much more competitive price -- one of the first sites in the U.S. to carry it is called TabletSprint -- which also adds in $25 in Bonus Apps. Ainol Electronics is a lesser known brand but have been making tablets since 2009 and is also noted for winning runner-up for "Best Tablet of the Year" at CES 2012 Also just launched is the Novo 7 Venus 7" Quad Core which matches most features of the Nexus 7 but the Venus retails for only $149.

I have to wonder what Ainol sacrificed to get the prices so low.
Android Central Newsletter
Get the best of Android Central in in your inbox, every day!
Thank you for signing up to Android Central. You will receive a verification email shortly.
There was a problem. Please refresh the page and try again.