What apps, widgets, and wallpapers are on our home screens?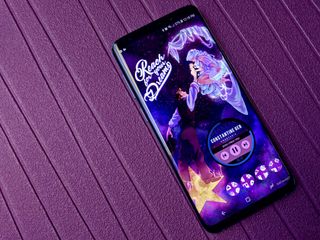 Some home screens are completely covered by apps, and some home screens are completely empty. Some home screens are all business, and some are devoted to pleasure and distraction. We at Android Central use our phones quite heavily, and so our home screens are a testament to our workflows, habits, and styles. They've evolved over our years on the platform, from phone to phone, launcher to launcher. And so, we're going to share that evolution with you.
Daniel Bader
I like to keep my home screen focused on the apps and information that I need most often. It took me a few years, but the core group of apps revolves around what matters to me on a typical day: news, work-related and otherwise (Newsblur, Twitter); my work (Slack and Newton); my friends and family (Hangouts, Instagram); my audio (Spotify, Pocket Casts), and my camera (Google Photos). The more time I spend on a phone, the fewer apps I want to mess with.
The wallpaper, on the other hand, I'm quite proud of. I was in Hawaii this past December for Qualcomm's Snapdragon Summit and got to witness a week's worth of incredible sunsets. But one evening, in particular, as my wife and I sat watching the west horizon on a beach, surf crashing against the massive rocks, I was able to take this beautiful photo. It's edited slightly using Google Photos, but is otherwise untouched. What an amazing place.
Hawaii Wallpaper on Google Photos
Alex Dobie
This is my setup on the Huawei P20 Pro right now. I like to keep it relatively simple on phones that I use as a daily driver: just a couple rows of my most-used apps for a mix of social, personal and work stuff. That's topped off by the classic weather clock/Google widget up top. On the second screen, I've always used a music player widget of some sort, along with another row of major apps (stuff I use frequently, but don't need immediate access to): YouTube Studio for running the AC channel, Google Fit for activity tracking, and Google Translate is essential given the amount of traveling I do. Hangouts is a kind of a temporary thing: It's mainly what Mobile Nations uses for on-the-ground communication on trips. And yep, Google Play Music is still my streaming service of choice. Then up above, five big folders to keep other apps categorized, so I can mostly avoid scrolling through an app drawer.
The third screen is a mix of upcoming events Google Calendar, and Google Keep, which I use for general note-taking and shot lists when shooting AC videos in the field. Note: a fullscreen month view from Google Calendar on the fourth panel, which is too full of secret stuff to show.
"The Calm" on Backdrops (opens in new tab)
Andrew Martonik
I keep thing simple, sticking with a single home screen. The focus is on keeping my frequently used apps in the first two rows, plus a few folders and a large Google Calendar widget that makes sure I don't miss an upcoming appointment. I've messed around with the folders quite a bit, but right now "tools" includes mostly banking and transportation apps while "fun" and "soccer" are pretty self-explanatory. I haven't had a reason to mix it up much from this approach in the last six months.
Marc Lagace
For my wallpaper, I typically like to use something I took myself with the phone. I prefer to keep my home screen unmodded for the most part, but the Razer phone I'm using has really great theming options built right in with Nova Launcher and Razer's own theme store. I applied a flat purple theme from the theme store that tweaked the stock apps along the top of the screen. I've always appreciate the fact that Android lets you organize your app icons however you want, so while I don't use widgets I do love being able to position app folders strategically against my wallpaper, keeping likeminded apps together for a tidy look. I then used Nova Launcher to tweak the folders for a cool and functional effect.
Marc's Wallpaper on Google Photos
Hayato Huseman
I keep my home screen pretty simple on my phones; just one page with a weather widget, the Google search bar, and a few icons. I used to have a folder full of social apps, but these days I'm mostly just on Instagram and Twitter. I also like keeping my financial apps at close reach, along with essentials like Spotify and Chrome.
Backdrops Wallpapers (opens in new tab)
Joe Maring
I used to go all out with icon packs, third-party wallpapers, etc., but for the past couple years I've stuck with this same general setup to keep things as simple as can be. I'm using the Pixel Launcher on my Pixel 2 (surprise, surprise) with the Marvelous Marble wallpaper that's part of Google Wallpapers' Living Universe Collection. My dock contains my most-used apps (Newton, Android Messages, Fitbit, Slack, and TickTick) while my main home screen consists of nothing more than Twitter and a folder for my favorite Google apps. My second and only other home screen has a Google Calendar widget of the current month, and below that are Starbucks, Walmart, Spotify, Philips Hue Lights, and a folder for my banking/budgeting/coupon apps.
Google Wallpapers' Living Universe Collection is Google Pixel-exclusive.
Ara Wagoner
My specific layout tends to change with every wallpaper and theme I utilize, but beneath them there are always two constants on my home screen: a music widget and my home screen folders. My most-used apps are organized into five folders: communication apps, Google apps, work apps, entertainment apps and utility apps. With this particular layout, I've hidden the communication folder within the star in the bottom-left corner of the screen, a small holdover of my invisible theme.
For music widgets, I've written about many of the ones I use, but at the moment my favorites have been from the Melodi for Kustom pack (opens in new tab) for KWGT (opens in new tab). These presets are easy to set, easy to adapt, and there's at least one for every widget size I could need. My wallpapers are ever-changing, but the geometric wallpapers from the Galaxy S9 have grown on me of late. My current wallpaper, however, is from DeviantArt, a romantic scene that makes we want to write a love story every time I open my phone.
The Moon and a Star by ArtCrawl
Tom Westrick
My launcher of choice is either Nova Launcher Prime or SquareHome, depending on how contrarian I'm feeling that month. I've used Nova Launcher for years, so even if a device has a great default launcher, it still gets replaced with Nova. I don't drastically change my icons, but I still use Polycon (opens in new tab) to make icons more consistent. If I'm using SquareHome, I use Whicons (opens in new tab) to continue the Windows 10 Mobile theme. Most of my applications are actually hidden, and everything else is neatly organized. If I have an app in a folder on my home screen, it gets hidden from the app drawer to reduce clutter.
Russell Holly
Sometimes I ditch all of the fun on my phones and go Strictly Business™. This is what that looks like. I don't bother with the phone icon in my launcher, and I don't like having a ton of icons on my single homepage. As long as I have a quick button for Google Assistant and the apps I know I am going to use at least once a day at my fingertips, I'm happy.
The wallpaper is something of a happy accident. Samsung sets this geometric shape wallpaper as the default to match whatever color of Galaxy S9 you buy, so since I went with the purple S9 I got the purple wallpaper. I've considered changing it a few times, but it's animated on the lock screen and I really dig the animation as I wake the phone so this is what I've stuck with for the past month.
I know it's pretty boring, but sometimes I just gotta have minimalist for a while.
Samsung Galaxy S9 Wallpapers
Jerry Hildenbrand
I never much was into the whole widget thing, and always liked to keep just a few shortcuts to my most used apps on a single-page home screen setup. What can I say, I'm just simple like that.
Now I can be even more simple. Simpler, if you will. My KEYone and its keyboard shortcuts let me keep my home screen blank and I just long press a keyboard key to open the app I want to open: "A" for the AC app, "C" for Chrome, "G" for Gmail, "K" for Slack, "L" for Allo, "P" for the phone dialer, and "S" for Signal. This keeps me from tapping things with my bumbling fingers or worrying about things happening in my pocket. If I need to use any other app I do the same as everyone else does and dive into the app drawer. The wallpaper I'm using is one of the defaults that comes with the KEYone, you can find them here.
Setting up keyboard shortcuts is easy and you can have 52 of them ready to do stuff no matter what's on your screen.
Harish Jonnalagadda
I don't like cluttering up my home screen, so I just keep the apps I use everyday. There's Slack for work-related communication, Twitter, Box for storing documents, and my streaming service of choice is Spotify. I made the switch from Evernote to Simplenote back when the former introduced paid plans, and haven't looked back. Simplenote is about as minimal as note-taking apps get, and it works seamlessly cross-platform. There's even a Markdown preview that lets me quickly check the formatting of a post. And I also use Mi Home to control the twenty million Xiaomi products I bought over the course of the last year.
My dock contains the dialer, Duo, the camera, Chrome, and Microsoft's excellent SMS Organizer texting app. The India-only app automatically sorts texts into categories, lets you back up and restore texts from Google Drive, and it even has a dark mode.
As for the background, I just use Google Wallpapers most of the time as well as the default launcher, but if I'm using a Xiaomi phone, I'll switch to Nova Launcher and use Backdrops for picking out a wallpaper.
"The Flatlands" on Backdrops (opens in new tab)
Your turn
So, what's on your home screen? Are you a minimalist, or do you prefer to keep all your favorite apps front and center? Share your home screen setups with us!
Ara Wagoner was a staff writer at Android Central. She themes phones and pokes YouTube Music with a stick. When she's not writing about cases, Chromebooks, or customization, she's wandering around Walt Disney World. If you see her without headphones, RUN. You can follow her on Twitter at @arawagco.
YoWindow live wallpaper. And the dock. And that's it. :)

Pixel setup on my S8 via Nova. Chronus' interpretation of the Pixel date/weather widget. And I'm currently using Today Weather widget. Current wallpaper from Tapet. Love your setup, Ara.

Widgets sound like such a great idea in theory, but the developers either are just awful at making them or lazy. 99% of the time they don't work or are just so UGLY. I'd love someone to give us a decent sports score app and a nice tv show tracker app that both work and look great on your home screen.

I like to confuse iPhone users with my Nova setup. Swipe up for the dock, down for notifications, double tap for Google search. Otherwise there's no icons on the screen. https://imgur.com/2ECgKfO

Invisible home screens for the win!

My Pixel 2 is very minimalist at the moment, as well. No widgets (I usually have at least two on my homescreen, so this is new for me) and only a photo of my cat as my wallpaper. Opening the app drawer is really simple on the Pixel 2 and I have cut down on a lot of the apps I use; so finding an app in particular from my app drawer is not a chore as it used to be.

Pixel 2 XL, Nova, most of my folders are in the rotating dock at the bottom. Folders include Communication, Entertainment, Weather, Travel, Google, Camera and such... That leaves space for my wallpaper and various widgets - calendar agenda - ToDo lists for work and home... My phone is my personal assistant.

I use smart launcher along with viral icon pack and background found in Walli. https://imgur.com/a/aPpPwVW
My home screen is heavily armed with actions. Each icon has double tap alternative (e.g. double tap on camera opens albums), then I have gestures like swipe up to show map or swipe with two fingers down to show philips hue app. I rarely need to go to app drawer for something.

I use Smart Launcher. Its organized app drawer, availability of double-tap to launch two different apps from a single home screen icon, availability of gestures, and ability to hide home screen icons allow me to keep my home screen relatively uncluttered. I can launch 10 different apps using five icons, and another 9 using gestures and a hotkey. The recent addition of multiple home screen widgets, with free sizing and the ability to superimpose one widget over another, let's me combine four different widgets to arrange the information I want with a look that I like.
https://www.dropbox.com/sh/w4wxo6naw71x4nu/AAAkDVZySP1-SNnp3IbDcqGGa?dl=0

Essential PH-1 with Nova. 7 apps and a search bar in the dock, and a 7x7 grid on the desktop with all of my apps on the right side so I don't have to stretch my thing to reach them with one handed use. And the pixel date widget at the very top. Everything is exactly where I need it to be.

I like Mr Huseman's the best. It's beautiful and elegant. However Mr Dobie's is closest to my own. In my mind I think of the main home screen as my presentation home screen. I try to make it organized and fairly clean but it does contain all my communication stuff. My second home I think of as my entertainment screen. You can imagine whats there. But also apps like weather, settings, and assorted other flotsam. I try to arrange things artistically. Not always successfully.

I have Nova Launcher and many of my most used apps (Textra, Sam's Club Scan and Go, Google Camera regular and wide). On my dock I have Brave Browser, Google Inbox, app drawer, Google Keep, and Google Maps. I've chosen them for my dock because I've made shortcuts on all of them using Sesame Shortcuts. My wallpaper is Galaxy Pack. My only widgets are the clock from TerraTime Pro on my main screen and the full month widget from DigiCal+ on my secondary screen. The only app icons I keep on my home screen are the ones on my dock which I created myself using Icon Pack Studio. The background of my icons are black with a thin white line around the edge with a soft glow that makes them appear to be made of glass. The app logos are metallic silver so they seem to pop up out of the background.

Nova Launcher, Zooper widget for day/date/year, wallpaper from 'The Grid' app (Tron style), 12 system icons in a grid for Google, inbox YouTube etc.

Nova Launcher with system icons ( adaptive with Nova) and Chronus widget for date, time, weather and battery percentage. I have a single homescreen with 5 dock icons and and folders which open on swiping. A single line of 3 icons and a small Google fit widget for step counting above the dock. The wallpaper is sometimes a photo I took or a scenic wallpaper.

Nova & Zooper never get me boring. Pixel homescreen setup look clean n ez to interact w/ some additional gestures :)

Think I have too many apps.
I seem to have more folders than others have apps.
My phone looks like a big SE.

I use Nova Launcher Prime along with Tasker and Zooper Widgets Pro. I have one page with nothing ting on it except for a widget that has the time, date, and day. Everything else is gesture based and easy to find.

Classic on the Glance and Google search bar at the bottom courtesy of Lean Launcher. The straight edges and sharp corners of my minimalistic geometric wallpaper add a contrast to the ever so rounded look of my icons. One row of apps, and nothing else.

It seems I match up mostly with Jerry and Ara. I like the use of the wallpaper to be hidden cues for invisible apps, I like a clean and mostly unobstructed wallpaper (that white app drawer icon has got to be replaced with something dark though imo) and I love gesture or one button launching of apps. I cannot stand stock looking screens. When I want that I just grab my iPhone. I use Nova Launcher and Zooper widgets to have all my most commonly used apps on one screen with an icon or a gesture. http://imgur.com/a/wmhI3Wm

Man, we have gazillion of ways to make our home screen stand out (compare that to the boring iPhone or even windows layout) and all of the shown screens look more or less stock. What's the use of Nova and friends if you don't stand out? I understand, easy usage and functionality are very important to some but, c'mon, let's show off!
I can't show you a picture but as a big Star Trek fan you can imagine what mine looks like (or maybe not 😁)!
But I show you what's possible!
https://urly.fi/WJh

I know, I felt guilty for not showing my more fantastical setups... https://photos.app.goo.gl/waOthMZCVEbZZWdC2 That a Nova + KLWP setup? The last screenshot is amazing.

Yeah, thanks. It's my favorite too. No it's not Nova, it's Total Launcher and a modified theme. 😁

My home screen looks similar to Alex's. I have a clock/weather widget, Google Search bar, and a couple rows of my most used apps (Gmail, Play Store, The Lincoln Way, Themes, etc.) with the Phone dialer, Messages, Chrome, and Camera apps on my dock. And I'm currently using an Earth wallpaper. I organized the other panels into categories, like all entertainment apps on the second screen (Music widget, DirectTV, Kindle, SiriusXM, news apps, etc.), all work and finance apps on another panel, and so on.

Small time/weather widget, Google Play Music app, and a folder for media apps. I used to have the Power Amp app out there, but it degrades audio quality :(
GPM is bare bones and featureless, but at least the playback quality is good.

Once I rid myself of all things Google, related Play Store to edge panel, loaded Microsoft Launcher, closed Bixby, minimal icons on home screen. To express my hatred for Android, loaded Ninja Cat Windows 10 wallpaper.

I just like seeing as much information on one screen as i can - everything whats going on. For this, I love Windows Live Tiles, and Squarehome does the best job considering Androids limitations.
(took a while to not show any personal notifications ;-)on this screenshot:
https://imgur.com/gallery/WF3K5mw
Android Central Newsletter
Get the best of Android Central in in your inbox, every day!
Thank you for signing up to Android Central. You will receive a verification email shortly.
There was a problem. Please refresh the page and try again.