SquareHome 2 launcher brings Windows 10's Live Tiles to Android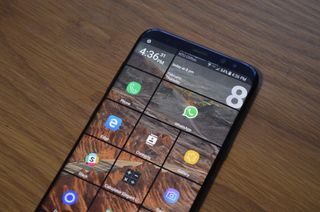 Previously, we took at a look at Launcher 10, which does its best to emulate Windows 10 Mobile's Live tiles and app drawer, mimicking animations and styles while bringing in some of Android's rich customization features. Thanks to recommendations from you guys, I picked up SquareHome 2, which seems to be popular with other Windows phone refugees.
Here's a quick look at what you can expect from the app, which comes with a range of free features, and a 14-day trial for the premium ones.
What you'll love about SquareHome 2 for Android
The best aspects of SquareHome 2 pertain to its customizability, which goes far beyond those offered by Windows 10 Mobile.
While the obvious limitations of Android prevent all apps from enjoying a rich Live Tile-like experience, you can create your own "tiles" from Android widgets, matching their dimensions to that of the column widths set by other tiles. In this way, you can create those interactive tiles Microsoft was experimenting with that never materialized.
Additionally, you can create Windows 10 PC-like 3D cubes comprised of multiple apps, into a single tile. This is a novel take on the folder functionality, and it looks quite nice, giving your home screen that animated-look that made the Windows Phone OS so fun.
SquareHome 2 comes with a few system-level "Live Tiles" that allow you to experience some of Windows Phone's uniqueness. For example, the Calendar tile provides a rich view of your system calendar events. You can also set the calendar tile to open Outlook Calendar instead of the default one on Android, if you want.
It also comes with a special photos tile that you can set up with a dedicated folder of pictures, which more closely matches its functionality on Windows 10. It's also a 3D-style cube tile, which brings it more closely in line with PC than Windows 10 Mobile. It's a nice touch.
Speaking of which, you can customize any tile vigorously, changing icons, tap and long-tap events, tile sizes, colors, and much more. You can set up multiple start screens, too, customizing styles and backgrounds at will.
If you unlock the capabilities to do so, tiles will also show recent notification numbers and notification text, providing a Live Tile-like experience across the board.
What you won't love about SquareHome 2 for Android
While SquareHome 2 has more features than Launcher 10, the overall execution feels less polished generally, with overlapping settings, some janky positioning oddities, and an app drawer that looks like it was designed as an afterthought. The app drawer for SquareHome 2 has this huge ugly "Applications" text that looks like a placeholder. Launcher 10 much more closely emulates Windows 10 Mobile, both in style and functionality.
There's also the annoyance of not being able to set a default calendar, which is possibly an Android limitation. Since the BlackBerry KEYone doesn't seem to play nice with Outlook at a system-level, I wasn't able to pull my events into SquareHome 2's calendar tile. It would be nice if it simply used the Microsoft APIs for signing in to achieve this functionality.
Also, I've found that these types of apps seem to impact battery life more aggressively than some less "animated" launchers. That's to be expected, given the extra work the launcher does in setting up notification text and producing more visually intense effects. But if you're concerned about battery life, you might want to stick with something else.
Overall thoughts on SquareHome 2 for Android
Overall, SquareHome 2 is a tremendous launcher with a rich feature set that fans of customization will enjoy. It beats some competing apps at creating a "true" Windows phone-like Android experience, thanks to its customizable photo slideshow tile, its rich calendar tile, and the way it intuitively incorporates Android widgets.
Limitations of Android itself hold it back, like any launcher of this type, and while I didn't enjoy the app drawer experience, it gets the job done.
SquareHome 2 is available for free with a 14-day trial of its premium features, which cost around $5 to buy.
Be an expert in 5 minutes
Get the latest news from Android Central, your trusted companion in the world of Android