SquareHome 2 launcher brings Windows 10's Live Tiles to Android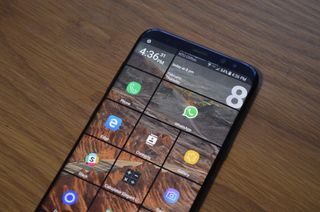 Previously, we took at a look at Launcher 10, which does its best to emulate Windows 10 Mobile's Live tiles and app drawer, mimicking animations and styles while bringing in some of Android's rich customization features. Thanks to recommendations from you guys, I picked up SquareHome 2 (opens in new tab), which seems to be popular with other Windows phone refugees.
Here's a quick look at what you can expect from the app, which comes with a range of free features, and a 14-day trial for the premium ones.
What you'll love about SquareHome 2 for Android
The best aspects of SquareHome 2 pertain to its customizability, which goes far beyond those offered by Windows 10 Mobile.
While the obvious limitations of Android prevent all apps from enjoying a rich Live Tile-like experience, you can create your own "tiles" from Android widgets, matching their dimensions to that of the column widths set by other tiles. In this way, you can create those interactive tiles Microsoft was experimenting with that never materialized.
Additionally, you can create Windows 10 PC-like 3D cubes comprised of multiple apps, into a single tile. This is a novel take on the folder functionality, and it looks quite nice, giving your home screen that animated-look that made the Windows Phone OS so fun.
SquareHome 2 comes with a few system-level "Live Tiles" that allow you to experience some of Windows Phone's uniqueness. For example, the Calendar tile provides a rich view of your system calendar events. You can also set the calendar tile to open Outlook Calendar instead of the default one on Android, if you want.
It also comes with a special photos tile that you can set up with a dedicated folder of pictures, which more closely matches its functionality on Windows 10. It's also a 3D-style cube tile, which brings it more closely in line with PC than Windows 10 Mobile. It's a nice touch.
Speaking of which, you can customize any tile vigorously, changing icons, tap and long-tap events, tile sizes, colors, and much more. You can set up multiple start screens, too, customizing styles and backgrounds at will.
If you unlock the capabilities to do so, tiles will also show recent notification numbers and notification text, providing a Live Tile-like experience across the board.
What you won't love about SquareHome 2 for Android
While SquareHome 2 has more features than Launcher 10, the overall execution feels less polished generally, with overlapping settings, some janky positioning oddities, and an app drawer that looks like it was designed as an afterthought. The app drawer for SquareHome 2 has this huge ugly "Applications" text that looks like a placeholder. Launcher 10 much more closely emulates Windows 10 Mobile, both in style and functionality.
There's also the annoyance of not being able to set a default calendar, which is possibly an Android limitation. Since the BlackBerry KEYone doesn't seem to play nice with Outlook at a system-level, I wasn't able to pull my events into SquareHome 2's calendar tile. It would be nice if it simply used the Microsoft APIs for signing in to achieve this functionality.
Also, I've found that these types of apps seem to impact battery life more aggressively than some less "animated" launchers. That's to be expected, given the extra work the launcher does in setting up notification text and producing more visually intense effects. But if you're concerned about battery life, you might want to stick with something else.
Overall thoughts on SquareHome 2 for Android
Overall, SquareHome 2 is a tremendous launcher with a rich feature set that fans of customization will enjoy. It beats some competing apps at creating a "true" Windows phone-like Android experience, thanks to its customizable photo slideshow tile, its rich calendar tile, and the way it intuitively incorporates Android widgets.
Limitations of Android itself hold it back, like any launcher of this type, and while I didn't enjoy the app drawer experience, it gets the job done.
SquareHome 2 is available for free with a 14-day trial of its premium features, which cost around $5 to buy.
Download: SquareHome 2 launcher (free w/IAPs) (opens in new tab)
Will take a look at it. I'm desperate. What I miss the most is the glance screen / double tap - had great info easily accessible there. I find Samsung's AOD useless. I also really miss how the volume rocker buttons triggered the media control "widget" to popup over all screens, apps, etc. Such a great seamless way to control media from within any app. This is a total pain in the arse in Android.

I liked Windows Phone, but not the App Gap. The Galaxy S8 AOD is worthless and a real battery hog so I don't use it -- Motorola set the standard for AOD. Interesting point about how this launcher is hard on batteries, so I don't know if I will check it out. I use Nova Prime and I like it.

I disagree. Nokia set the standard for Always On Display. Samsung's is the next best thing but I wish it had the option to show detailed information for at least one app like Nokia Glance did. 1% of battery per hour for Samsung's always on display is hardly a battery hog?

crazy part is for the app gap i think WP had better 3rd party apps for IG and others.. If Snapchat didnt close their doors, as well as other companies pulling out from updating their apps, i think there couldve been more demand for an exceptional UI software and phone! im still rocking my lumia1020 and using galaxy S8 for work purposes. But i think we can almost all agree if more popular apps came to WP it prolly would be really high on the consumer radar! you cant beat that OS

Couldn't agree more on AOD on WP. I had all the info I needed a double tap or a wave away.

Yeah, the only thing I don't like on this launcher is the app drawer though its not enough to not want to use it when I'm itching for that windows experience. I also found this launcher to be perfect for my Android tablets..

The app drawer can be set up to open the exact same way as Windows phone's by setting the swipe left gesture to open the app list. The only thing you can't do is swipe right again to go back to the home screen. To have to hit the back button or home button instead.

You can swipe right to get back to the home screen. Not sure if I enabled some option for that but it works for me.

I've been using SquareHome2 since its early days and I still haven't found a setting for that. It would be nice if you can tell us when you remember it. EDIT: Oh god, just make a new page and set it as the App Drawer. I had my second page set as my contact list that I totally forgot about this. Lmao

To simulate WP app screen properly make sure the following are checked under App Drawer settings so you get the Alphabetized sorting with the ability to push the headers to open the Jump To Letter pop up List Type
Sort Order: Name
Grouped Items
Hide Menu Bar

The only issue with setting a new page as app drawer seems to be that it loses the "blur" effect on the wallpaper. Same with contacts.

Yeah, not having a swipe to right to bqck to the homescreen is what ruins it.

Tried it some time ago. Was a pain to set up, and it still wasn't fluid like Windows Phone and was missing the punch. Mhhh

Best Windows phone launcher by a mile. Even as a launcher in it's own right it's excellent

The amount of options it has rivals Nova Prime.
To say it's more advanced than Launcher 10 would be an understatement.

As a long time user of both Android and Windows Phone, I would actually say this launcher is superior to both, even up against Nova. It gives me the live tiles I loved from WP and the ability to add Android widgets into the mix. It's awesome. I keep telling everyone that sees my phone and asks about it that it's a Surface Phone beta. For additional WP flavored goodness install the Microsoft Next lock screen

Can you post/share some screen grabs? I'd like to see how this looks.

Yeah, I'll post some tonight, stuck doing yard work til dark.

Here you go: https://drive.google.com/open?id=15TylpAQ4weGp1eX7kmiJDd3mvUtAxb--

Nice - the quick action tiles are great. Thanks!

Wow, that looks great, I may copy that

Here's my setup if you're still interested:
https://photos.app.goo.gl/R07Q4c8TQCtvPU593
A bit closer to the real deal, except that every single tile is transparent and consistent... Something Microsoft never managed to do. I disabled transparency for office apps on purpose though, they're in a folder anyway.

Advertising Square Home 2 without Whicons Icon Pack Applied is just silly.

Agreed! Whicons makes a huge difference.

That and a black background and I'm set.

It looks interesting, but I am really liking Action Launcher. I've been on Android long enough now that I'm starting to miss Live Tiles less and less.

I switched two and was 2 month without any liveltiles. The other launchers home screen all are like Windows 95 ... just some icons and no information provided. SquareHome is still limited on the information it can give you, but at least provides some.

I've been using SquareHome 2 for a while and I love it. It is packed with features and customizations. I paid for the extra stuff because of how useful it is.

With the extensive tile resizing options you can also use it to roll your own awesome custom "Drive Mode" screens

Android provides what both Windows Phone and iOS lack and that's options. This is why my transition to Android has been such a smooth one. Don't regret it one bit.

My favorite launcher! Customer support is great, too, if you have issues or questions.

Does anyone know how to get the + removed from the menu? I realize it's there to add tiles, but the menu would look nicer without it.

Click the lock button at the bottom center. That'll lock the tiles and remove the + button.

Using two fingers pinch towards the center of the screen to show the multi-screen browser, push the green lock circle at the bottom of the screen. You can also add a button to your home screen to lock and unlock the changes Click + button > Launcher Action > Toggle edit mode

I've been using the paid version of SquareHome 2 for a while and it's awesome. I love that widgets can be resized and scaled to fill the tile so it looks and acts like a 'real' tile with no borders.

I must admit I wasn't a fan of tiles, but this app is great.

I use Nova Prime on my s7, and s8, very happy with Nova. But I do like to experiment with other launchers. And I tried at least a couple dozen. I'm gonna try this one., I like the cube thing going on here. I hope it doesn't kill my battery.

You can also use GIFs as a tile image to give it that "live" look. It does not drain the battery at all. This launcher is great. Been using it for about a year.

I put this launcher on my father's (age 82) first smart phone. The tiles made a simple interface for him to use. I liked that I could set a password so he can't actually move things around. It has been a good choice.
Android Central Newsletter
Get the best of Android Central in in your inbox, every day!
Thank you for signing up to Android Central. You will receive a verification email shortly.
There was a problem. Please refresh the page and try again.