Android Auto's wireless mode is now available for Pixel and Nexus phones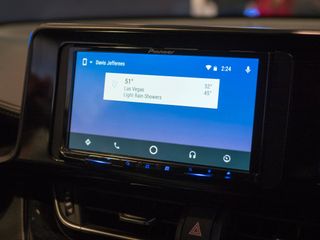 Back at Google I/O 2017, Google announced that Android Auto was gaining a new wireless mode that allowed your phone to essentially connect to a Wi-Fi network your car/head unit put out so you could get the Android Auto experience without having to mess with any cables. Pioneer, Kenwood, and JVC announced a few units at CES 2018 that supported this feature, but up until now, it still wasn't live.
Thankfully, Google's finally ready to shine the spotlight on Android Auto's wireless side. As noted by Android Police, a member of the Android Auto team recently announced that this functionality is now available for Pixel and Nexus devices.
You'll need a Pixel/Pixel XL, Pixel 2/Pixel 2 XL, Nexus 5X, or Nexus 6P and an Android Auto receiver that supports the wireless function in order for it to work, and you'll have to physically connect your phone to your car at least once to get things synced up for the first time.
In regards to other phones, Google says it's "actively working with phone manufacturers on adding software compatibility and hope to share more updates soon."
If you've been holding off on Android Auto, will the new wireless mode entice you to finally make the jump?
See at Amazon (opens in new tab)
Android Central Newsletter
Get the best of Android Central in in your inbox, every day!
Joe Maring was a Senior Editor for Android Central between 2017 and 2021. You can reach him on Twitter at @JoeMaring1.
Hmmmm, my Chevy Colorado has all the components necessary for this to work. However, I don't expect it to ever work.

Yeah existing vehicles that have AA and Wi-Fi probably were not designed to make a Wi-Fi Direct connection to your phone for AA.

I'm hoping that by the time I buy a new 2020 model car this will be a feature.

Me, too. Barring accidents, I have no intention of replacing my 2011 Impreza until at least 2020. Hopefully that's enough time for this to be adopted widely.

I'm hoping this can be added to first generation AA units, but I'm doubtful.

I would think some type of USB adapter/receiver is possible.

I really hope so! The thing I am curious about is the battery drain

I never understood the point of the cable requirement. This was the reason I didn't get crazy about AA.

I always understood the cable requirement, though I use CarPlay rather than Android Auto. If I'm going to be using my phone for music, maps, BT phone, handsfree SMS, I'm going to need it powered most of the time anyway. That power might just as well come from a cable that connects to the headset. With an iPhone X I could see a wireless charging capability and wireless connectivity to a headset, but wireless charging in a car isn't all that mature yet. Where does the pad go, and how do you keep the phone from slipping off, or getting out off position. The pad needs to accommodate a host of different sized phones. I have a cradle that has a lightning connector so when I clip the phone in it connects the power and the CarPlay. AA would be the same. You are going to want to charge it. Might as well be with the AA cable. Now, if the Pixel 3s support Qi, we can re-open this.

I get the point of keeping the phone charged. However why not the option of going wireless and auto connect like first thing in the morning when you're ready to commute in your everyday routine where 1/4 or 1/2 hour are the norm? Unless you live in big cities like LA or NY where commutes maybe for hours. If you have a decent phone with healthy battery should be OK to handle minutes without being plugged in. To me it is stupid to have to mess with cables for short trips. Anyway how wireless AA is possible now? This should have been available since the beginning.

Most high end GM vehicles have had wireless charging for a few years now. Phone fits perfect in the wireless center console. Remember Galaxy phones have had wireless charging for about 5 years now. It only makes sense to wirelessly connect to Android auto and just place your phone down on the console to charge at the same time. You can conveniently pick it up and place it back as needed. I just bought a 2018 Silverado and now I'm very upset that I probably won't get this feature

I agree with why you want a cable attached for charging

But you can already connect to your vehicle through Bluetooth and use your mobile data. This article is about your phone connecting to vehicle Wifi (& vehicle data plan), right? I've never met anyone who purchases data exclusively through their vehicle. Through Bluetooth I've used Android auto on my phone, but don't like it. What I do like are aftermarket Kenwood Android Auto in dash display systems. I will absolutely replace my 2015 Toyota 4Runner limited display system with Kenwood... They are gorgeous,& what OEM displays systems should be...

Does all of AA work over BT? I imagine the normal handsfree/audio stuff does, but AA supports much more. We are talking full google map displays, Pandora, Assistant support, pocket casts an such, with in dash screen controls. That's not stuff you do over BT.

I think he just means audio output over BT and using the phone screen for AA.

Yes. Unless there have been (needed) improvements... Toyota has a generic dash that works slightly better with Apple, & even the Apple Android app, than Google. I'll be upgrading my dash to Kenwood... I was so impressed atmy local audio dealer

You don't know anyone who takes occasional or frequent Beach trips with their kids. When you can hook 8 phones or tablets up to your vehicle WiFi and not have any issues it's well worth $20 for unlimited 4G LTE per month

Or enjoy the trip... put the devices away.... my goodness.

So will the Kenwood DDX6704S get this feature? Just purchased and installed last weekend.

This is great news, but is there a list of 2017 or 2018 model year vehicles that supports this capability? Most people wouldn't know who manufactured their car infotainment unit. At least I don't know.
Android Central Newsletter
Thank you for signing up to Android Central. You will receive a verification email shortly.
There was a problem. Please refresh the page and try again.