Android Auto redesigned with improved navigation bar and notification center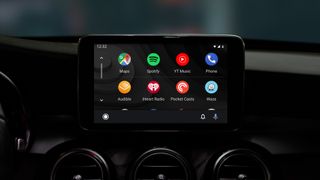 Android Auto, Google's version of Android that's designed for use in the car, is getting a big facelift just in time for Google I/O. Just a day before the opening keynote of the annual developer conference, Google's unveiled a massive redesign for Android Auto that aims to make the interface easier to use than ever before.
On that note, a big part of this is seen with the new navigation bar at the bottom of the UI. With this navigation bar, you can see ongoing turn-by-turn navigation directions, music/podcast controls, prompt the Google Assistant, and access your notifications. The navigation bar was previously quite static, but it now adapts and reacts based on what you're doing.
Speaking of notifications, these are no longer limited to your Android Auto home screen. Instead, Google's created a brand new page through which you can access and interact with them at any time. With notifications no longer on the home screen, this has been redesigned into a simple app launcher which should hopefully make launching a specific app considerably faster than before.
As for Android Auto's aesthetics, there's also a revamped color palette that consists of a dark theme throughout along with colorful accents and a font that's easier to read. Similarly, Google's made sure that Android Auto can properly adapt to infotainment screens of all sizes — even ones that are particularly wide.
The new Android Auto interface is rolling out to users "this summer", so we'll be sure to keep an eye out for it and let you know when it does finally arrive.
Joe Maring was a Senior Editor for Android Central between 2017 and 2021. You can reach him on Twitter at @JoeMaring1.
Wow, hope the in car display looks like that too.

The images are from an in-car display of a Mazda so I would assume they will all show this updated format.

Sorry that is not a mazda, I thought it was because of the touchscreen mounted on the dash :P

Looks like a MB. Probably a C-Class from how close the screen is to the vents.

Looking forward to this update. I really like the look of this.

The only thing I need to know is will WIRELESS Android Auto be finally coming to Samsung phones?

It's more than just the phone...You have to have the proper head unit as well.

Honest question. What's the benefit of the wireless AA unless you have a fast wireless charger in your car? AA always seemed to be a battery drainer with Maps or GPN streaming. Would imagine it would be even more so with bluetooth on as well. Am I mistaken there?

I drove 2 hours the other day using waze through wireless AA on my wifes pixel 3. It used 30% battery which I don't think is too bad considering how small that battery is. This will be awesome for people who don't commute far. Now if only google would let it work with non google phones...

I like what they are doing here. Though seeing some of that kept getting a carplay vibe for me. Gonna be interesting during the keynote.

Yes, I was totally getting the carplay vibe too with the darker theme and home screen design. The new notification screen seems like a big step forward though

When is GOOGLE going to AT LEAST restore my Android Auto connection to my 2018 Grand Cherokee by cable let alone make it wireless? It worked for the first 5 months and now won't display on the vehicle display! Reading comments on the web this is a major problem with many different vehicles and not just my Galaxy S9 Plus

At last!!! May be the new UI will be less Fisher Price and more Google. Hope it offers some more usability too
Android Central Newsletter
Get the best of Android Central in in your inbox, every day!
Thank you for signing up to Android Central. You will receive a verification email shortly.
There was a problem. Please refresh the page and try again.