Android 4.3 JWR66Y security update landing on some Nexus phones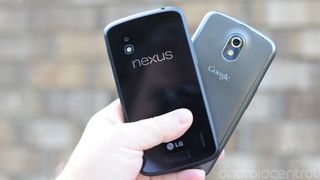 It looks like that T-Mobile U.S. update advisory was right on the money. A few hours after T-Mo updated its support site with word of a security update for the Nexus 4, we're seeing signs that an update to build JWR66Y (from the earlier JWR66V) is pushing out to the Nexus 4 and (GSM) Galaxy Nexus. Posters on the XDA forums have said that they've received a small OTA update to the new version, which still identifies itself as Android 4.3.
It's been speculated that the new version addresses Android security vulnerabilities which were recently involved in a high-profile Bitcoin heist (opens in new tab).
So far we're not seeing any signs that the Nexus 10 or either Nexus 7s have been updated, but we'd expect the update to be extended to all Nexus devices sooner rather than later. Let us know in the comments if you've already updated your phone this morning.
Source: XDA (1 (opens in new tab), 2 (opens in new tab))
Android Central Newsletter
Get instant access to breaking news, the hottest reviews, great deals and helpful tips
Alex was with Android Central for over a decade, producing written and video content for the site, and served as global Executive Editor from 2016 to 2022.
Will this update go out to the HTC one Google edition? Posted via Android Central App

Nexus devices. GE phones are not in the nexus line. Posted via Android Central App

Just wanted to share the below:- I just updated nexus 4 with 4.3 JWR66Y update. I noted the following changes post installing 4.3 JWR66Y update:- 1) No blank screen while access between screens/apps.(i had this problem post installing 4.3 JWR66V.) 2) Camera:- Now when you access camera & click on phone icon to change from front to back camera. The phone would let you know the camera you have selected/in-use 3) Camera:- When you access photosphere option (for the first time), the phone will take you thru a small tutorial on 'how to use photosphere feather?' 4) Battery:- Its taking longer to charge the phone. I never had this problem. But now after installing 4.3 applicant JWR66Y, it takes longer to charge the phone. Previous it use to take around 2 hours to charge the phone from 10% to 100%. Now it took 2. hours & 30 mins to charge from 10% to 100%. Thx-- KJ

just to share if you want to dive deep into the changes:
http://web.djodjo.org/?a=download:android:changelog:changelog_JWR66V-JWR66Y

I hope this update doesn't address the 'vulnerability' in the bitcoin heist, because bitcoiners are deranged. Also it's not a 'vulnerability' when the Android developer site tells people it's not secure and not to use it for cryptography FFS

I wish they'd fix the battery drain too Posted via Android Central App

I don't have battery drain. You should install a custom kernel if you haven't. I get wonderful battery life, especially since installing 4.3. I have mine under clocked and undervolted with franco and paranoid android nightlies, and it lasts me all day with pretty steady use. I have to charge it when I get home, but that's to be expected. Things like a 720p screen and LTE (if you've set it up to use it) are going to drain a battery pretty fast. They are some pretty heavy tasks to run. It also helps to limit some apps that are auto-updating frequently. Using a lot of data, in the backgound even, will suck your battery dry faster than anything else in my experience.

_My_ Civic doesn't burn through gas. You should really install a custom engine if you haven't already. FFS you shouldn't have to replace a core part of a device just to get decent battery like. Not that I'm complaining about battery life on my Nexus 4 (isn't bad, but always could be better). But telling someone that they really have to replace low level software component of their device just to get good battery life is insanity. Posted via Android Central App

Software doesn't work like car engines. Fact is, Google literally put stock Android on the Nexus 4 with not a lot of device specific power optimizations. If you look at the Nexus 4's cousin, the Optimus G, you can see a rather interesting disparity in battery life. They have very similar internals but the LG Optimus G due to its device specific power optimizations that LG baked in lasts longer than the Nexus 4. With a custom kernel, many kernel developers have either partially ported LG's power optimizations or like Franco, pretty much rewrote much of the original kernel power optimization code and performance scaling code to make the device a lot more responsive and not sacrifice on battery life at the same time. Also, Nexus devices are meant for flashing custom code, it's kind of silly not to ... but I digress.

Shouldn't have to. I take it off the charger at 6am, it's begging for a charge at 3pm. I shouldn't have to limit sync our switch anything like WiFi or GPS off. But I do and it's still crap. Google services wakes my device around 450 per hour even if I don't touch it. Next thing you'll tell me to get one of those hideous zero-lemon's Posted via Android Central App on my Nexus 4

Forget this buttcorn thingamajig. I still can't get the YouTube app to play a video without freezing halfway into it. Posted from my Nexus 4 via Android Central App

Have you tried wiping data for the youtube app, then uninstall updates (or just uninstall if its not a system app) Then reinstall/update youtube app, and then try it again? If its still freezing its gotta be your internet connection (buffering)??? Does it happen with all videos?? There is no other reason for it to freeze especially on a Nexus 4 (stock anyway).

I am a bitcoiner and I look forward to getting this update Posted via The Very Best Android Central App

Mines updated this morning

My Galaxy Nexus did not update this morning when I turned it on and still shows as up to date when I check for an update.

Do you have the GSM or CDMA version? If it's the latter, it'll take a while, if you see it at all.

Hopefully it's just this bitcoin thing and nothing important to me. Don't fancy flashing a new factory image and re-setting my N4 up! Posted via Android Central App

My Nexus 10 got it this morning but nothing on my Nexus 4 Posted via Android Central App

Yeah, this is related to the SELinux components primarily. When they sent out the OTA update they sent a Recovery image that does do Contexts. However, the update did not run on the new recovery, but the old. So... when everyone got the OTAUpdate and it flashed.... NO CONTEXTS were given to the components! Running the SELinux enforcing wouldn't do Jack and would jack up your stuff. This is why you test your OTAs in addition to system images.

One device I doubt we will see get this update is the Verizon Galaxy Nexus. We don't even have 4.3 yet let alone a security update. This is the problem with carriers controlling and meddling with phones. Security issues identified and solved with updates, meanwhile carriers sitting back in their chairs with their brand new phones to release, wondering what they are going test next.

This is why I'll never buy another phone from Straight Talk. The TracFone Samsung Galaxy S2 sold by Straight Talk will never get a software update, not even those addressing security issues. It's stuck on Gingerbread 2.3.6.
Never buy a phone from Straight Talk.
(Having said that, this is the last month I'll have ST, as I'm ready to make a permanent transition to AT&T or T-Mobile on my new HTC One GPe.) Posted via Android Central App

I just updated my nexus 10 Posted via Android Central App

How do you update? Posted via Android Central App

I got a notification to install Posted via Android Central App

Received JSS15Q on Nexus 7 2013

Same here, just got the JSS15Q on my Nexus 7 FHD (2013), not sure what's different but it's been updated.

Will it come to nexus devices outside US? Posted via Android Central App

Got the update 8hours ago. So the answer to my question is yes. Posted via Android Central App

Still no update in the UK for my Nexus 4. We always seem to be last for Google updates. Posted via Android Central App

I'm on T-Mobile in Pensacola. I have the Android 4.3 JWR66V update, no Y for me yet.

Did you install it yet? If not, do an adb logcat and get the URL for the update. Was going to do so myself but I accidentally rebooted my phone out of habit (when I use adb) and now I'm not seeing the update any more.

Just got it on my Nexus 7 in the UK.

Nexus 4 in Brazil with the update right now.

Getting it now on Nexus 7 - and just popped in on T-mobile Nexus 4! (as I was typing this!)

Nexus 7 (2012) just updated.

Updated my Nexus 7 2012 Posted via Android Central App

Got it on my Galaxy Nexus a few minutes ago

Just got it on my Nexus 10. Installing now.

Just got the update today for my Nexus 4 Posted via The Very Best Android Central App

Received the update for my Nexus 7(2012) today, no update for Galaxy Nexus yet. UK

My nexus 10 just got this update.

I took a look at the source to see what's new in this release: http://tumble.mlcastle.net/post/59044226753/whats-in-the-android-4-3-sec...

http://android.clients.google.com/packages/ota/google_mako/6136cbe0fb219...

My Google GNex just got the update. 1.7MB

HIT HIT!!!
Just got my LG Google Nexus 4 updated!!!
From India!!
For size 1.7MB

JWR66Y just landed on my Nexus 7.

My Nexus 4 got it an hour or 2 ago

Android 4.3 OTA JWR66Y update arrived this morning to the Middle East on my old stock nexus 7. After system update Google play sent Hangout, Keep & Chrome updates

Nexus 7 2012 got updated today but still 66V

Got the update on my Nexus 4- Sri Lanka. File size 1.8mb

I live in Switzerland and got the update on my Nexus 4 yesterday, nothing yet on my Nexus 7.

I recieved the update yesterday about 5:30 or so on my N4.. nice!

I got It for my N7 but not my N4

Just got it on my Nexus 7...

Just got the update from JWR66V to JWR66Y. Posted via Android Central App

Still nothing on my N4... Posted via Android Central App

Got the update on my Nexus 4 yesterday... no HSPA+ (on AT&T) since the update installed.

This update killed the GPS on my Galaxy Nexus. I can't get a GPS lock after this update was applied (stock, locked)
Apparently this happened to many more Galaxy Nexus owners

Yup, happened to my (international GSM) Galaxy Nexus as well. The GPS indicator just sits there blinking forever (as in more than 30 minutes) and never locks on. I installed GPS Status & Toolbox to check what was wrong, and it definitely seems software related: The phone sees 10+ satellites, but none are being used to get a fix. I have tried all kinds of permutations of GPS and location settings, but GPS just won't work. It started immediately after the JWR66Y update, with no new apps installed or settings changed in the mean time, or it's hard to see how it can be anything other than a bug in the update. GPS was very finicky and often went minutes without locking on when the phone was on 4.2.x as well. It got especially bad after the major Google Now update in May/June (or at least that seems to have been the cause), although I was still able to get a fix if I was patient enough and managed to keep the Maps app open for a copule of minutes without going to sleep. Then with the initial 4.3 upgrade, I thought they had finally fixed it: GPS consistently managed to lock on within 10 seconds or so. Now, with the minor 4.3 update, it's worse than ever. Doesn't Google test these things at all?

Hijust so u know mines fine on nexus7 gps is as u say fuc#ed since summer but yes mines working and finds me on maps etc. Maybe you've a busted since birth kinda tablet, phone? Happens all 2 often and with lame warranty periods you just get shafted.

Got it!:) Posted via Android Central App

Both my N4 phone and N7 tablet [2012] have updated to Android 4.3 Build JWR66Y.

I've noticed the major draw back of 4.3 which is that my battery life is so reduce now... I've to charge it twice in a day but as i am using this my galaxy nexus since last year i was pretty satisfied with its battery life.... please update it to solve this major issue......

Confirmed - Nexus 10 UK update to JWR66Y arrived

I got a new update this am (27/8/13) to the newest version. It didnt give owt new just added security apparently. Bitcoin have done this just for advertising gain FACT. google is the beast not best i can spell kinda.

I am using Nexus 4 16gb unlocked version and after this update(jwr66y), my mobile is getting a bit hot near camera lens. I'm using it for normal browsing etc. Any one else getting this problem?

I got the update yesterday and noticed today the Google Wallet no longer works at the checkout terminal. I tried reinstalling the app and going back to the store to try again and the same thing happened. Not sure if the problem is NFC or Wallet. Anybody else see this problem?

Just got the update to JWR66Y on Nexus 7 and it seems to have slowed down the device.
Android Central Newsletter
Get instant access to breaking news, the hottest reviews, great deals and helpful tips
Thank you for signing up to Android Central. You will receive a verification email shortly.
There was a problem. Please refresh the page and try again.