Andrew's Favorite Tech of 2017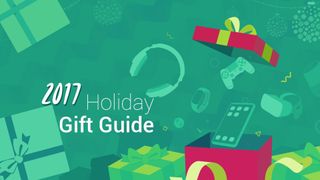 Andrew's Favorite Tech of 2017
We see a whole bunch of technology come across our desks in this job. There are of course plenty of phones and tablets, but also all of the associated accessories and extras that make them even more useful. And then there's all of the extra tech that we use in the course of our jobs. It can be tough to keep up with it all, but if there's one benefit it's that I have more perspective on these devices than most — and after using so much in 2017, these are some of the favorites that I personally use.
Google Pixel 2
Google has once again made my favorite phone of the year. I still appreciate a smaller device to use every day in all sorts of situations, and unlike last year the Pixel 2 doesn't have big battery life compromises. The current Oreo software is excellent, with a bunch of little Google touches that take it to the next level. And knowing that it will have years of updates to come really adds to its value.
$649 Buy now
OnePlus 5T
The OnePlus 5T nails the basics and barely sets a foot wrong, all while offering top-notch specs, a big display and a slick body — and it doesn't cost an arm and a leg like much of the competition. The design is a bit lackluster but you just can't argue with the value for money here.
$499 Buy Now
Samsung Galaxy Note 8
Nobody does a big phone better. The Note 8 is unapologetically large, and it has the software features and specs to take advantage of the screen. The hardware is also flashy, the cameras are great and the screen is the best in the industry. But you definitely pay for it.
$949 Buy Now
Moto X4
Motorola may not be able to make great phones at the flagship price points, but it sure does well at lower prices. The Moto X4 is a fantastic phone, especially if you're looking for something less expensive to use on Project Fi. It's made just as well as any flagship, and has capable specs and a pair of solid cameras as well.
$399 Buy Now
Samsung Galaxy Tab S3
Let's be honest, an Android tablet isn't for everyone. But if you want to get one, I see no reason to choose anything but the Tab S3. You get great hardware, a good screen and a keyboard attachment that makes it all work even better.
$500 Buy Now
JBL Clip 2
Bluetooth speakers are a dime a dozen nowadays, but JBL makes some great models that are worth the little extra money. The Clip 2 is portable and has a clip so you can hang it on a bag or set it up for better sound wherever you need it, and it's built to take the abuse of moving around. It has both Bluetooth and a 3.5 mm connection, and the sound is good for the size.
$40 Buy Now
Bose QC35 II
Light, comfortable, long-lasting and with amazing noise cancellation. The QC35 IIs are a traveler's best friend, but really can be used as daily headphones for those who need to shut out the world and concentrate. I won't go anywhere without a pair.
$349 Buy Now
Moment Cases and Lenses
Camera lens attachments for phones can be cumbersome, but if you're serious about photography you have to look at Moment lenses. The cases are great on their own and the glass is high quality for the money. Take your Instagram game to the next level.
from $99 Buy Now
Chromecast Ultra
Even if you already have a streaming box of some sort, it'd be tough to convince me that you couldn't find a use for a Chromecast Ultra on one of your TVs at home. Leave it plugged in, and the next time you have a quick thought about watching a movie or even just showing off some photos to guests it'll be there ready to bring it to the big screen.
$70 Buy Now
NVIDIA Shield Android TV
If a Chromecast sounds great but you (or someone you live with) would benefit from the simplicity of a dedicated interface and remote, the Shield Android TV is great. It's just as capable as a Chromecast Ultra for casting (there's $70 in value right there), but some media experiences really are best with a dedicated app running on the box itself. The gaming may not interest you, but the performance of this box will.
from $179 Buy Now
Google Home
I've settled on Google Home rather than Amazon Echo, and for my basic needs this speaker gets the job done. It sits in the kitchen and is great for quick queries, timers, reminders, music and podcasts. Even if you don't dive into the deeper integrations and features, you can find a way to justify the $129 price — and maybe you'll find more to do with it along the way.
$129 Buy Now
Samsung Gear Sport
I'll be honest, I find it hard to stick with any smartwatch for more than a few weeks. But the best one I've used this year is the Samsung Gear Sport. It's just a bit lighter and more compact than the Gear S3, which makes it much easier to wear every day. And Samsung's software is just downright better than Android Wear — you just have to be willing to configure it a bit and ignore many of the useless features.
$299 Buy Now
Samsung Gear Fit2 Pro
To skip much of the "smartwatch" experience altogether and just get some good fitness tracking, I like the Gear Fit2 Pro (and the original Fit2 at that). You save $100 off the Gear Sport's price, and still keep most of the features. Given its smaller screen and lighter weight, you may be even more inclined to wear it for daily exercise tracking.
$199 Buy Now
Apple MacBook Pro
It's flawed, but it's the latest and most powerful laptop you can get with macOS, and that still matters to many. The screen is amazing, the specs get all of the jobs done and you don't have to worry about durability. Embrace that USB-C life (well, and #donglelife).
from $1299 Buy Now
Samsung Chromebook Pro
Not everyone wants (or needs) a full-blown computer. For those people, I always recommend a Chromebook — and the Samsung Chromebook Pro is a great option. It's a solid step above the low-end models that are cheap-feeling and made of plastic, but is still super light and has a great display. Even with that, and a cool stylus, it's still less than $500.
$425 Buy Now
Anker PowerCore+ 26800mAh USB-C PD battery
I'm on an ongoing mission to find USB-C PD (Power Delivery) batteries, and this big Anker battery is my current go-to. The huge capacity and Power Delivery let it charge up my MacBook Pro and phones at great speeds, making it a wonderful dual-mode device. Yes it's huge, but that's fine as it typically lives in my backpack as a travel companion.
$119 Buy Now
Samsung Evo+ 128GB UHS-I MicroSD Card
SD cards have gotten so big, so fast and so cheap that it's tough to make a bad choice. But going with a well-known brand and tested performance is always preferred. About $60 gets you a great card that can go in your phone (if you have one with a slot) but also with an adapter can pull double-duty in a camera as mine so often does.
from $58 Buy Now
Trianium Quick Charge 3.0 & USB-C Car Charger
For about $25 you can get a solid car charger that not only has a USB-A port with Quick Charge 3.0, but also a full-power USB-C Power Delivery port. That means you can pull enough power to get anything you'd have in a car — not just phones — topped up on the go.
$25 Buy Now
Anker PowerPort+ 5-Port 60W USB Wall Charger with USB-C Power Delivery
When you have this many gadgets, you want a solid one-stop place to get them all charged up. Anker has you covered with this five-port charger. Each USB-A port can output at 2.4A, which is plenty of any phone or tablet, and the USB-C port has Power Delivery so it can deliver 30W to charge up new laptops, iPad Pros or big Android tablets. It's a great complement to any power user's desk.
$50 Buy Now
Peak Design Everyday Backpack
For the sake of my shoulders and back, I'm trying to use a backpack more nowadays rather than relying on a messenger bag. The Peak Design Everyday Backpack has been an amazing companion for everything from short trips to the coffee shop up to weekend vacations and week-long international work trips. It's built fantastically, has every single pouch or slot you could imagine, and it's so clear an obsessive amount of detail was put into every part of how it works.
$259 Buy Now
Vaultz Mesh Storage Bags
Look, I'm a little OCD about things. Especially when I travel. That means bags inside of bags — I use these Vaultz mesh bags to store cables and all sorts of small loose items that would otherwise get lost while I'm traveling. They're color-coded so you know at a glance what's in each one, and the varying sizes mean you'll find the right one for the job. It's a ridiculously cheap way to bring some sanity to your cables, chargers and accessories.
$7 Buy Now
Get the Android Central Newsletter
Instant access to breaking news, the hottest reviews, great deals and helpful tips.
Andrew was an Executive Editor, U.S. at Android Central between 2012 and 2020.