Amazon's Alexa team can apparently find your home address in seconds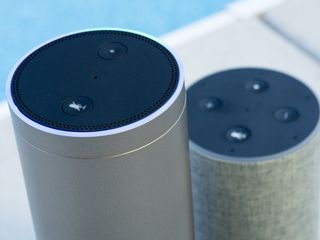 In the world of smart assistants, Amazon Alexa is one of the most popular and widely-used. It's accessible through smart speakers (opens in new tab), phones (opens in new tab), and smartwatches (opens in new tab), and while it's an incredibly powerful tool, the convenience of using it comes at the expense of your privacy.
Privacy concerns surrounding Alexa, Google Assistant, etc. aren't new, but according to a new report from Bloomberg, employees of Amazon's Alexa Data Services team have access to people's precise home address — and in some cases, full names, phone numbers, and more.
The Alexa Data Services team is in charge of reviewing recordings of Alexa conversations to help train the AI and has thousands of members in Boston, India, and Romania. Per Bloomberg:
Bloomberg says it was shown a demonstration of this, and during it, saw an Amazon employee take the latitude and longitude of one user stored in Amazon's database, entered it into Google Maps, and had an image of that area and the user's house in "less than a minute."
In addition to location data, a smaller category of employees "who tag transcripts of voice recordings to help Alexa categorize requests" have access to even more data:
Amazon has since issued a statement in response to this story, saying:
Despite that statement, one employee that spoke with Bloomberg noted that "they believed the vast majority of workers in the Alexa Data Services group were, until recently, able to use the software."
While we have no reason to believe that any user information was compromised or used maliciously, the fact that such sensitive data is so readily available is not a good look for Amazon. Then again, if you're trusting a device to live in your house and constantly listen to you, are you really that concerned with things like this?
Amazon Echo vs. Dot vs. Show vs. Plus: Which should you buy?
Joe Maring was a Senior Editor for Android Central between 2017 and 2021. You can reach him on Twitter at @JoeMaring1.
"Then again, if you're trusting a device to live in your house and constantly listen to you, are you really that concerned with things like this?" Nope. I know what i am getting into by using of these things. If you care about this crap, don't own one. I am tired of these stupid stories.

Exactly! Completely agree.

I'm curious, neither of you care much about privacy, but how deep does it go? Would either of you put a Facebook portal (which were apparently not allowed to discuss) in your home?

Anyone who uses these devices is not concerned with privacy (at least, they value convenience more than privacy). And they are not interested in reducing efforts to "profile" everyone living in the same household. To each his own.

"I am tired of these stupid stories" ...but reads "stupid stories" and posts comments in "stupid stories".

Really? How odd. I've given them my home address. I receive packages from them. Who cares? It's amazing how everyone is worried about privacy but will still post their entire life on social media. #wakeup

Paranoia. Any internet search engine can locate me easily. There was a time when a large phone book appeared on our doorstep with names, addresses and phone numbers. If you have a reason to hide, you don't have a phone, and you don't have an Alexa. Likely shouldn't even have internet, at least not from a normal ISP.
Besides, how would I get Amazon deliveries if they did not know exactly where I was?

Why should this be surprising? Your cell phone company knows your address too and can find you in seconds. Anything you register with a company and your address will be on file. Stop perpetrating this foil hat nonsense about every little thing. I worked at a cell phone company in college.... news flash.. we could listen in on calls whenever we wanted for "monitoring for call quality". Alert the media!
Android Central Newsletter
Get the best of Android Central in in your inbox, every day!
Thank you for signing up to Android Central. You will receive a verification email shortly.
There was a problem. Please refresh the page and try again.