The Amazon Fire TV 4K Pendant is no more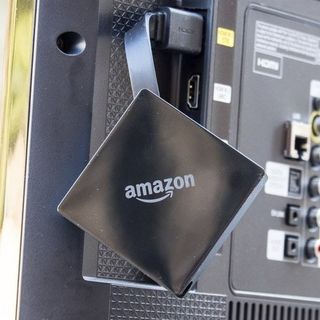 Amazon has confirmed to CordCutters.com that the 2017 model of the Fire TV — also known as the Fire TV Gen. 3, or the Fire TV 4K, or the Fire TV pendant — has reached end-of-life status. No more are being produced, and Amazon doesn't plan on making any more.
Indeed, when you visit the product page for the Fire TV Gen. 3 (opens in new tab), it recommends you buy a new $49 Fire TV Stick 4K instead (opens in new tab).
It's easy to look at the two devices and think that this is a step down — $30 difference, less RAM, etc. — but the new Fire TV Stick has a huge leg up in that it supports Dolby Vision for HDR, and it's the first Amazon Fire TV device to do so.
So let's pour one out for the Fire TV pendant, but let's herald the coming of the Fire Stick 4K.
Get the Android Central Newsletter
Instant access to breaking news, the hottest reviews, great deals and helpful tips.
$69-$49 != $30 difference But I actually really liked the pendant firetv.. I bought 6 of them for friends and family over the past 2 months because they are just great devices. Absolutely zero lag. Easy to add the less-than-legal streaming options. An overall great device despite hearing that they were dropping official gamepad support (tho I think bluetooth gamepads will still work) -EDIT-
I see looking at the specs page: https://developer.amazon.com/docs/fire-tv/device-specifications.html#dev...
Aside from .5 GB less RAM... all other specs have improved (Video, Audio, Bluetooth, miracast is back) . So I guess it is indeed a superior device in the long run. I just hope the lower ram doesn't result in any input lag.

I wish that they were still producing the Fire TV 2nd gen box. That was and still is the best performing Fire TV when it comes to apps and games.

Same here. I still use my Fire TV box. Had a Fire Stick but it was so slow and unreliable.

I still have 3 first gen FireTVs running strong. I don't have anything 4K yet (Main TV died just before they became affordable, the new one probably has another 3 years left in it) I did buy a 2nd gen FireTV as a backup when I heard about the pendant coming out. But it is just sitting on my desk collecting dust.

I brought the pendant last month for $40. Kind of regretting it. Though the MT8695 SOC is an 12nm process which is much more power efficient and 80% faster than the pendant. So it might be better than the Fire TV 2nd gen in terms of CPU power. https://www.telecomlead.com/telecom-chips/mediatek-technology-focus-at-c...

Based on Amazon reviews the pendant was meh at best. I dint own in though. New stick is cheaper and with a better remote anyway

Yeah that remote is clutch if you're a cord cutter

Just bought a pendant 2 weeks ago... sucks to be me.

I'm literally in the exact same spot.