Fire Phone will be AT&T exclusive, ships late July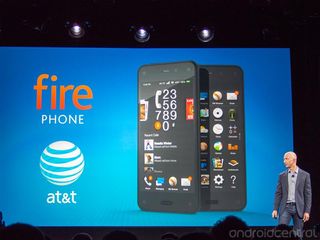 Looking forward to picking up the Fire Phone from Amazon? You might have to temper your enthusiasm for the phone as Amazon has just announced that AT&T is the exclusive carrier for the Fire Phone. Pre-orders start today and the phone will ship July 25. More details after the break.
Ralph De La Vega, CEO of AT&T, took to the stage at Amazon's event in Seattle to announce the partnership. The Fire Phone will be available as an exclusive on AT&T and comes in two variants. There's a 32GB model that will go for $199 on a two-year contract, while a 64GB model will set you back $299 with a two-year contract. You do get 12 months of Amazon Prime. Existing Prime members get an extra 12 months for free.
You can pre-order today and have the Fire Phone come to your door on July 25.
Is the pricing too high? Bad move going with just AT&T? Sound off below.
Pre-order the Amazon Fire Phone (opens in new tab)
Get the Android Central Newsletter
Instant access to breaking news, the hottest reviews, great deals and helpful tips.
Not gonna lie, I would consider this phone. I like the size and design. Need a bit more to surface about the UI. Year of prime doesn't hurt.

What do you like about the size design? It look much bigger than MotoX with the same screen size

Not a huge deal IMO. I dunno... I look at it and my brain says "I like this."

Fair enough :)
I don't mind the design language but MotoX overall size has spoiled me. I wish more OEMs were pushing for smaller bezels. I realize that this one has some stereo front speakers but IMO it's not necessary on a phone (tablet - yes).

People tend to forget... THAT is what really matters.
If you like something, you like something.

I'm not seeing anything particularly special to it... The Fire tablets were attractive initially cause of their lower price point, and the content to an extent, but the content is less of a draw on a phone. Pricing isn't anything special, basically a mid to high end phone sold for $100 + Prime, standard fare. Whatever happened to the lower cost non-3D model? Never mind that the 3D feature seems like an afterthought, it seems they're making a bigger deal about Firefly.

I am scared of off contract price, probably get oneplus one. I don't think this will get people to switch to att. Posted via Android Central App

This. It's not priced competitively at all. The unlocked version, sadly, is going to be $650+. At that point your better off getting a nexus, OnePlus, Oppo, or Moto phone.

Well look at it this way the fire phone is attainable
Posted from my Nexus 7 2013 or Samsung galaxy S5

I am not paying $750 for 64gb when oneplus one is $350. www.amazon.com/gp/aw/d/B00EOE0WKQ?cache=398a094536af7093c9bacf6d6f848e83... Posted via Android Central App

At least you can buy Amazons phone the day they release it. :)

you mean pre-order the day it's announced. It's not "released" until July 25.

Who said "released the day it was announced." Because I didn't.

ah, i see. as opposed to the invite process with OnePlus.

I should have invite by july 25th. Posted via Android Central App

Does the One Plus come with 12 months of free Prime? Access to Prime Video? Unlimited photo backup? I am not saying the Fire Phone is better, but the comparison based solely on price only tells part of the story. I don't plan on buying either phone. And at the time of this writing the One Plus is still vaporware. Posted via Android Central App

Why? Retail versions already sent out (at least to those who review phones).
By the way, "unlimited" photo backup may sound awesome but when you consider that photos barely take any space, it's kinda irrelevant. I have a ton of free storage on Google Drive/+ and only use 5GB of space with thousands of pics. This phone has nothing to offer other than tie you up in a limited ecosystem.

Nexus 5 is better spec in a few ways. The $250 price difference can buy you 2 years of Amazon prime and still have $50 left to spend.

+1 Posted via Android Central App

who needs unlimited photo back up? Flickr app 1 TB of free photo storage, hard to fill up 1 TB unless you take photos for a living.

http://www.amazon.com/s/ref=nb_sb_noss_1?url=search-alias%3Daps&field-ke... These look interesting. The one black leather one at the top looks great.

I see they are pricing their accessories in line with the phone. $30 for $.03 of material.

That leather case looks awesome. Why couldn't they put this on Verizon again? Posted via Android Central App

Ridiculous price sorry pass nexus 5 moto x or one plus will be just fine Posted via Android Central App

Fuck AT&T. Carrier exclusivity is BS. They really screwed up the moto x with ATT exclusivity. This actually sounds like a cool phone. Someday the manufactures will learn. I'm starting to think it's mostly because of the contracts. Posted via Android Central App

Yep. You'd think after the HTC first (Facebook phone) AT&T would have learned exclusives now a days aren't effective.

Hah I forgot that phone was even conceived. Posted via Android Central App

Agreed. Posted via Android Central App

If you're a Prime member paying $100 a year the phone would be $99. I'm not keen on being tied to a 2 year contract though. I'm happy with my no contract Nexus 5.

Yeah, it's not priced too bad for an on contract phone, IF you're interested in Prime (and you'd probably be if you like this phone)... It's nothing special either tho, isn't the Moto X already like $50 on contract? Pretty sure I've even seen it for 1¢ on Amazon.

Did they announce anything about battery and micro SD expansion? Posted via Android Central App

No for SD, 2400 mAh battery Posted via Android Central App

UMTS/HSPA+/DC-HSDPA (850, 900, 1700/2100, 1900, 2100 MHz), Quad-band GSM/EDGE (850, 900, 1800, 1900 MHz), 9 bands of LTE (Bands 1, 2, 3, 4, 5, 7, 8, 17, 20), supports carrier aggregation Does this mean T-Mobile support?

Oh yeah. That thing is fully T-Mobile compatible.

it looks to be working off a gimmick. However at those price points - i think its DOA - its new to the market and trying to sell on established HIGH END PHONE rates.
Thought they would try to price point like the kindle - oh well its cool to an extent but not $600+ cool to own.

AT&T will be lucky if they sell 100 of these....im sorry I just dont see the Fire Phone having any success Posted via Android Central App

Agreed! Posted via Android Central App

Pricing looks right. Bad move on the exclusivity

Bad move again going with just AT&T .. look at just how well the exclusive HTC First did for Facebook !! and now Amazon is going to follow in those same foot steps. Prices wont stick to long .. like the HTC First, high priced for a few months, no one bought it .. got to the point it was for free within 6 months !!! BAD MOVE AMAZON.

You forgot Motor X. Posted via Android Central App

I'm a big amazon guy, but this phone isn't going to last. The price is a joke and the exclusivity is a bigger joke. Way to give the consumer a choice. Moving on... Posted via Android Central App

Exclusive to AT&T, didn't Apple try that once, seriously going to hurt their demand a bit, but nothing that'll make them sorry, would think at some point they'll change that, on another note it sorta reminds me of a Galaxy series phone.

lol im totally on board with you. but thats a horrible comparison. that made apple take over the smartphone market and made everyone work their asses off on other networks to create an iphone killer while ATT was soaking up new customers left and right.

It's a shame that it's an AT&T exclusive.

Honestly I hope this phone flops just because of the exclusiveness to AT&T. #hater
Posted via Android Central App

Well, they just lost a sale. Me being an impulse buyer I would have bought this phone today, but now that I will have a month to think about it I probably won't. Posted via Android Central App

I'm sure they're losing sleep over that. Posted via Android Central App

John Legere is right, this will be going in the same direction as the HTC First. Amazon should have made the device unlocked and sold without contract at a competitive price, then have similar offers like their Fire TV or Kindle products for existing prime members, no interest payment deferments/shipped free for 30 days.

Sadly, I agree. I wish it wasn't so because I'd like to see a new REAL competitor in the smartphone market. However, if they would have sold it unlocked it would have sold a lot to nerds like us and stuff, BUT you have to realize how much of a market they would miss out on because your average consumer doesn't know what unlocked means, they don't stalk the internet for new phones.... no... they walk into their local ATT store and ask what the cool new phone is. That's the plan here.

I'm glad Amazon is doing this, but I've gotta say I'm waiting for Google to imitate these features in its own implementation. I love Amazon, but this isn't the phone for me. Maybe for my kids, though...

Im guessing only Amazon App Store and not Google Play Store??

No Play Store correct? That alone will keep Android can boys away.

this was already confirmed. as if being an amazon phone wasnt clue enough.

Despite touting how many extras and services go with the phone, Amazon will get nowhere with this level of pricing. When an average customer walks into an AT&T retailer to choose a new handset, there are plenty of established high-end options at $199 that will get first looks -- iPhone 5S, Galaxy S5, HTC One and the like. (And look at how poorly HTC is faring in that market with a great phone.) If somebody is willing to pay $200 and take a two-year contract for a phone, it's because it's a model they really want. Amazon should have gone after a lower tier -- one in which the sales rep could say, "Sure you could pay $199 for this one, but first look at this $99 alternative." I hope Amazon will prove me wrong, but I'm not holding my breath. Posted via Android Central App

Maybe AT&T will be more motivated to push the Fire in light of the exclusivity, or not, seeing how the Moto X fared. I can understand why Amazon, Moto, Apple, etc go for exclusive deals... Money, money, money, and a certain amount of guaranteed sales. I can't quite understand why AT&T commits to exclusives that they don't intend to market aggressively tho.

Are they trying to be some sort of iPhone with the exclusivity deal? The panda has spoken

Am I the only one waiting for T-Mobile's CEO to say something snarky about this announcement/exclusivity? :) °Sony XPERIA Z2 white
°LG Optimus G Pro white
°LG Optimus L70 black

"Amazon has just announced that AT&T is the exclusive carrier for the Fire Phone" Dealbreaker. Then again, being the exclusive carrier of the iPhone when it first came out didn't hurt it, I guess if people are really interested in this thing, they'll flock to it.

Any enthusiasm for this will be killed by half a dozen products announced next week. Pricing will have to be adjusted before it ships or it will never even sail. The Moto X+1 alone will kill this, which will likely have better specs and off-contract pricing that is half what Amazon is asking. It's sad when you see an otherwise smart enterprise missing the mark so badly. I thought misses of this magnitude were reserved for the likes of Microsoft and RIM. Posted via Android Central App

The Moto X when launched was $199.99 on-contract and $579.99 unlocked. What makes you think the X+1 will be significantly different?

The last 2 Moto phones tell me that. Posted via Android Central App

The last two Moto phones were budget models, the X+1 is a flagship. It's a completely different market.

It woukd be nice to have a backup phone, free would be even better!

It woukd be nice to have a backup phone, free would be even better!

Get the fire phone for $350 three months after the launch. Patience.... Posted via Android Central App

3 months? People will be dumping them for $200 when the next major flagship hits. Posted via Android Central App

I really like the idea of this phone and w/ the year of Prime for free it really brings it down to only $100 for what looks like a great phone!!! BUT......why only AT&T? Everyone knows it will eventually be available on other carriers ( i.e. IPhone) but seems silly to not make it available on both AT&T and Verizon to start out!!! With so many option s of Smartphones , why limit who can get the phone? I personally am grandfathered in to still having Unlimited Data w/ Verizon so there is nothing AT&T could offer to get me to switch, I'll just wait.......

All but guaranteeing that I will NEVER use it. Uggh.

Can't wait till its been out for about 6-8 months. It'll be like $0.99 at AT&T Posted via Ash William's Boomstick

if apple wasnt doing so well when it comes to profits I would say that no one wants to buy a locked phone for 500-600 bucks when they can get an unlocked one for 300. But sales numbers dictate otherwise. Im currently on Verizon. So basically Amazon is asking me either spend $600 plus spend $100 for ETF or to wait about 15 months for my contract to be up, go to ATT for a higher monthly membership, so I can sign a 2 year contract so I can get this phone (which in about 15 months will be for free).
Thats a good way to exclude potential customers.

They should've made it available to all. Carrier exclusivity deals just suck for us consumers. 'Nuff said.

Any particular reason At&t always gets exclusive, I would guess they are offering more money and really want another smash hit exclusive like the og iPhone but that's unlikely to happen anytime soon. Posted via Android Central App on nexus 7 (2nd gen)

Seems like an okay device, but what the Android Community really wants to know is... When are the Nexus 6 and Nexus 8 coming out? That's what I'am waiting for!

Wll the new the new Amazon Fireplug be able to run KitKat 4.4.3? I heard it's a great ROM?

It looks slick and loaded, but I'm afraid a big chunk of people will preffer a big bigger phone. For me is just fine. Complete with the latests apps , power and the prestige of Amazon.