Amazon Echo scores support for SmartThings hardware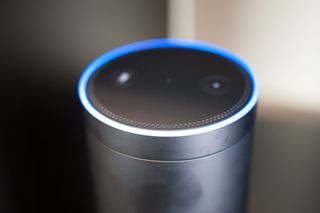 Amazon has updated the Amazon Echo with some more new features today, this time bringing along support for Samsung's SmartThings, allowing you to control just about anything in your house with just your voice.
The update brings support for all SmartThings products, including the SmartThings Hub and SmartThings outlet, and getting set up seems fairly easy. Amazon says that once you've set your devices up in their respective apps, you simply say "Alexa, discover my appliances" to your Echo. From there, you can easily control different appliances in your house by talking to Alexa, with Amazon giving the following examples:
"Alexa, turn on the television."
"Alexa, turn on the stereo."
"Alexa, turn off the lamp."
"Alexa, turn on the porch light."
Also in this update are some new Skills for Alexa, which were previewed with an initial set in last week's update. This week, you can enable Alexa's new Bingo and Cat Facts skills to get some game time in with the digital assistant and maybe learn some new fantastic feline facts.
Purchase the Amazon Echo for $179
This is what I have been waiting for. Samsung sent out an e-mail encouraging us to buy their new version hub. I was afraid I would have to replace mine to get the Echo Integration. I have loved the Wink Integration (for the 1 wink device I have), and have been anxious to use my SmartThings this way... I came close to trashing it and getting a hub that had the integration.

I agree. I have the Hue hub and love it for my lights. This will only add to Alexa.

Now the question is when Samsung release the SmartThings hub? Posted via the Android Central App

I think they already have? I Googled it today, and it seems like it's available. I could be wrong.

It is pre-order only currently

Turn television on... But there's no TV on smartthings compatibility list?

You just need to program an outlet. There is not a porch light either. You tell amazon which device is the tv and it will turn that outlet on. Posted via the Android Central App

Did anyone else notice the app is now called Alexa, not Echo?

Been on the fence about the Echo, but as soon as I read this news I ordered one. It arrived Saturday, I integrated it with my SmartThings & Philips Hue hub and have been thoroughly pleased. It will auto discover your devices and listen for the name you assigned to it in the original app. But if you want a more voice friendly name, you can create a group and assign just the one light that name, or create a group with multiple lights and turn them all on/off by that name. Also, the microphone array intelligence on this thing is very slick, and as someone who has played with many voice-control options, I'm very impressed.
Android Central Newsletter
Get the best of Android Central in in your inbox, every day!
Thank you for signing up to Android Central. You will receive a verification email shortly.
There was a problem. Please refresh the page and try again.