Amazon Echo 101: The basics of Alexa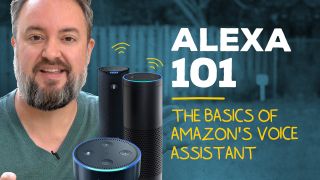 There really is no escaping Amazon Echo. Or Amazon Alexa. Or both. And that actually highlights the confusion some folks have experienced — especially folks who aren't totally immersed in this newfangled Internet thing. There's a good chance that if you're reading this, you're pretty well-versed in Alexa and Echo and know the difference between the two.
But there's also a pretty good chance that you know someone who isn't.
So let's take a few minutes and break it down. Here's everything you need to know — insofar as the basics are concerned — about Amazon Alexa and Amazon Echo.
And when you're ready to buy, you can find all three (naturally) at Amazon.
I don't think I'd mind Alexa, in my car, on my phone, or on my watch I wouldn't mind if she became like Jarvis in Ironman, before the change of course. I'm not sure I ever say anything important enough to merit attention, ask my kids, so her listening doesn't bug me. It'll be interesting to see where this goes.

I've got Alexa damn near everywhere right now, including my car, and it's really at that "can't live without it" point. It's just makes things too convenient-- I love being able to set calendar reminders for my shower thoughts, or turn off the sprinklers when they wake me up at 7 and I know the yard's not dry yet.

Sorry, Phil. Just a quick bit of idiomatic correction. It's "one and the same", not "in the same", tempting as that seems, what with Alexa practically being in the Echo, and all.
Android Central Newsletter
Get the best of Android Central in in your inbox, every day!
Thank you for signing up to Android Central. You will receive a verification email shortly.
There was a problem. Please refresh the page and try again.