Amazon dominates the smart speaker market while Google's sales fall 40%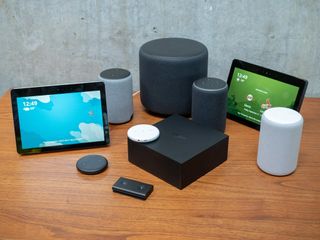 (Image credit: Android Central)
What you need to know
Amazon dominated smart speaker sales in the third quarter of 2019, shipping 10.4 million units for 36.6% of the market.
Google fell 40% in smart speaker sales, shipping only 3.5 million units for a market share of 12.3%.
Google's market share was further hurt by the rise of Chinese smart speaker makers Alibaba and Baidu, which saw massive growth in Q3 2019.
The latest Canalys report is out for the third quarter of 2019, and it shows sales of smart speakers and displays are still on the rise. In the third quarter, the sales of smart speakers alone grew 44.9% for a total of 28.6 million units sold.
However, as always, there are winners and there are losers. This quarter Amazon is the clear winner for smart speakers, sitting at the top with 36.6% market share overall and shipping 10.4 million units in Q3 of 2019.
Overall, Amazon saw a growth of 65.9% annually boosted by its strong sales from its Prime Day, back-to-school, and off-to-college promotions during the quarter. Sales were also helped by Amazon's "Echo Upgrade Program (opens in new tab)" that gives customers a discount when upgrading an old Echo speaker for a newer one.
Unfortunately for Google, it saw a major slip moving only 3.5 million units during Q3 2019 for a 40.1% drop in sales from last year at this time. Even worse, Google saw its market share drop overall from 29.8% in Q3 of 2018 to 12.3% in the third quarter of 2019.
While the drop in market share can be tied to slower sales, it also has much more to do with the rise of smart speakers from Chinese brands. Where Google used to be second to Amazon, this year smart speaker popularity has surged in China with Alibaba and Baidu taking the second and third slots —knocking Google down to fourth.
Smart displays sales didn't move as many units as smart speakers in Q3 2019, shipping only 6.3 million total, but it was still great news because that's a 500% growth for the market. The big winner here was Baidu with 2.3 million units sold, which was more than its smart speaker. Amazon wasn't far behind, selling 2.2 million in the third quarter, while Google only moved a paltry 700,000 smart displays.
Tiny but smart
(opens in new tab)
Smartest hockey puck around
The Echo Dot is one of the most affordable ways to smarten up your home. It has access to thousands of skills that you can use to control your home, play games, listen to music, get weather updates, and much more.
Get the Android Central Newsletter
Instant access to breaking news, the hottest reviews, great deals and helpful tips.
Surprised this is happening. I have both an Echo Dot and a Google Mini. Google Assistant is better with the general queries and even stuff like playing what I asked for via Spotify either on the Mini itself or on my tv via the TV's built in chromecast features. I am assuming that Alexa is better with smart home stuff, so maybe that's why it is pulling ahead?

I don't think so, i believe it's because Amazon are far better than Google at the one thing that (unfortunately) actually matters; marketing.

Google does have a hands up on everybody when it comes to the assistance overall. But Amazon moves faster to update and add features to their Echo line. Google takes their time to the point I think they forget about some of their products. Samething is happening with chromecast and the fire stick line.

I have 3 google pucks and 6 echo dots + one echo show. Also ring alarm system and cameras. I have ceased buying from google. Why? Several reasons: 1. If you turn off google snooping in the google home app 2/3rds of the device functionality is lost. I think google knows enough about me already, and so, I leave the snooping off, online and on their devices. 2. Since they are crippling their service for me, I am very happy to see their income reduced. Turn about fair play. 3. The amazon products seem pretty good, well engineered, and priced reasonably, especially if bought on sale. Amazon knows how to market. They are also very customer centric. The software is constantly improving. They have a constantly expanding list of 3rd party apps that work with alexia. 4. My alarm system and cameras integrate with the echo devices. Very useful. The home automation also works well. 5. The monthly pricing on their alarm system very reasonable as compared to google. 6. Google appears to be "woke". They are censoring youtube and google searches politically. I do not want that in my home.

Great comments and points. I hope Google loses huge because they basically went against the entire idea of IoT and turned it into IoG - Internet of Google. What all of us want are tons of different 3rd party devices working together seamlessly. This is just another huge sign Google has a large ego and not invented here syndrome deeply entrenched. It will hopefully keep killing them in this market.

Also: Amazon is selling you product and service. For google, YOU are the product which they are selling to marketers.

every time you turn around Google gets caught lying about what they're doing with our data, how there collecting it and what they're doing with it . at this point it would almost be comical , if it wasn't so creepy. look I get it they provide a service they collect our data it's the way they go about doing it though

In 2017 I had a Google Home and a Mini..
In 2018 I bought a Sony and a Onkyo (both with Google Assistant)
In 2019 I bought one more Onkyo and a Harman Kardon (an gave the Google speakers to family) and a Nest Hub, JBL link Drive and a Anker Roav Bolt.. My Point is there is alot of brands with GA from LG, Sony, Panasonic, Harman Kardon, JBL, B&O, Polk, Kygo, Marshall, Bose and Klipsch, are they counted as Google or Others?