Alexa Skills are the best (and worst) part of using Amazon Alexa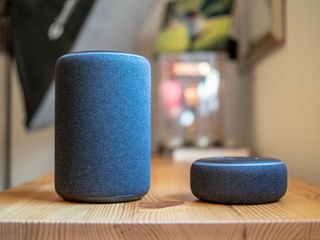 (Image credit: Android Central)
Amazon is still leading the charge in the AI assistant race in many ways. Compared to the closest competing assistants from Google and Apple, Alexa is offered on the largest line of Amazon smart home speakers and other smart home products.
Amazon Alexa Skills are another key feature that helps Alexa stand out from the competition. Amazon offers its Alexa Skills Kit to developers, giving them the ability to incorporate their products or services into the Alexa ecosystem. These Alexa Skills have the potential to add great value for consumers — but only if they work as advertised.
When it works, it's amazing…
I'll start by giving Amazon and Alexa Skills credit where credit is due because it's a genuinely amazing experience to find a Skill that just works.
In my experience, the most reliable Alexa Skills are offered by popular news media outlets and music streaming services — the ones you'd typically see advertised right on the Amazon Echo packaging such as Spotify and Amazon Music. I've also had some lighthearted laughs with the more silly and fun skills that tell jokes, play quizzes, or do other weird stuff that's great for entertaining or surprising friends.
These are also the lowest stake skills and therefore get the most leeway in terms of bugginess— I can still play a specific track or playlist from Spotify using my phone, and my day isn't going to be ruined if a quiz app doesn't hear my response properly.
When a skill doesn't work, it's a real pain in the ass
it's when you go beyond those silly apps and start looking into Skills that, in theory, seem like they'd be pretty useful to incorporate into your daily life that things start to go off the rails.
An Alexa Skill, by design, is supposed to make things easier by letting you control more things using some simple voice command. When these commands don't work, or are missing some pretty obvious features, a Skill can quickly go from being somewhat useful to pull-out-your-hair frustrating.
The worst offenders seem to actually be some of the most popular smart home brands have embarrassing average user ratings — Ring averages about two stars, same with SmartThings, and Philips Hue is just marginally better at two and a half stars.
Reading through the reviews, you find stories of updates completely ruining the usefulness of certain features, or users begging for critical features to be added year after year. These are often the most popular skills and you can tell that based on the number of user reviews. It's granted that some of the bad reviews could be chalked up to user error during set up or unrealistic expectations, but I've dealt with enough frustrating skills to generally commiserate with most one-star reviews.
Unlike Google or Apple, who have been strategically adding smart home product support for their smart assistants at a slow but steady rate, Amazon's Skill strategy lacks the curation and quality control that most average consumers would probably expect. As one of my co-workers explained in a recent meeting, Alexa Skills still feel like the Wild West of home automation — for better or worse.
You can go your own way
One important caveat that I should mention is that I live in Canada. That means some skills simply aren't available for me unless the Skill developer has made them available for Canadian English in the language settings. It feels like a pretty arbitrary setting that ultimately locks me out from using some skills.
Yet Amazon still manages to provide users like me tools for creating my own custom skills. Before researching this article, I was not familiar with Alexa Skill Blueprints — there's no mention of them in the Alexa app or when you're looking up different skills on Amazon.
That's likely because Blueprints are entirely separate from Skills and let you create custom skills exclusively for your household. But when you're struggling with a Skill for tracking workouts, or finding a fun quiz to play with your family, or looking for fun and personalized ways to have fun with Alexa it would be nice to know that you can, in fact, make your own instead of relying on Amazon's collection of often janky Skills.
And frankly, until Amazon does a better job of curating their Skills and ensuring that the most popular ones retain their functionality, you might get the best results from building your own.
Marc Lagace was an Apps and Games Editor at Android Central between 2016 and 2020. You can reach out to him on Twitter [@spacelagace.
Does anyone have experience using both Alexa and Google Home in the same house? If so, how does it work. Google home guy here and was gifted an Alexa.

I started with Alexa. I then picked up a Google Home Mini during a sale because I wanted to see what it was like. I personally like the Alexa better. We have the Show, Original Echo and 2 Dots. I love the fact that we can use it as an intercom like system and talk to each other. It controls my Lights (Wink) really without any issue. I also have Blink Cameras around the house and it's nice to see a video feed from our Show. I'm also a Prime subscriber with Prime Music and feel that I get the most out of my speakers. Think poor man's Sonos. What I don't like is that I feel the info you can get is limited. I will ask it a question that I can ask Google Home and not get an answer. The Blink skill in arming and disarming is also a pain and never works. I personally didn't like Google Home because it seemed that we had to be very specific in controlling my smart home. For example if I tell Alexa to "turn off master bedroom", she turns off the lights. I have to tell Google to "turn off master bedroom lights". I know it's a small difference but it's hard to get the hang of when you've had Alexa since the beginning. I am also not a Google Music subscriber and feel that I don't get the full experience from a music stand point. I do like the fact that I can get answers to things that Alexa won't answer. Google usually has the answer. I'd say that if are a Google Home user then I would stay with it. If you are a big prime user with fire tvs, prime music etc. I would stick with Alexa.

I have as well Alexa and the Blink cameras and you are right, the Blink skill is still lacking many important features and it is ridiculous because Amazon owns Blink. I can use voice activation to arm the Blink cameras because I have one pointing at the main door so I have to be in the house in order to talk to any Alexa speaker. The best thing would be to have a routine in which I could wait for 2 minutes and then arm the Blink system but Blink skill does not support routines yet. And arming it from the Alexa app when I am outside of the house is a pain in the butt and it will be the same slow as just loading the Blink app. But I finally found something that kind of work for me. Blink supports IFTTT so I have created an "arm" and a "disarm" button in my phone home screen and I do it from outside the house just with one button.

I got a free Google Home mini from the Spotify promotion and I then got an Echo Dot for Christmas. I use the Mini more and not because I had it longer.
I prefer the voice(s) of Google assistant
It is more accurate with voice command recognition and answers
The microphones are more sensitive/better. I have to significantly raise my voice for Alexa to hear me if the Dot is playing music. The Dot does sound much better for music, especially if you listen to bass heavy tracks or stuff like Slayer that has mind blowing double bass drumming.

A couple of hours ago, I asked Alexa to play Rip and Tear. It's a track on the Doom soundtrack. Alexa responded by playing Rip and Tear by LA Guns. So I tried "Play Rip and Tear by Mick Gordon." Alexa responded saying she couldn't find it. I tried multiple times..even adding "on Spotify" to the request. Alexa could not find the song.
I asked the Google mini to "Play Rip and Tear by Mick Gordon" and it played it. Both devices are linked to and use Spotify as the default music service. At this rate, Alexa is going to be banished to the bedroom.

They don't really interfere with each other. One responds to Alexa (or one of the other wake words) and the other to Hey Google. I'm pretty embedded in Echo, they were first, but have some Google Assistants. At this point I think whether you are more embedded in Amazon or Google would be a factor. If you are just looking to get answers, I'd go with Google, but if you are wanting to control other stuff, I think Echo still has broader reach.

Yeah agreed. If you want to ask question and/or hold a conversation with your little smart speaker then google is the way to go. But if you want to control your smart home then alexa is the way to go. My family didn't like saying "Hey google" each time they wanted the speakers to light up so that is one reason why we stick with alexa. We also very much like the rotating lights on the dots far more than those pitiful lights on the google homes (I have two minis and a normal sized GH so I know how unnoticeable they are). Alexa's routines are MILES ahead of google's; we use the heck out of those routines for everything from "its nap time" (to put the baby's light off and turn on a fan noise) to "give me the burndown" (which gives us news, weather, traffic conditions, starts the coffee maker up [yes I said that]) and even just a simple "good night" (which turns off all our lights and switches on fans/humidifiers/whatever else). Google's stuff can do some of this but not all of it plus its surprisingly complicated to setup compared to alexa. Plus we have amazon's music family subscription and prime so it made sense to just stick with alexa. The GH devices are catching up (especially the software) but primarily we use ours for music, routines/smart home control and security (we have cameras and Abode security) which Alexa just does better. Perhaps one day GH will catch up but for now, we are sticking with Alexa.
Android Central Newsletter
Get the best of Android Central in in your inbox, every day!
Thank you for signing up to Android Central. You will receive a verification email shortly.
There was a problem. Please refresh the page and try again.