Alcatel announces the Idol 3C in a rainbow of colors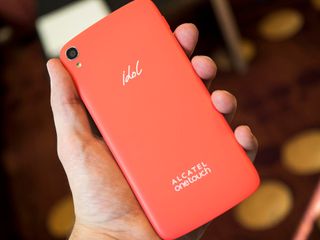 Alcatel OneTouch has refreshed the Idol 3, and made things a lot more colorful.
Complete with all the features and specs that make the Idol 3 one of the best unlocked Android phones of 2015 — like a great 5.5-inch LCD and dedicated high-quality audio components — the new color versions are sure to be a hit among people looking for a great Android phone without a high price tag attached.
The Idol 3C will come in white, red, green, pink and yellow, with availability and pricing to be announced for North America in Q4 2015.
Rock a New Color Every Day with ALCATEL ONETOUCH's IDOL 3C
IFA, Berlin, September 5TH 2015 – Things just got a lot more colorful thanks to ALCATEL ONETOUCH and its new IDOL 3C smartphone. IDOL 3C has all the features that made the brand's groundbreaking IDOL 3 smartphone a multiple award winner and a hit with consumers.
"IDOL 3C is the perfect smartphone for someone who demands both technical excellence and trending styling," says Dan Dery, Chief Marketing Officer, ALCATEL ONETOUCH. "It is colorful and a great performer, which is creating a lot of buzz."
A Color for Every Mood
Users can change the color of their smartphone as easily as they change their outfits as IDOL 3C come in five fresh hues: white, red, green, pink and yellow, a color for every mood.
Superior Features and Software
And not to worry — IDOL 3C comes with the leading edge features and software that the IDOL family has come to represent:
Pro-like camera - 13 Mpxl rear camera with a large aperture for great nighttime photos, EIS video stabilization and an 8 Mpxl front camera with a wide, 84 degree viewing angle for great selfies.
Hi-Fi booming sound - Dual front-facing speakers with JBL® by Harman Clari-Fi music restoration for true-to-life.
Vivid display - A super high-definition 5.5-inch IPS display with great readability even in bright sunlight. With superb color rendering thanks to Technicolor Color Enhance software.
First class performance - A powerful octa-core processor for fast streaming and easy browsing.
Unique symmetrical design and orientation free UI – It's 100% reversible. Answer a call, surf the web, or take a photo right-side up or upside down. No matter which direction users are heading, their display will always be looking right at them.
Color Your World
In a nutshell: Functionality and style in one slim, elegant package. Now is definitely the time for consumers to color their world with IDOL 3C.
About ALCATEL ONETOUCH
ALCATEL ONETOUCH is simple, unexpected, down to earth, irreverent and colorful. We believe that what makes technology smart is what you can do with it rather than what it can do.
ALCATEL ONETOUCH is a brand within TCL Communication, an international multicultural company which designs, develops, and markets globally a growing range of mobile and Internet devices. TCL Communication is a public company listed on the Hong Kong Stock Exchange (2618.HK) and part of TCL Corporation one of the largest consumer electronics companies in the world.
For more information, please visit www.alcatelonetouch.com
Jerry is an amateur woodworker and struggling shade tree mechanic. There's nothing he can't take apart, but many things he can't reassemble. You'll find him writing and speaking his loud opinion on Android Central and occasionally on Twitter.
My younger brother and his wife are in the market for some cheap unlocked phones, as they are switching carriers to save some money. I'll definitely let him know about this. Posted via my Gift from God Nexus 6

Get the a few Nexus 4's or do you like them? :-) Check out the new Nexus! https://youtu.be/u3uFOavLo_w, not a Rick roll

Lmao Posted via my Gift from God Nexus 6

I wish they would add a CDMA variant for us poor Sprint/VZW schlubs Posted via the Android Central App

Well the issue isn't just putting CDMA in... It's that Verizon and Sprint would have to whitelist the phones to be able to actually work on their network. And they'll only do that if they strike a deal with Alcatel. And in most cases it's more trouble than it's worth -- for both parties. Posted via the Android Central App

it's funny people still swear by CDMA. so many people in my family have switched to GSM and haven't looked back. Nexus 5 | T-Mobile $30 Plan
LG G2 | Verizon Wireless No Plan

You're absolutely right, some of us swear by CDMA, especially Sprint. Sprint CDMA phones have a tendency to not get stole by thieves. (Not those people that find your phone and are NORMALS, but real thieves) It's really hard to activate a Sprint CDMA device if you just happen to find one. You can't just pop in a new SIM. It's called theft deterrent. Because I choose to use a GSIII over the Note 5, I own a Note 4.

Reprogramming a phone's ESN/MEID is simple.

That's silly. It's not so much as people swearing by CDMA, as much as it's simply people using the carrier(s) that work for them. Keep in mind, CDMA tech hasn't fallen off of the wayside: it is still actively being used by pre- and postpaid carriers, both in the US and the world over. Posted via my Gift from God Nexus 6

So this is the same thing as 5.5 inch alcatel idol except it comes in different colors? Posted via Android Central App on 1+1

Interchangeable backs.. Like the Moto G..
Kinda weird to make this available after the fact. Posted via the Android Central App

It's a way of staying competitive with the Moto G. I wonder if illiterate people get the full effect of alphabet soup

Refreshed the line up? Didn't it come out lime a month ago? Good thing it is a throwaway phone in case you want another color it won't set you back much. People complain when a flagship does another color 3 months later, this one takes the cake Check out the new Nexus! https://youtu.be/u3uFOavLo_w, not a Rick roll

The Idol 3C has a couple of unique quirks to it – its top and bottom are completely symmetrical and its UI is programmed to allow upside down view and even upside down calls, as the stereo speakers can be reassigned between microphone and earpiece freely. So, technically, the phone doesn't "really" have a top and bottom side. Is that a new feature? That is especially troubling if the this is less than a month old Check out the new Nexus! https://youtu.be/u3uFOavLo_w, not a Rick roll

Not new. Idol 3 is the same. I love this feature on my idol 3

The Phone came out in May, not a month ago. The 4.7 came out a month ago.

Alcatel picks the weirdest colors for their new stuff after the Idol 3. It's like they added a 8 yr old girl to their design team and made her responsible for the colors. Posted via the Android Central App

Can someone at AC review the flip cover case for the Idol 3?? I've been dying to see if I should buy one or not. Posted via the Android Central App

Hopefully expanding the line means higher likelihood of updates.

Would it stay the same price or be cheaper Posted via the Android Central App

The hot pink one is pretty nice. You're kind of spoiled for choice in the low to mid range market right now,. There are so many great phones that actually look really attractive, you almost can't go wrong. Things have changed a lot in the last 2 or 3 years. Posted via the Android Central App

It looks good, except for that hideous, cheap looking camera ring. Posted.

If they are going for pretty: They should have made the white one white in the front as well. I kind of hate black phones with white or pastel backs, looks just wrong....

It's strange how some phones keep copying iPhone naming conventions. IPhone 5c came in colors and was supposed to be more affordable, and this Alcatel phone is called 3c and comes in colors and is affordable. Maybe just coincidence I guess. Or playing into familiar sounding names. Posted via the Android Central App
Android Central Newsletter
Get the best of Android Central in in your inbox, every day!
Thank you for signing up to Android Central. You will receive a verification email shortly.
There was a problem. Please refresh the page and try again.