After 48 hours with the Galaxy S20 FE, I no longer care about the Pixel 5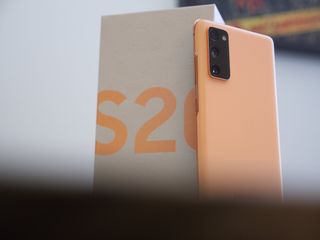 (Image credit: Joe Maring / Android Central)
Going into 2020, one of the phones I found myself looking forward to the most was the Google Pixel 5. I feel like I was in the minority of people that thoroughly enjoyed the Pixel 4 (the XL model, specifically), so I was ecstatic to see how Google would improve upon it with its successor.
As rumors and reports around the phone made it clear that this year's Pixel would be taking a big shift compared to past releases, I was initially pretty bummed. I loved face unlock on the Pixel 4, I appreciated Google trying something new with Motion Sense, and hearing that Google was ultimately scaling things back to make a more "boring" device sunk my interest. Like a lot of people reading this, though, that opinion started to change given everything this year has thrown at us.
Spending habits have been evaluated, budgets have gotten tighter, and I've now found myself much more excited about smartphones that have the ultimate goal of delivering the best value possible (or phones that see massive discounts during events like Prime Day). That renewed my interest in the Pixel 5, and following its official unveiling on September 30, I couldn't wait to get my hands on it. A couple of days ago, however, I was sent the Galaxy S20 FE to check out. After using the phone for about 48 hours at the time of writing this editorial, my interest in the Pixel 5 is once again slipping.
It seems like everyone is talking about the S20 FE right now, but if this is the first time you're hearing about it, here's the elevator pitch. The Galaxy S20 FE is basically the same phone as the S20 or S20+, but it makes a couple of spec compromises in order to hit a retail price of $700 (and it's on sale right now for just $600 (opens in new tab)).
Compared to the S20 and S20+, which retail for $1000 and $1200, respectively, the considerably lower price of the S20 FE may lead you to think that it's a substantially worse phone. Rocking it as my daily driver for two days, I can wholeheartedly say that's absolutely not the case. In fact, the S20 FE is likely one of the best Android phones of 2020.
There are a few things about the S20 FE that really stand out to me, the first of which is its display. It's a 6.5-inch AMOLED panel with a 2400 x 1080 resolution, along with a 120Hz refresh rate. Compared side-by-side with the Note 20 Ultra — which costs $1400 — the S20 FE looks just as good to my eyes. Colors are super vibrant, viewing angles are excellent, and having that ultra-fast refresh rate gives the S20 FE a sense of speed and fluidity not often seen in this price range. Not to mention, the flat design of the screen is — and always will be — superior to curved ones.
Part of the fluid speed mentioned above is also thanks to the phone's internals, which are just as impressive. Thanks to the Snapdragon 865 (the same exact chip found in the regular S20 series) and 6GB of RAM, I've had zero performance issues. Using the S20 FE for checking emails, scrolling through Twitter, or playing graphically demanding games, nothing about the experience reminds me that I'm using a "value" phone. It's every bit as fast and responsive as I could ask for, and even more so than the regular Note 20 thanks to that 120Hz screen.
Samsung could have dropped the ball in any category, but the great thing about the S20 FE is that there isn't one critical aspect of the phone that's bad or unpleasant. The 4,500 mAh battery allows for great endurance, you can expand the roomy 128GB of storage with a microSD card, and the trio of rear cameras (including a primary, ultra-wide, and 3x telephoto sensor) all hold their own admirably well.
The one and only aspect of the phone I can see some people complaining about is the build quality, but even then, I'd make an argument in the Galaxy S20 FE's favor. Samsung opted for a plastic construction instead of glass, and while this got a lot of people riled up when Samsung made the same decision for the Note 20, it feels appropriate for the S20 FE.
Not only is it a smart way to cut costs, but the plastic used on the phone feels really nice. It's incredibly sturdy, doesn't creak whatsoever, and has a nice matte finish that keeps fingerprints at bay. Samsung also gives you a wide array of fun colors to choose from, with one of my favorites being the orange that I have.
Perhaps the best praise I can give to the Galaxy S20 FE is that I've just been using it the way I would with any flagship phone. It runs all of my apps and games as fast as I could ask for, I thoroughly enjoy watching YouTube videos on it, I never have to worry about battery life, and I can confidently take pictures with it and know I'll get a great result. Pair all of that with features like an always-on display, a trusty in-screen fingerprint sensor, and wireless charging, and it's virtually impossible to find a bone to pick with the S20 FE — especially when you consider Samsung's recent commitment to three years of major OS updates for its phones.
All of this is fantastic news for you and me, but it's also a bit troubling for Google. I still think the Pixel 5 looks like a really enticing smartphone, but Samsung's work with the S20 FE has put things into perspective for me.
I know I still prefer Google's cameras and software interface over Samsung's, but from where I'm standing right now, those are the only two advantages the Pixel 5 has anymore. Final judgments will (obviously) be reserved until we can review the phone, but if you ask me, it has an uphill battle ahead of it.
Saying I'm completely uninterested in the Pixel 5 might be a little harsh, but Samsung has certainly given it a run for its money.
Holy wow
(opens in new tab)
Samsung just won the value flagship race
The idea behind the Galaxy S20 FE is a simple one: offer a nearly identical experience found on the regular S20 series and sell it for considerably less money. Samsung's execution of the whole thing is darn-near perfect, with the S20 FE offering a thoroughly enjoyable flagship experience that doesn't break the bank.
Joe Maring was a Senior Editor for Android Central between 2017 and 2021. You can reach him on Twitter at @JoeMaring1.
If I didn't get a Note 20 Ultra (since I love the S-pen) I would definitely get one of these. This is easily the best value you can get (brand new) right now without having to perform trade-ins. I'm sure the pure android people will stick with Pixel and that's fine but dang Samsung did such a great job with the S20 FE.

In Canada this device is $949.99 CAD compared to $799 CAD for the Pixel 5. Samsung must be going aggressive in the American market to steal sales from Google.
I'd rather have "Google's best" than "Samsung's afterthought"

The deal for the S20 FE is insane right now. For example, new accounts with T-Mobile earns you a free S20 FE. For me, I took advantage of the $500 off with a qualified trade-in, which was my OnePlus 6T. If you preordered the S20 FE, then you would also qualify for $70 credits to the Samsung store + $200 off for T-Mobile's 'hookup code.' I actually made money in getting this phone. The idea that the S20 FE is Samsung's afterthought or secondary phone is nonsense. It's equally as capable as the Note 20 Ultra. I mean, it's nearly the same exact phone just slight differences in specs. Pixel 5 is super overpriced with a slow processor. I think a Pixel 5 is a mistake for anyone, honestly.

Yes, so the deals on this phone in America are not the same in Canada. This phone is 19% + tax in my market
Any budget anything Samsung, does not get the attention as their top devices. Example, software updates. The processor in the Pixel 5 isn't bad.

With the FE, you'll be stuck with the same software or maybe just one update in its entire lifetime. For several years I spent money on processor that I never used up to 10% of, plus the thing zaps my battery faster than the midrange would do. It's a gimmick. How can you say something is slow when in fact it's faster than your needs for the next 3 years? The Pixel 3a XL changed that herd mentality, never going to buy a flagship processor anymore, midrange is very capable for me. Regular software update is critical for me, plus the Pixel quality photos. I don't want to miss these last offerings.

Three years of updates, at least two generations of Android.

I'd be very interested in the S20FE over the P5... if it wasn't for the horrible software and all the bloatware that you can't disable. From a hardware standpoint it is an excellent device. But, too many preinstalled apps that you can't disable kills it for me.

Keep saying that because that's what it was like 5 years ago and you haven't investigated since. You can easily remove or disable apps you do not like and install the Google or other equivalent. The supposed "bloatware" is not issue on my Ultra. If I like the Samsung App better I use it, if I like the Google app I use that. I am not hit with notifications or running software from apps I do not want. The recent phones are fast, lag free, and have brilliant displays.

As an s20 user myself, I still manage to run into the random bugs/jankiness every so often. Issues I didn't have on my pixel 3/4. The most frustrating to me is 120hz flat out stops working till I toggle it off and on again. Then there's also the random ads i get, the super annoying shutter lag (impossible to capture pics of my toddler indoors without a terrible hit rate), skin smoothing (heard this is going away in oneui 3.0 apparently). Needles to say, I ordered a pixel 5 cause I just know that even with inferior hardware, none of these things will be an issue.

Random ads? Must be an app you installed. Note 10 and 20 Ultra both silky smooth, fast, no shutter lag, and 120 hz flat out works on the Ultra.. Oh and never a "random ad".

I did investigate. Went and looked at one on launch day at best buy. Couldn't disable any samsung apps to replace with google, any MS Office stuff, spotify, etc.

That is because display units are retail demo mode locked to prevent being modified by customers. I have a S20+ and I can assure you that any "bloatware" can be disabled or uninstalled without root access (some can be uninstalled by simply hitting the "Uninstall" button in the Play store, if retail demo mode is disabled).

As long as Samsung install Bixby and cripple the hardware buttons to support it nobody can deny that Samsung install pointless bloatware...

Having been on both sides of the fence owning both Pixels and Galaxy Notes. Since the Note 8, the software experience is greatly improved. I would take the Sammy over the Pixel for the last couple of iterations. Software is much improved and the pre-conceived bloat is easy to remove or disable.

I only had to uninstall one app that was preinstalled (LinkedIn). Other than that, there isn't much that I saw that was needed to try to uninstall. Not like yrs ago where there were tons, or even when I was on VZW (on Tmo now) and that carrier had a ton of bloat on every phone. This one is pretty lean, IMO.

I've got a Verizon unit, and the preinstalled bloatware was pretty bad - something like 10-15 apps with games, Microsoft Office, and Verizon's messages/voicemail/etc. Thankfully all of the non-Verizon apps were uninstallable, and even several of the Verizon-branded ones were disable-able.

All carrier models are laden with crapware. Some (like T-Mobile) have less crap than others (Verizon), but they all have some. Fortunately, as you said, it can be removed pretty easily.

Horrible software? One UI is a really nice android skin. Are you still using a Galaxy S2 or something?

S20 FE is for people who wants to customize their phones with top of the line specs. Pixel 5 lacks in nearly every category except for the idea that it's Google's own product, own software, and great photography capabilities. The Pixel 5 should be compared to midrange phones because the only thing midrange about the S20 FE is the price.

There's very little you cannot disable mate, and given that it's samsung software it is very configurable in most ways, if you dont want apps on your screen you can leave them disabled in the app draw, or in folders and you have masses of optional storage because you have an SD card which you don't on the pixels ,
so having some extra disabled apps that can't be deleted is really no inconvenience, and they really don't take up that much space anyway.
It is funny how some call extra apps bloat,
I call them software options.
I've had a google phone, the novelty lasted 3 days and I couldn't wait to get back to a galaxy, but to each his own.

Agreed. That is why I always put "bloatware" in quotation marks, because everyone's definition of bloatware is different. Personally, I'd rather have an option and not use it, than not have the option at all. I've had Pixels, and they are solid devices but a little too barebones for my taste. Every time I get a Pixel it feels like I bought the basic, entry-level trim package. Pixels always have hardware specs that just barely cut it. I realize hardware isn't everything, but Pixels always seem to be playing catch-up to the competition. I don't mind minimalism (to some degree), but Google always trims a little too much from the package imo.

That doesn't make any sense.
Options are available from the Play Store, factory pre-installed software is needless.

I have the FE and the only nagging complaint I have is that no matter what I do nearly every time I pull it out of my pocket the screen is on. I removed the two shortcuts from the lock screen to try and stop unwanted screen taps opening the camera or the dialer...but that didn't help because if the fingerprint sensor thinks your trying to use it there is still an emergency dialer button that can be tapped.
So then, for now my only recourse is to stop using double tap to wake, and start using lift to wake. This appears to stop the screen from turning on in my pocket but it is NOT the way I want to use my phone!
SO the problem seems to be the proximity sensor...wherever it truly is located...under the screen?
This is further confirmation that unless this so-called new tech gets improved upon considerably that it is time to stop this nonsense and return to a top bezel so that the necessary sensors can be housed in that location. This whole slim/no bezel crap has got to stop!!!!

I had the same problem with huawei p30 pro, and sometimes I would pull it out of my pocket and it had been on and off while flopping around in my pocket so many times it had locked up.
so I disabled lift to wake in settings and that fixed it, have done the same on my other phones too.
Itis a small inconvenience to press the power or home button or hold the finger print sensor to wake imo.
It also saves me ordering a pizza unwantedly while it's in my pocket 😁.

There should be a setting under Display for accidental touch protection and touch sensitivity. Have you adjusted those?

Giving Samsung credit where it is due on this device...the biggest reason that pulls me away from even considering it is Samsung's new push to turn every app into an advertising platform/opportunity. I'm tired of the notification shade advertisements (which I know can be turned off...somewhat) but I shouldn't have to. I SERIOUSLY cannot stand checking the weather only to have an advertisement shoved in my face at the top AND bottom of the weather app. This device is a lower price point but still not exactly low and my experience was on a flagship $1000+ Note 10+. When spending big dollars on a device I should own it and have the ability to not be inundated with advertising. This drives me to Pixel or even an iPhone. Samsung has amazing hardware but they screw up the experience when I have to deal with ads or another annoyance the random notifications..."WiFi settings have been optimized...." that pop up all day long randomly and you cannot defeat them even though I've tried every "solution" on the web. Samsung also needs to release security updates to ALL of their devices directly and cut out the stupid wireless carriers. T-Mobile Note 10+ is still on August patch. Pathetic.

I have a Galaxy S10e and I haven't the faintest idea what it is you're talking about... I have no advertising issues on my samsung...

I bought an LG phone from a carrier some years ago, I won't make that mistake again.

1. I have never seen an ad in the Samsung weather app, probably because I use NextDNS to block ads & trackers.
2. You can disable or silence most notifications by swiping the notification left or right, then tapping the gear icon, which opens the notification submenu.
3. Samsung *does* release updates to carriers, but it is up to the carriers to push those updates to carrier-subsidized devices. If you want a phone that is free of carrier influence, then buy a carrier-unlocked phone.
4. Out of curiosity, I checked sammobile.com for Note 10+ firmware. There is a 2020-10-04 firmware available for model SM-N975U (T-Mobile CSC). You can flash it yourself, if you are up for it. Yes, it should be pushed automatically to your phone. But if you are impatient, then take matters into your own hands.

keep defending samsung and their scammy ads by offering unrealistic ways to solve their issues

I already said that I've never seen Samsung ads on my unlocked (and unrooted) S20+. Why would I defend or promote something that I don't even have on my phone? Please tell me how that makes any sense. NextDNS is an ad & tracker blocking service that doesn't require root, uses absolutely no battery in the background, and is brain-dead simple to setup. But there are multiple adblocking solutions out there. Maybe you should look into them before posting absurd comments.

Hey Joe I don't see the $600 price at B&H or Amazon is there a coupon code needed?

Ah, looks like the deal is over. The S20 FE was available for $600 for the past few days, but seems the price has gone back up. Will get that updated!

Thanks for the honest review Joe. Picking one up for my wife. She has an A51 and hasn't been impressed. Getting this for $200 after trade in with tmo is a no brainer. Looks like it will be perfect for her!

"I know I still prefer Google's cameras and software interface over Samsung's, but from where I'm standing right now, those are the only two advantages the Pixel 5 has anymore. " I love how you try to brush these two things under the rug as if they are minor "advantages", as you call them. The camera and software interface are the two most crucial parts of what create a good long term experience with a phone. I've dabbled with the S9 and then the S10. However, I always find myself going back to the Pixel line because Samsung still cannot figure out how to stop messing with a perfectly good interface and in my own side by side comparisons, photos taken with the Pixel always come out as the clear winner. I'll gladly stick with my Pixel 5 pre-order.

I used a Pixel 2 for two years, then a Pixel 4 up until this past Friday, because I really loved the interface and the photo quality that Google was able to deliver. I know what you mean when you say those two things are crucial. But the thing is, Android is so customizable that you really can have the same experience on a Samsung device too. Install one of the GCam ports and you get pictures that are indistinguishable from the those taken on a Pixel device. Install Nova Launcher (or Lawnchair, or any number of other launcher apps) and you can make the launcher look and feel exactly like a Pixel - you can even get the "swipe for Google Discover" functionality on the home page. Samsung's Good Lock app has even expanded to allow customization of not just the Lock Screen, but the status bar and the device's color palette too to make them more Pixel-esque. It takes some work, and it's not perfect, but with a little bit of effort you can actually get almost the exact same user experience as Google delivers. I managed to get it all set up within the last 48 hours. I'm not going to say that any one brand or model is objectively better than the other, just pointing out that the "two most crucial parts of what create a good long term experience" can be set up on a Samsung device pretty easily.

I always try to drive my phones the way they come out of the box. one ui is damn good, but there's always this subtle "steering" from the software to push the user towards using bixby, samsung pay, etc... etc.... I prefer oneplus' approach or what nokia and sony does which is basically stock android. i've done what you did with my s20 as well as on my past galaxy/note devices and i hate that with any third party launcher, google's gestures are still not fully supported (swipe up from the bottom on homescreen and you'll see what i'm talking about). I also hate the random crashes of whatever launcher you use (i prefer lawnchair over nova). Bottom line is, if i'm working hard to create the "stock" experience..., why not just buy a phone with it. this is why i have a sage P5 on the way.

Just so you know, One UI 3.0 beta fully supports 3rd party gestures, including swiping from bottom. And I've been using Nova for years and I can count on one hand the number of times it randomly crashed. I don't recall it ever crashing on my S20+ (so far).

I have a S20+ and I agree with everything you said, except for the Gcam bit. Imo, Gcam is only marginally better than stock Samsung camera in *some* situations, and notably worse in most others. Of course, it is all subjective. But I definitely appreciate the Gcam devs, giving us Samsung owners another camera option.

What if the pixel 5 and Galaxy traded places? Would you care then or are you just brown nosing Samsung?

The Galaxy is simply too big, for me the Pixel 5 is about as big as works.
That and the bloatware. It's odd that Google who make their money from advertising have the phones where it is the least intrusive, but there you are.

I go the other way, I have large ish hands, the FE is too small for me , otherwise I would have bought one, flat screen = win, 865 = win, 120 Hz = win.
it would be a no brainer otherwise for me.