3 Affordable Alternatives to the Samsung Wireless Charger Duo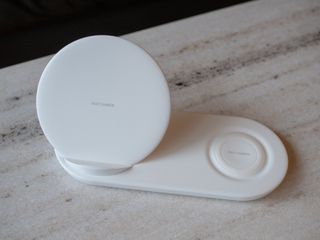 Samsung's new Wireless Charger Duo (opens in new tab) is an elegant solution to an inelegant problem: having to charge multiple phones (or a phone and a watch) at the same time overnight. Rather than using two different chargers, you can buy this one big pad that has an angled stand on the left and a flat segment on the right. The problem is you pay for that simplicity: the Wireless Charger Duo is $115 (opens in new tab), which is more expensive than buying two separate chargers! You'd think you'd get a discount. Thankfully, there are alternatives out there.
Fast dual wireless charging
(opens in new tab)
ZENS Dual Qi Pad 2X 15 Watt
You can charge up two Qi-compatible devices at once with this sleek pad from ZENS. There's 15W output for both coils, which will charge phones incredibly quickly, and it's even sleeker than Samsung's version because it's completely flat. It's also much cheaper.
Dual-wireless charging for even less
(opens in new tab)
IBIS Wireless Dual Fast Charging Station
This dual wireless charger from IBIS doesn't look particularly nice, but it will get the job done wirelessly charging two devices at once. It also has a USB-A port for wired charging of a third device. And best of all, it's about one-third the price of Samsung's dual charger.
Or get two of these
(opens in new tab)
AUKEY Qi-Enabled, Ultra Slim Wireless Charging Pad
The cheapest solution to this problem is to just buy two separate slim and small wireless chargers, like this one from Aukey. It'll take some configuration (and maybe double-sided tape) to get them set just right, but the result is wirelessly charging two devices for just $26.
We don't blame you for not wanting to pay big money for Samsung's Wireless Charger Duo, so you can save by going with one of our picks instead. The ZENS dual wireless charger (opens in new tab) will give you the best and most Samsung-like experience for about $35 less, which is great savings. However, you can save even more by getting a less expensive dual charger, or just run your own by getting two small and inexpensive wireless chargers.
Andrew was an Executive Editor, U.S. at Android Central between 2012 and 2020.
Android Central Newsletter
Thank you for signing up to Android Central. You will receive a verification email shortly.
There was a problem. Please refresh the page and try again.