Action Launcher gains Pixel 2-style search bar with latest update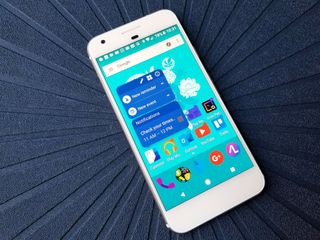 Chris Lacey's Action Launcher received a massive update this summer that made the already great Android launcher better than ever with a ton of new Android O-themed features. Just a couple days after Google's unveiling of the Pixel 2, Action Launcher has already been updated to bring one of the phone's most noticeable software changes to your device right now.
With this year's Pixel phones, Google decided to move the search bar to the bottom of the home screen below the dock. The idea here is that this makes accessing search easier than having to stretch your finger all the way to the top of the screen, and it's a subtle change that actually makes a lot of sense. With the new v29.0 update for Action Launcher, you can get that Pixel 2-style search bar without having to hand over $650 or more for Google's new hardware.
Once you've got the new v29.0 update, go to Settings -> Quickbar -> Style. From here, you can select "Search box (dock)" to get the Pixel 2-style search bar right on your home screen.
Since this is the Quickbar after all, you can do much more than change its position. All of the same Quickbar controls are here, including the ability to round the corners of the bar, customize its color, and even add/remove shortcuts for apps and settings. Also new with the v29.0 update, you can now swap out the full "Google" logo in favor of a much simpler "G" design.
Action Launcher and Nova Launcher take different approaches to Adaptive Icons
Joe Maring was a Senior Editor for Android Central between 2017 and 2021. You can reach him on Twitter at @JoeMaring1.
Looks pretty nice but I'd how I'll feel about it. I'm sure nova will have it too and hope they give us an option to where to put it.

But idk how I'll feel about it *

Ooh that's fast! I really like how Action did it here. I'll be downloading it to try it out.

I've been using Nova primarily, but I'm going to try Action again until Nova has this feature.

I just got the new update and tried moving my search bar to the bottom and I've got to say that positioning just looks and feels so wrong. I'll give it another day but I have a feeling it's going to move back to the top. The ability to round the ends looks nice though.

I'm really enjoying the rounded ends.

Yah it looks modern. The rectangular search bars looked so outdated imo

I use the rectangular transparent search box in Nova... Looks awesome

Seems more a great place for it, but since OK Google I totally removed my search bar. Just takes up space.

Love it, I donated 6.00 to his efforts.

No matter how many features are added to the launcher, the app drawer opening animation is so jerky for some reason (even on OP5) that I had to go back to Nova. I'm a paid user + 2017 contributor + bought the adaptive icons pack but still don't use the launcher for this reason.

This. I'm in exactly the same boat. There is just that slight lack of polish on Action Launcher that Nova has. What annoys me more however that that adaptive icon pack has yet to see an update. That's a bit poor.

But he constantly works on adding features (such as this) and updates just not the one that you want. I give kudos to the developer. I knew he'd be right on top of this feature and have it out Pronto. Meanwhile the Nova dev was busy posting a rant telling people not to ask for it. While the Nova devs were all up in their feelings Chris Lacy was working and here the feature is that many people wanted only days later.

That's odd. I'm using the swipe up from dock to open the app drawer and it's totally smooth. And that's on a Nextbit Robin so certainly not a processing powerhouse.

Same here, it's so slow. Especially if you change settings in general.

The day of the pixel launch the Nova dev post a rant about people not asking for this feature while disabling the comments and the action launcher dev just works his ass off and brings it to the people just days after the pixel launch. That's saying a lot.

I've always felt like, as good as Action is, Nova was always a little more polished, a little easier to use. When my LG V30 gets here (on fluffing Monday, cause T-Mobile takes forever to process), I'll be installing Nova.

I tried it on my OnePlus 3T while waiting for my Pixel 2 XL and it's much slower compared to Nova. If you go into the settings and then exit it shows the empty screen for a couple of seconds before it's getting populated. I setup the Nova launcher with the search bar in the dock and it's much faster even though it's not yet built in. Meaning you have to drag down the search bar widget and remove the icons from the dock.

I love Action Launcher and have installed the adaptive icon pack. Chris Lacey does a great job in giving us the features we want.

Action on my OP3T has been very useful. I'm especially grateful that I can get back Google Now: Google has a knack for discontinuing things that are helpful...
Android Central Newsletter
Get the best of Android Central in in your inbox, every day!
Thank you for signing up to Android Central. You will receive a verification email shortly.
There was a problem. Please refresh the page and try again.