Acer unveils new Android tablet and all-in-one PC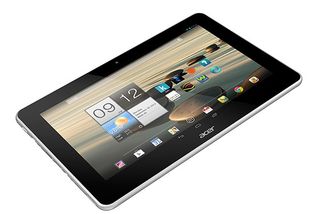 24-inch Tegra 3 PC and 10.1-inch budget tablet
Acer's other IFA 2013-related Android announcements come in the form of two new tablet-like devices -- the first a standard, low-cost 10.1-inch slate, the second a full-sized all-in-one PC running Google's OS.
The Acer Iconia A3 runs an unnamed 1.2GHz quad-core Cortex A7 chip with 16 or 32GB of storage, microSD expandability and up to 9 hours of battery life. The tablet's 10.1-inch display is a basic 1280x800-resolution panel, and it also comes with Dolby Digital 5.1 channel surround sound tech. It's slated to hit EMEA (Europe, Middle East and Africa) in October for €249 with Wifi connectivity. A 3G version will arrive the following month for €299.
Next up, the Acer DA241HL is an NVIDIA Tegra 3-powered all-in-one PC running Android 4.2 Jelly Bean on a 24-inch 1080p display. A cross between a tablet and a desktop PC, the new "all-in-one" device can use an MHL connection to send content to an external display. Pricing for the device will start at €429 when it launches in mid-October.
Stick with this week for more Android announcements from the IFA show in Berlin.
Alex was with Android Central for over a decade, producing written and video content for the site, and served as global Executive Editor from 2016 to 2022.
My 3 year old just said she wants the big one. Lol. She uses an a500 right now. Posted via Android Central App from my Vzw GS3

What? Why Tegra 3? Posted via my HTC One or S4 using the Android Central App

Tegra is cleaning house and probably gave them a low price point to move them which will add up to profits for Asus charging top line prices for last years hardware.

I hope the tegra 3 is a typo.... Posted via Android Central App

This is sad.....just sad •_• ⓖ◎◎ⓖⓛⓔ†ⓝⓔⓧⓤⓢ

Tegra 3 ?! I just puked in my mouth.
Dead on Arrival.
Piece of shit has a slower GPU than a friggn apple A5 from 2011.

I've never used anything with a Tegra 3 in it. I know it's not cutting edge, but is it that bad of a processor? Maybe Andrew meant to put Tegra 4? Posted via Android Central App

To sum it up:
40nm node when others have been doing 32nm.
Slow single-channel RAM. I was surprised it could even handle 720p resolution.
Slow outdated GPU compared to what was available then. really slow. Even Tegra optimized games run at sub-30 frame rates, and some even run at a low resolution by default to compensate for the low memory bandwidth.
Useless extra "battery saving" core used quite a lot for marketing. The idea is good but nvidia borked it completely. The switch from the normal cores to the battery saving core is very heavy and ends up neglecting the battery savings.
Nvidia derped cpu hotplug drivers (ask any Tegra kernel dev). They still managed to sell many Tegra 3 devices through marketing and hype. You read all over the place words like "QUAD COAR BEAST" and "console quality gaming" bull****. Even on AC. The chip was perfectly fine for simple tasks though.

Thanks, for the reply, brother. When I heard Tegra, gaming always came to mind. I didn't know it sucked at gaming AND was a power hog, though. My late Xoom Wi-Fi had the Tegra 2 in it. I never really had a run-in with poor performance, using it, however. I'll stay away from future Tegra products, until I hear and see otherwise. Thanks. Posted from my phone, using your girlfriend's Internet, while you're at work.

It is that bad. Especially when trying to push a 1080p screen. Tegra 3 means lag, UI hiccups and slow gaming. Overclocking and undervolting are a must.

Damn, what was Acer thinking. This is going to flop so hard lol. Posted from my phone, using your girlfriend's Internet, while you're at work.

Tegra, no thanks. Posted via Android Central App

The new HP 21 in her is a Tegra 4 based device for less. Weird. Posted via Android Central App

Heh. 'incher' Posted via Android Central App
Android Central Newsletter
Get the best of Android Central in in your inbox, every day!
Thank you for signing up to Android Central. You will receive a verification email shortly.
There was a problem. Please refresh the page and try again.