Acer Iconia A501 hits AT&T on Sept. 18 for $479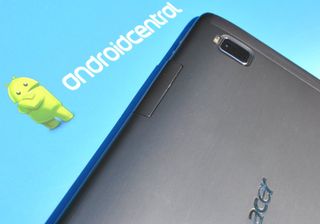 AT&T today announced it will sell the Acer Iconia A501 Android Honeycomb tablet. The Iconia 501 is the same as the 10-inch Iconia a500 you've come to know and love over the past few months thanks to its bevy of full size ports (read our full review), only this version has an HSPA+ radio tossed in for AT&T's network. That makes it a "4G" device, though remember it's HSPA+ (with enhanced backhaul), and not the newer, faster, actually-4G LTE.
Pricing's not horrible, which is almost a surprise given how AT&T priced another recently announced Android tablet into oblivion. You can get the A501 for $479.99 outright, or for $329.99 with two-year contract and a $35-a-month data plan that gets you 3GB. Other data options are the same as with the HTC Jetstream: Month-by-month post-paid (as in it shows up on your bill) contracts of $14.99 for 250MB, or $25 for 2 GB. If you have the 2GB plan and go over, you'll be charged $10 per extra GB. Or month-by-month prepaid service with the same pricing as the post-paid plan, only if you go over the 2GB plan, you can purchase another 2GB for $25. You'll be billing all this directly to your credit card.
Source: AT&T (opens in new tab)
Android Central Newsletter
Get instant access to breaking news, the hottest reviews, great deals and helpful tips
Well, I paid $400 for a A501 with no contract with 3g. Have to admit, I rooted when I got home within 5 minutes of "out of the box". Roms, well, 3 hrs till I found the right Rom. But, it's a great device to root, and Rom. Hell, lots of storage, easy to manipulate. Am surprised Cyanogen hasn't done anything. Maybe, not interesting ;)

A two-year contract only gets you $150 off of the full price? Why would I bother with the contract?

Given the support nightmare we've had since purchasing our A500 in July (two visits back to Acer so far, horrible customer support), I'd warn anyone considering Acer to think twice before giving them your money.

Has this tablet received the 3.2 update yet? I was just wondering because I was looking at the Wifi versions of the A500 and the Transformer and I will most likely within the next two days buy the one with the latest update.
Android Central Newsletter
Get instant access to breaking news, the hottest reviews, great deals and helpful tips
Thank you for signing up to Android Central. You will receive a verification email shortly.
There was a problem. Please refresh the page and try again.