Acer announces the 7.9-inch Iconia A1 tablet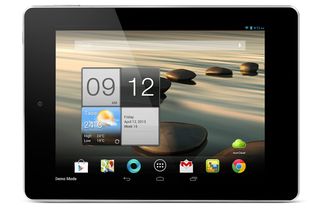 Acer today in New York City announced the Iconia A1 tablet, a 7.9-inch endeavor it says is "targeted at modern-day explorers, adventurers, digital freaks and mobile executives requiring an all-day mobile companion." So, uh, yeah.
The Iconia A1 has an IPS display, but it's going a different route than most Android tablets, sporting a 4:3 aspect ratio. We'll have to see if that makes up for the 1024x768 resolution, which puts it (on paper at least) a little below the 7-inch, 1280x800 Nexus 7. It's also got a quad-core tablet of unknown origin running at 1.2 GHz, a 5MP rear camera, GPS, Bluetooth and the other bells and whistles you'd expect.
The Iconia A1 comes in 8- or 16-gigabyte flavors, with the latter running $169 and hitting stores in June.
Acer Delivers Full Featured One-Handed Tablet for Everyone with Iconia A1 Tablet
Sleek design, slim size makes it perfect for one-handed use
Quad-core processors for faster media performance
Vibrant visuals on 7.9-inch LED-backlit display with IPS technology and 5MP camera
Great all-day companion with 7-hour battery life(1) ideal for modern day explorers, adventurers, digital freaks and busy mobile executives
NEW YORK (May 3, 2012) Acer today unveiled the Acer Iconia A1, the company's first full-featured 7.9-inch tablet targeted at modern day explorers, adventurers, digital freaks and mobile executives requiring an all-day mobile companion. Thanks to a sleek and light-weight design that is comfortable to hold in one hand, it also easily fits into a purse or bag. The new Acer Iconia A1 keeps people entertained and connected with smooth and speedy navigation, browsing and media playback powered by a fast quad-core processor.
The Acer Iconia A1 was introduced today with other new products, including the Acer Aspire R7, Acer Aspire P3 Ultrabook and Aspire V Series touch notebooks. The new line of Acer mobile products highlights the company's focus on redefining the computing experience through progressive design.
AcerTouch.
Tablets are becoming cherished companions to many people as they stay connected and entertained throughout their day," said Sumit Agnihotry, vice president of product marketing, Acer America. "We want everyone to experience that. Everything that makes tablets so enjoyable is even better on the perfectly-sized Acer Iconia A1. The design is comfortable to hold, while the sleek build makes it a natural extension for anyone who wants to keep their digital life right at their fingertips. "
Highly Responsive Fun
Busy mobile users get the prompt performance they want with smooth video playback, and fluid and fast navigation through apps and websites powered by a fast MediaTek Quad Core 1.2GHz processor. Gestures, zooming, scrolling and navigation are all intuitive, and games are responsive, realistic and even more fun with the integrated gyroscope for movement and vibration responses.
The LED-backlit display with IPS technology and a 170-degree viewing angle vibrantly highlights videos, photos and multimedia content in accurate color and brightness. The 1024x768 resolution makes text and graphics crisp and clear, while the 4:3 aspect ratio is great for web browsing and e-reading as well as gaming.
Acer's new Touch WakeApp® gesture gives customers one-touch express access to their favorite apps directly upon waking from sleep. The Iconia A1 delivers the Google experience with services like Google Now, Google Search, Gmail, YouTube, and great content such as magazines, movies, games, books and more than 700,000 apps from the Google Play Store.
Easy to take Everywhere to Stay Connected
Starting at only 0.90 pounds and measuring only 0.44 inches thin, customers will also enjoy taking it with them for navigation and location-based apps via the built-in GPS. The Acer Iconia A1 keeps consumers connected to Wi-Fi networks and hotspots with reliable 802.11b/g/n wireless technology. Plus, the integrated Bluetooth 4.0 lets consumers quickly connect the tablet to a variety of other devices, such as headsets and printers.
Digital Hub
The 5MP rear-facing camera captures 1080p video at 30fps that can easily be edited for quick sharing on-the-go. The front-facing camera pairs with the enhanced microphone to capture video and audio clearly for video chats and recording. The micro USB 2.0 and microHDMI port enable quick transfer or sharing of customer's photos, music, videos and other digital content.
Available as 8GB or 16GB(2) version with the option to add an additonal 32GB(2) via microSD, the Iconia A1 is the ideal digital companion for people which are constantly up and about.
Pricing and Availability
The Iconia A1-810 with 16GB capacity will be available in June at a Manufacturer's Suggested Retail Price of $199.99 USD.
In before comments about the bezel.

This is what I've been waiting for. Definitely a day 1 purchase. - Said no one ever

So Acer finally makes some nice looking Windows laptops, and then they announce this monstrosity? Why are laptops getting better hardware and quality design than tablets? And STOP PUTTING 8 GB IN TABLETS! How is that enough space for anything, especially when half of that space is taken up by the OS and preinstalled apps?

Yo dog, I heard you like Tablets, so I put a tablet inside your tablet so your tablet can run your tablet while you use your tablet. *Quad core tablet should probably read processor.

You sure this isn't 9.7in W8 tablet for $169 that Engadget posted?

Phil says the 16GB version is $169 but the press release says 16GB is $199.

Looks more like a digital photo frame...

It would be Quad-core A-5 mediatek , which is very slow :|

would have been interested, but 1024x768 on an 8" screen means all text will look fuzzy - pass.

This is just what we need... yet another middle-of-the-road 7-8" Android tablet that offers nothing really compelling over what's already out there.

No way I would get another Acer tab since they quit support for the a100 after not even 1 year, and who can forget the update fiasco...never again.

God damn it. Why are companies still making crappy Android tablets in the era of the Nexus 7, which showed people how a tablet can have high-end specs and still be affordable. Even though tablets are supposedly the future of computers, it seems they have lower standards of quality than PC's and laptops. Hell, even smartphones have better hardware than most tablets! The only companies that seem to care about quality hardware are Google (Nexus), Amazon (Kindle Fire), Barnes & Noble (Nook), and Apple (iPad). If those mediocre tablet manufacturers treated laptops this way, we'd never get past Windows XP.

Not bad. A 7.9" tablet with better specs than the iPad Mini for half the price? I'll get one. Acer has been making quality products for years now.

A voice of reason in a sea of morons.
Android Central Newsletter
Thank you for signing up to Android Central. You will receive a verification email shortly.
There was a problem. Please refresh the page and try again.