The Emotn N1 is a portable projector that nails the basics: it delivers a bright 500-lumen image and decent sound quality via dual 5W drivers. It goes up to 120 inches at 1080p resolution, and you get a good selection of ports at the back. A key differentiator is the inclusion of Netflix — an omission in most projectors in this category. That said, the N1 misses out on a built-in battery, there's no Android TV or access to the Play Store — limiting your options of streaming services — and it's a hassle to cast content from your phone or tablet. If you just need a Netflix-enabled projector on a budget, the N1 is a solid choice. But if you need the extras, you'll need to look elsewhere.
Pros
+

Bright 500-lumen projection

+

FHD resolution

+

Netflix, YouTube, and Prime Video installed out of the box

+

Good selection of ports

+

Great value
Cons
-

No built-in battery

-

Misses out on USB-C connectivity

-

Doesn't use Android TV

-

No way to install other streaming services
Why you can trust Android Central Our expert reviewers spend hours testing and comparing products and services so you can choose the best for you. Find out more about how we test.
There's an abundance of choice if you want to get your hands on a portable projector these days, with most choices offering full-fledged Android TV, Bluetooth connectivity, and a built-in battery that lasts at least two hours.
Dangbei is a new entrant in this category, and the Chinese manufacturer is rolling out its products in global markets. The Emotn N1 is billed as a portable projector, and it offers an FHD resolution, Bluetooth connectivity, and a decent selection of ports. But the biggest selling point is the native Netflix integration, giving the N1 a clear edge over other projectors from the likes of XGIMI.
The Emotn N1 also gets brighter than its rivals, touting a 500-lumen projection, and it has a built-in kickstand. It misses out on an internal battery, and eschews Android TV for a custom OS. So if you want a budget portable projector, here's what you're getting with the Emotn N1.
Dangbei Emotn N1: Pricing and availability
Dangbei launched the Emotn N1 globally at the start of 2023, and the projector is now available in most markets where the brand has an official presence. It retails for $399 on Amazon U.S., but Dangbei is offering $110 off the N1 at the moment, bringing it down to $289. That makes it a much better value, and puts it on par with the likes of the XGIMI MoGo 2, which is selling for $299 right now.
Dangbei Emotn N1: Design and features
The Emotn N1 has a minimalist design, and the projector looks particularly good in white. It has a rectangular design with rounded sides, with the lens dominating the attention at the front. The projector is made out of plastic, and it has a grille at the front that serves as the exhaust, with a similar grille at the back where the sound drivers are located.
The ports are located at the back as well, and you'll find a DC out, HDMI 2.0 connector, Gigabit Ethernet port, 3.5mm audio out, and USB 2.0 port. There's a power button located at the top of the unit, and other than that and Emotn branding, there isn't any other adornment on the back. You get a Dolby Audio label on the right side, but that's about it as far as extraneous branding goes.
What's interesting is that the Emotn N1 has a built-in kickstand on the base, and it lets you elevate the projector — quite handy if you're using it on a desk. There's also a standard mounting thread on the base to affix it to a stand. There are dual sensors that sit above the lens, and these are used for auto keystone correction and auto focus. While the design is missing some flair, the Emotn N1 looks clean, and it has the ports you need.
My biggest issue with the projector is that it doesn't have an internal battery. Most portable projectors can run for at least two hours on their own power, and not having that option with the N1 puts it at a distinct disadvantage. Of course, Dangbei isn't the only brand to go this route; XGIMI also did the same with the MoGo 2 Pro, but in that instance, we got significantly larger audio drivers and a better lens.
Image 1 of 4
The N1 doesn't offer anything on the same scale. It has dual 5W drivers, and unlike the MoGo 2 Pro's USB-C connector, you get a standard DC plug with a power brick. So you won't be able to power the projector off a power bank like the UGREEN 145W — you'll have to run an extension cable. If you intend to use the projector outdoors, you'll need to bring along a power station such as the EcoFlow River 2 Max.
Not only does the Emotn N1 not have a battery, but it is also one of the largest portable projectors I've tested — it is considerably wider and taller than the MoGo 2, XGIMI Halo+, and Anker's Nebula series. Coming in at 4.2lb, it is heavier than most of its immediate rivals as well, and this is something you need to take into consideration.
Dangbei Emotn N1: Picture and sound quality
One of the biggest strengths of the Emotn N1 is that it goes up to 500 lumens of brightness. With most projectors in this segment going up to 300 or 400 lumens, the N1 has a distinct edge in this area, and the difference in brightness is immediately noticeable against the likes of the MoGo 2. While 500 lumens isn't that bright — particularly in a room that gets a lot of ambient light — it still delivers a viewable image, and that's a win for the N1.
Colors are great out of the box, and you can tweak the color balance to your preferences via the Custom mode. Boosting brightness and contrast levels makes a difference, and I didn't notice any issues in this area. The Emotn N1 also works with HDR10 content as well, selectively boosting contrast levels to make colors look that much more vibrant.
The N1 has a 1.25:1 throw ratio, and it can deliver an image of up to 120 inches at a native 1080p resolution. Sound is decent enough as well thanks to dual 5W drivers located at the back, but I would have liked to see larger drivers here — that would have made the N1 a little more enjoyable.
Dangbei Emotn N1: Software
The Emotn N1 is a smart projector, but unlike most of its rivals, it doesn't run Android TV. Dangbei instead went with a custom OS, and it's pretty barebones. You get a home screen with all the apps arrayed in a grid, and that's about it. I usually prefer this minimalist UI to the recommendation-driven mess that's Android TV 11, but the biggest issue here is the lack of Play Store.
Dangbei has its own app store, but it is distinctly lacking usable apps, and outside of Plex, I've never heard of any of the services listed in there. Thankfully, Prime Video and YouTube are installed out of the box — alongside Netflix — so if your streaming choices revolve around these three services, you'll like what the software has to offer. If you instead need to install another service like Discovery+, Hulu, or HBO Max, there just isn't a way to do so — you'll have to use an external streaming device, severely limiting the portability of the projector.
Of course, you can always stream from your phone, and while Dangbei has its own alternative to Chromecast — which relies on Miracast — it just doesn't work reliably. The Emotn N1 doesn't show up as a cast target when trying to stream content, and after several tries, I just limited my testing to YouTube.
Setting up the Emotn N1 is straightforward thanks to the barebones interface; just log in to your home Wi-Fi network, choose a projection method, and sign in to Netflix. There's no account to register or log in to here, and that makes things easier. The bundled remote is also easy enough to pair, and it works over Bluetooth. Like the N1 itself, the remote is made out of plastic, and it has all the requisite buttons — a D pad for navigation, dedicated buttons for Netflix, YouTube, volume controls, and auto focus.
On that note, thanks to auto focus and auto keystone correction, configuring the Emotn N1 is a breeze. The image automatically adjusts based on the orientation of the N1, and it does so each time the projector is moved.
Dangbei Emotn N1: The competition
XGIMI's MoGo 2 Pro is the best portable projector you can get at the moment, and it has a terrific feature-set. There's no built-in battery here either, but you get the ability to drive the projector off a power bank thanks to USB-C connectivity, and you get a bright image with vibrant colors, excellent sound, and Android TV out of the box. The MoGo 2 Pro also has auto keystone correction and auto focus, and it goes up to 120 inches at FHD. It is costlier at $509, but you're getting a much better feature-set.
Dangbei Emotn N1: Should you buy it?
You should buy this if:
You need a portable projector with a bright image
You want a 1080p portable projector with Netflix
You need good sound and a built-in kickstand
You shouldn't buy this if:
You need a projector with a battery
You want Android TV and the ability to easily cast content
You need access with the Play Store
Overall, the Emotn N1 is a decent enough portable projector, and the fact that you get Netflix pre-installed is a big win. The projector also has an advantage when it comes to picture quality, and the color vibrancy along with 500-lumen brightness are better than what you get in this category.
That said, the software situation is far from ideal; the lack of Android TV limits the usability of the projector, and casting content is a hassle. There's similarly a lot of legwork needed to install other streaming services, and the interface is barebones to say the least. There's no battery here either, and you cannot drive the projector over USB-C — you'll need to bring its bulky charger along.
While I like the picture quality and Netflix integration, the software issues limitations and lack of a built-in battery make the Emotn N1 not as enticing as some of the more established options. You are getting a good value here, and if you don't mind the limited streaming options, you should give the N1 a try.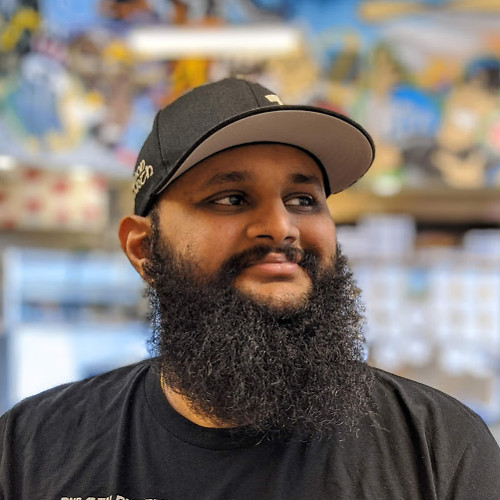 Harish Jonnalagadda is a Senior Editor overseeing Asia at Android Central. He leads the site's coverage of Chinese phone brands, contributing to reviews, features, and buying guides. He also writes about storage servers, audio products, and the semiconductor industry. Contact him on Twitter at @chunkynerd.