Hands-on with RedMagic's 5th anniversary giveaway prizes — ft. the RedMagic 8 Pro, a mechanical keyboard, and more!
RedMagic's birthday celebrations include some brand-new gaming accessories.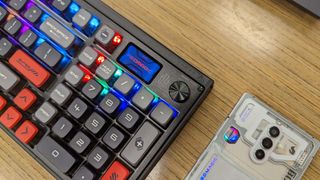 (Image credit: Namerah Saud Fatmi / Android Central)
Five years might not sound like a lot, but it's the age RedMagic has now reached. The gaming brand hasn't been around for long, so it's remarkable to see its progress over the years. From the early bug-ridden devices that we saw in 2018 to the latest, most innovative devices we've seen more recently, the phone maker has certainly come a long way.
RedMagic is celebrating its fifth birthday with much flourish. You can tune in to watch the brand's 5th Anniversary Live Event on YouTube tomorrow. The event will be hosted by popular gaming YouTubers Beaulo and SirPugger. RedMagic will be giving away a ton of goodies during the event, including the Red Magic 8 Pro as well as the RedMagic Mechanical Keyboard and Mouse.
This is the first time RedMagic has ever delved into the world of peripherals such as keyboards and mice. Both the RedMagic Mechanical Keyboard and Mouse are launching tomorrow, May 18, to make the anniversary even more special.
While you rush to register for the RedMagic 5th Anniversary giveaway, take a peek at the devices that are going to be raffled off to some very lucky winners. Even if you don't win something, you can always treat yourself since there will be discounts on the brand's website as well.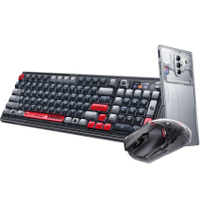 RedMagic is celebrating its fifth birthday with much flourish. Even if you don't win any prizes at the giveaway, you can still partake in the festivities by enjoying generous discounts on the RedMagic 8 Pro, Mechanical Keyboard, Mouse, and more!
Buy at: RedMagic
---
An all-white RedMagic 8 Pro with beefy internals
RedMagic announced the Titanium colorway of the RedMagic 8 Pro along with its first PC lineup in late March. There isn't much difference between this variant and the one that we already reviewed, except for the looks and the memory specifications.
The Titanium RedMagic 8 Pro looks absolutely stunning from every angle. It's all sharp edges and panache with a heavy sprinkling of RGB lighting on the back, but the device doesn't look gaudy. You get a stunning 16GB RAM and 512GB storage on the Titanium model, along with the Snapdragon 8 Gen 2 chipset, a 6.8-inch 120Hz AMOLED display with an under-display front camera, a 6,000mAh battery, 65W super-fast charging, and an incredible multi-faceted cooling system.
All those hefty specs don't disappoint. The RedMagic 8 Pro performs like a top-tier lean, mean, mobile gaming machine that can handle anything you throw its way. You get extensive customizability for all your Android games, a dedicated game management hub, an in-game overlay with extremely useful shortcuts, and of course, ultrasonic shoulder triggers with a touch sampling rate of 720Hz.
The RedMagic 8 Pro is undeniably one of the best gaming phones in the world at the moment. Equipped with a physical cooling fan and those generous memory specs, the Titanium model can easily take on the likes of the Samsung Galaxy 23 Ultra and the ASUS ROG Phone 6.
Although a transparent version of the RedMagic 8 Pro already existed before this model, it had a dark theme and smokey black accents all around. This all-white variant is its polar opposite, but it retains the see-through element. More and more gamers have adopted the clean white aesthetic recently. If you're into that look, you'll be very pleased with the RedMagic 8 Pro in Titanium.
RedMagic made a mechanical keyboard and it is EPIC!
The RedMagic Mechanical Keyboard is truly the star of the show. Sure, the RedMagic 8 Pro is an amazing, overpowered Android phone that slays like nobody's business. However, we still held back on a five-star rating in our review due to the lackluster software support and poor front camera.
With the RedMagic Mechanical Keyboard, there isn't much to go wrong. Not to mention, the $199 price tag is insanely good even without any sales or special offers. You get high-end features and an uber-premium build, with extremely satisfying tactile keys. This keyboard is a joy to use, and it looks incredible too.
RedMagic developed its own keys for the Mechanical Keyboard, but you can swap them out since it has a hot swappable base. The box comes with a key removal tool to help you with that. Personally, I love the TTC Speed Silver V2 keys installed on the keyboard. They are silent but not completely quiet and they feel super comfy when pressed. The clicks are ever so gentle but still tactile enough.
You can use the RedMagic Mechanical Keyboard with an included USB dongle, via Bluetooth, or by using a USB-C cable. The box includes an extremely sturdy Type-C cable for that. Since the keyboard has a 4,000mAh battery, you don't have to worry about it dying on you when using the wireless connection. The keyboard uses low-latency Bluetooth so lags aren't an issue either.
RedMagic took things up a notch by incorporating a rotating metal knob and a tiny LCD display in the upper-right corner of the Mechanical Keyboard. You can control your PC's settings or adjust the RGB light modes right from your keyboard. Speaking of RGB, the RedMagic Mechanical Keyboard can output 16.8 million colors. You can customize your keyboard preferences on your computer.
A versatile and ultra-light mouse for gaming
The RedMagic Mouse shares a lot of the Mechanical Keyboard's winning characteristics. You get the same three modes of connection, a rugged USB-C cable in the box, and customizable RGB lighting. Weighing in at 75g, the Mouse is super lightweight. Apart from the regular left button, right button, and scroll wheel, the RedMagic Mouse also has two extra programmable buttons on the left side.
Just like the keyboard, the RedMagic Mouse also supports low-latency connection so it's great for gaming. The 450mAh battery life is more than enough to last for weeks on end. Of course, you can always switch to the wired mode if you want zero latency. As for responsiveness, this mouse is lightning-fast and supports up to 26,000 DPI.
You can adjust and customize all of your Mouse settings from your computer. This includes the buttons as well as the RGB lighting on its body. RedMagic includes 3D stickers in the box so you can add more grip to the RedMagic Mouse if you want.
Overall, RedMagic's latest products are looking super exciting and we can't wait to see what's next. Happy anniversary to them, they sure deserve it!
RedMagic 8 Pro in Titanium
Play in the future
Need a beefed-up gaming phone that's right out of the future but doesn't bankrupt you? The RedMagic 8 Pro is it. Grab the 16GB/512GB variant in Titanium if you're a fan of all-white designs and loads of RGB.
RedMagic Mechanical Keyboard
Tactile satisfaction
RedMagic has created a fantastic Mechanical Keyboard and we're all for it. With a hot-swappable base, its own special TTC Speed Silver V2 switches, three connectivity modes, a premium build, and a huge battery, this is one of the best mechanical keyboards that money can buy.
Sign up for Black Friday email alerts!
Get the hottest deals available in your inbox plus news, reviews, opinion, analysis and more from the Android Central team.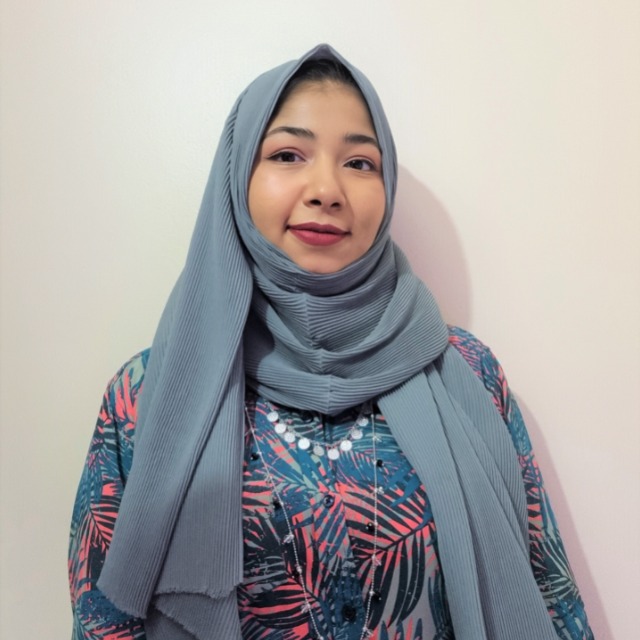 Editor — Accessories, speakers, and tablets
Namerah enjoys geeking out over accessories, gadgets, and all sorts of smart tech. She spends her time guzzling coffee, writing, casual gaming, and cuddling with her furry best friends. Find her on Twitter @NamerahS.