AC readers are more interested in Samsung's new wearables than its foldables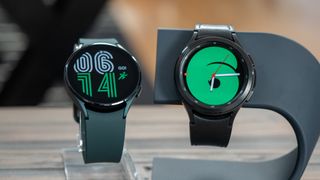 (Image credit: Android Central)
What you need to know
We asked AC readers after the Samsung Unpacked event which new Galaxy devices they were most excited about.
Nearly 42% said that they were most looking forward to the new Galaxy Watch 4 wearables.
The Galaxy Z Flip 3 and Galaxy Z Fold 3 received almost an identical percentage of votes; both far fewer than the watch.
Earlier this week, Samsung held another of its Unpacked events to announce the latest updates to its diverse product lineup. At the event, the company showed off the next generation of its foldable phones, including the exciting Galaxy Z Flip 3 and Galaxy Z Fold 3, as well as updated wearables in the form of the Galaxy Watch 4 and Galaxy Watch 4 Classic, as well as the Galaxy Buds 2.
We polled our readers to see which of these new devices they were most excited about, expecting it to be one, or both of the new phones, only to be surprised by the runaway star of the show — the Galaxy Watch 4. The new wearable came away with nearly 42% of the vote, putting it at more than double either the Galaxy Z Flip 3 (15%) or the Galaxy Z Fold 3 (14%); it actually beat those two devices, combined! Rounding out the results at fewer than 3% each were the Galaxy Buds 2 and the accessories Samsung announced for the new devices. Interestingly, nearly 21% said that they "couldn't care less" about the new products.
Given the hype surrounding the foldables, it's curious that the Galaxy Watch 4 was the most popular product. Perhaps it's because the watch is so much more affordable than the phones, or maybe it's just that there was a lot of pent-up demand for a truly good Android watch.
The feedback wasn't as vociferous as we might have expected, but the overall consensus seemed to be that the Watch 4 series was the value product of the event.
Im more into that watch, as it has many health monitoring features on it. Will recommend that one..Im more into that watch, as it has many health monitoring features on it. Will recommend that one..— 🐑 FOU... FOU🐑 (@lebronbryant01) August 11, 2021August 11, 2021
For readers like steelew, getting the watch was just a nice bonus.
Our poll is now closed, but we'd still love to hear from you. So let us know which of the Galaxy devices Samsung announced this week you are most interested in, and why!
Jeramy is proud to help *Keep Austin Weird* and loves hiking in the hill country of central Texas with a breakfast taco in each hand. When he's not writing about smart home gadgets and wearables, he's defending his relationship with his smart voice assistants to his family. You can follow him on Twitter at @jeramyutgw.
At this moment, I am considering buying the Watch 4 to upgrade my Samsung Frontier....from the info that I have read here and on the internet, Watch 4 would be a good upgrade.

But that flip, is so trippy 🙂

The watch since I never had one and want now to buy.
Fold is not an option for me since I consider it very big and heavy for daily phone usage.

The watch is a lot less expensive. It's not a major investment like a folding phone.

I pre-ordered a Galaxy Watch 4 Classic on release day. Can't wait to try it out. If I don't like it as much as my Galaxy Watch 3 I'll return it.
Android Central Newsletter
Thank you for signing up to Android Central. You will receive a verification email shortly.
There was a problem. Please refresh the page and try again.