$99 Nexus Player ships in 4 weeks from Play store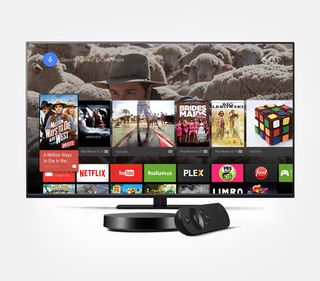 Google's Nexus Player is now ready to be ordered on the Play store. Priced at $99, the Nexus Player ships with its own remote control. The device recently received FCC certification so it's now ready for your living room. According to the Play store, the Nexus Player will ship in three to four weeks.
The optional $40 Gamepad for the Nexus Player is still listed as out of inventory and cannot be purchased at this time.
Are you ready to stream, game, and cast your phone's content to the bigger screen of your living room? Let us know if you decide to part with $99 and pick up the Nexus Player.
Be sure to also check out our coverage of Android TV as well for more details.
Source: Play store (opens in new tab)
Android Central Newsletter
Get instant access to breaking news, the hottest reviews, great deals and helpful tips
Will order one once it gets the xbmc nod. i have 2 chromecasts that is gathering dusts as we speak, will not make that mistake again.

It works on Android TV unofficially.
https://plus.google.com/113702637309752822154/posts/Cvc7pwT6qGD Posted via the Android Central App

I have a PS3 on one TV and a Roku 3 on the other. Not really a place for this new device in my home nor a need. I suppose if you have a lot invested in the Play ecosystem it might be kind of nice but I don't see the value in it over a Roku at this point or even a Chromecast using an older phone or tablet most people have laying around .

Our chrome casts are used mutiple times a night and I just ordered a Nexus Player Woot! Posted via Android Central App

Any news on a UK release? Hoping I can stick Hola unblocker on this and watch a decent version of netflix n5

I saw it on the UK play store briefly for £79
http://forums.androidcentral.com/showthread.php?t=450659 Posted via the Android Central App

Not sure if that's a good price..... I think it just about falls within impulse purchase range so I'll probably get it anyway. I don't play many games on my phone but this could persuade me to try a few more n5

If wonder if Google will ever try to reset their Nexus line release schedule... Cutting it so close to the holidays has got to be eating into potential sales. I thought winter made sense for the Nexus phones when they were sort of in between models with specs that didn't completely rival other flashing phones... They'd one up last summer's in some ways but not others, then a whole new crop of flagship models would come out six months later. That's obviously not the case anymore, yet even the tablet slipped to the fall... The worst offender is probably something like the Player which people are much more likely to impulse buy. Anyway, on topic, looking forward to getting my Player (probably not before Thanksgiving?), despite a few unanswered questions about it (HDMI CEC support? BT support for other gamepads?).

SInce I already have a Roku hooked up to every TV in the house, I'm not sure why I would want this.

Gamepad still "out of inventory." I was able to order the player last week, but I really want the controller to go with it. That is my main reason for ordering. I hope they become available soon!

I'm a huge fan of Google TV and use it every day. I understood and liked what Google was trying to do with Google TV. This seems a little more simple and a little less ambitious. It has potential to be a hit especially with Google seemingly trying to push the Nexus and Android as an ecosystem to the forefront. I definitely am on board and ordered one soon as I could. Posted via the Android Central App

Completely agree, I wish they had the same setup as the Google tv functions did. Thought this was going to be a hit...but just another streaming box. Posted via the Android Central App

I think the lower ambition is, sadly, the reason it has a shot. Their original goal was scary to the providers and limited their ability to roll out. Of course that was hardly its only problem.

Looking forward to a full review first. If this can stream movies from my 4TB WD My Cloud, then it would be an ideal piece of gear for me.

It will do that fine. Just use Plex.

But it only uses WiFi - the quality just wont be the same. This box should have a wired gigabit port connection.

Yeah, I guess it depends on your router. If you have a decent router, the wireless shouldn't matter that much.

If WiFi is a problem, then you either need to upgrade your router or buy a device with a decent wireless card. 802.11n is plenty good enough for quality streaming, and the Nexus Player comes with 802.11ac.

In the perfect world yes and you could be right I guess. But any wireless signal is always open for interference. For example 5 years I could go two blocks away and still have decent Wifi signal - and now it barely gets through 2 rooms. The point is that 802.11n is great now but in a year or two it might not be - the wire on the other had is a hard connection I don't need to worry about. I don't disagree with you, just saying in my opinion I would prefer the wire since I already setup my wiring in the house.

True, I live out in the middle of nowhere, so I don't have to deal with interference too much.

I agree with u. I don't have Comcast anymore and FIOS isn't available where I live so I'm stuck with DSL.. So a wired connection is needed. Posted via Android Central App on The Nexus 5

I use wireless now to handle Plex and it DirectStreams perfectly to my Raspberry Pi. I did have to buy a wireless bridge to get a good enough signal, but I feel confident this thing will do much better out of the box.

You and me, both, though I was kinda hoping I was gonna get to participate in this one. Nexus Player looks like a fun entertainment toy to play with!

Just ordered one! Interesting timing for this to become available since my chromecast died a few days back.

I want one so bad but I don't have the extra money right now. I already have a Bluetooth gamepad so I'm super ready to enjoy this thing. I even have the Android TV remote app on my phone, currently useless. My main desire is to play emulators on it. N64, ps1, SNES, and even MAME. Can't wait.

Me too! I'm hoping 3rd party gamepads will work.

This is my xmas present to myself. Can't get here fast enough. Posted via the Android Central App

Ok, so other than Games and GamePad, what does this do that I can't do with a tablet (or phone) and ChromeCast at less than half the price? I have a ChromeCast and an Ouya in my home office hooked to a dumb tv (not even cable). I stream from phones, tablets, laptops and a PC (my office get's crowded). Not being funny or difficult, I just want to know is there something that the Nexus Player does to make life easier over the ChromeCast? And being able to pull up "Apps" on the device via remote isn't any different to me than pulling them up on a PC or device. Can it be wired? or is it WiFi only? This would be a speed/connectivity advantage for me. So would a built in IR Blaster.

The simple answer is that this is the same vein as a roku or apple TV. You don't need a phone to cast the content to it. The device has a UI that you can navigate and will have a subset of the google play store apps for media. Posted via Android Central App

I pre-ordered mine last Friday. I'm hoping the MediaCenter app gets updated for Android TV - I have quite a few movies, all my music, home videos and pictures, and even Live TV being hosted from our PC in the office. I can Chromecast all of that right now, but it will be nice to have a native app on the device.

I'll wait sooner or later they will advertise the free gamepad with purchase as a promotion Posted via Android Central App

I like the idea of Android TV, but it doesn't do anything I can't do already with my Xbox. I have a Bluetooth speaker for music, and if I wanted it on my TV I could stream to my Xbox through DoubleTwist. For the three movies I have on Google Play (all were free), I can watch them from the YouTube app. It looks like a great device, just not something I'd need.

XBOX/PS4 games cost on average like $59 bucks upon initial release. These games will cost at most, $4.99? Sure, they're not super-grade graphics like those on the major consoles, but still - going to be pretty cool to play any game I want from Play Store on my television, with a game controller to boot.

There are maybe one or two Play Store games I'd actually want to play. I'd much rather pay the extra and get more enjoyment out of the game

Call me crazy, but for a device marketing towards the gaming crowd (I'm speculating since they offer a game controller)... it's using a roughly two year old GPU...

Most android games are not that intensive, so this processor should be just fine. For me, I just want it for emulation. Should be great for that.

I ordered it before the FCC debacle so I'm just waiting patiently for it.

I'm pretty sure there was no FCC "debacle"

Tdizzel, don't be so anal about the wording you know what I meant.

Ordered on day one somehow. Will be a nice replacement for the Chromecast in the bedroom. Living room already has an XBox One and a Chromecast. Will be nice to play a mindless game before bed in bed. Lol. Posted via the Android Central App

My chromecast lying around no I am. Not buying this Posted via Android Central App

I think the concept is great. But I am waiting for a OEM device with an Ethernet port /\_/\

I hope this thing has excellent 24p support, it's really my thing now.

I'll pick one up if my ADT-1 doesn't get updated to the final software. Posted via Android Central App on the Moto X

With everything that you get from Amazon prime the fire TV would be my device of choice since I already have prime. Posted via Android Central App

Will the chromecast ever get a google chrome app? Or maybe the Nexus TV? Posted via the Android Central App

Ha they are already out. But that was no surprise when heading to the play store to purchase a nexus device when it first pops up on the scene. Posted via LG G3 the Android Central App

Will this let me download the WD my cloud app?
Android Central Newsletter
Get instant access to breaking news, the hottest reviews, great deals and helpful tips
Thank you for signing up to Android Central. You will receive a verification email shortly.
There was a problem. Please refresh the page and try again.