Six ways to make the Samsung Galaxy S8 work with Windows 10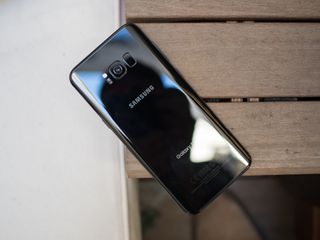 More than most Android phones, the Samsung Galaxy S8 is quite attractive to Microsoft fans.
The Galaxy S8 has plenty of Microsoft support built right in by way of preloaded apps and the Continuum-like DeX system. Aside from all that, here are some of the ways you'll be able to use your phone and PC in perfect harmony.
Note: This article was originally published on Windows Central.
Use Phone Companion for Windows 10 to transfer your photos
The Phone Companion app from Microsoft is a pretty easy way to go between your phone and PC. It can import all your photos from the phone to the built-in Photos app in Windows 10.
The Galaxy S8 will likely take some truly excellent photos, so there's a good chance you'll be using the app quite a lot. The guide linked below will help you keep organized by getting those shots off your phone and onto your PC.
How to transfer photos with Phone Companion for Windows 10
Calendar and Mail with Outlook
You could use your Outlook account with Gmail and Google Calendar. Or you could do yourself a favor and get the Outlook app for Android on your Galaxy S8.
After Microsoft gobbled up Sunrise Calendar, parts of it are slowly appearing in Outlook such as integrations with third-party services. Outlook contains email and calendar within the same app on Android, and you can also pull in mail accounts from Gmail.
Why use two apps when you can have only one that gets the job done?
Download Microsoft Outlook for Android from the Google Play Store
Samsung SideSync
Samsung SideSync is often overlooked, but it's a really useful piece of software for Galaxy phones. It allows you to connect your phone to a PC and get your notifications, or even the entire phone display, mirrored.
It's not like DeX, because it's just a window that represents your phone, hooked up to the PC via Wi-Fi. But it's pretty reliable and a nifty way to transfer files quickly without having to hunt for a cable or even touch the phone at all.
It will work better over a wired connection to the PC, though, and faster than wirelessly. Whichever way you prefer, SideSync is a great feature to have.
Use Cortana as your assistant
Samsung has Bixby on the Galaxy S8, and Google has the Google Assistant, but neither of those can boast the freedom of Cortana. By being available cross-platform, you have some elements of synchronicity between your phone and your PC with Cortana.
You can have basic notification mirroring and of course the benefits of using Cortana as your assistant on both phone and PC. If you use Cortana on your Windows 10 PC a lot, it's a no-brainer to download it to the Galaxy S8.
Recent updates have allowed access to the lock screen, and because it's Android, it's a simple process to make Cortana your default assistant.
Download Cortana from the Google Play Store
Set up OneDrive camera backup
OneDrive is a terrific cloud storage service to use, particularly if you're also an Office 365 subscriber with that 1TB allowance to fill. The OneDrive app for Android is nicely done, but one feature you should look at enabling is the camera backup.
While moving photos to your PC en masse with Phone Companion is good, if you want to back up to the cloud, you'll have a two-stage process. By enabling it in the OneDrive app for Android, any new snaps you shoot with that awesome camera will be auto-magically sent up to the cloud for you.
OneDrive is also preloaded on the Galaxy S8, so if it's anything like recent devices you'll likely get some free storage added to your account for two years, as well.
Time to relax
If Groove is your music service of choice, not only did you choose well but you'll have a solid experience with the Android app. And if Xbox is your preferred console, the old Smartglass app has now been replaced by the newer Xbox app.
Neither are completely on par with their Windows counterparts, and the Xbox app, in particular, lags behind. But both are important parts of the Microsoft ecosystem, so it's good to know you won't have to relinquish either by using a Galaxy S8:
Get the Android Central Newsletter
Instant access to breaking news, the hottest reviews, great deals and helpful tips.