Six ways to make the Samsung Galaxy S8 work with Windows 10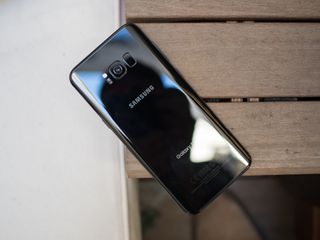 More than most Android phones, the Samsung Galaxy S8 is quite attractive to Microsoft fans.
The Galaxy S8 has plenty of Microsoft support built right in by way of preloaded apps and the Continuum-like DeX system. Aside from all that, here are some of the ways you'll be able to use your phone and PC in perfect harmony.
Note: This article was originally published on Windows Central.
Use Phone Companion for Windows 10 to transfer your photos
The Phone Companion app from Microsoft is a pretty easy way to go between your phone and PC. It can import all your photos from the phone to the built-in Photos app in Windows 10.
The Galaxy S8 will likely take some truly excellent photos, so there's a good chance you'll be using the app quite a lot. The guide linked below will help you keep organized by getting those shots off your phone and onto your PC.
Calendar and Mail with Outlook
You could use your Outlook account with Gmail and Google Calendar. Or you could do yourself a favor and get the Outlook app for Android on your Galaxy S8.
After Microsoft gobbled up Sunrise Calendar, parts of it are slowly appearing in Outlook such as integrations with third-party services. Outlook contains email and calendar within the same app on Android, and you can also pull in mail accounts from Gmail.
Why use two apps when you can have only one that gets the job done?
Download Microsoft Outlook for Android from the Google Play Store (opens in new tab)
Samsung SideSync
Samsung SideSync is often overlooked, but it's a really useful piece of software for Galaxy phones. It allows you to connect your phone to a PC and get your notifications, or even the entire phone display, mirrored.
It's not like DeX, because it's just a window that represents your phone, hooked up to the PC via Wi-Fi. But it's pretty reliable and a nifty way to transfer files quickly without having to hunt for a cable or even touch the phone at all.
It will work better over a wired connection to the PC, though, and faster than wirelessly. Whichever way you prefer, SideSync is a great feature to have.
Download Samsung Sidesync (opens in new tab)
Use Cortana as your assistant
Samsung has Bixby on the Galaxy S8, and Google has the Google Assistant, but neither of those can boast the freedom of Cortana. By being available cross-platform, you have some elements of synchronicity between your phone and your PC with Cortana.
You can have basic notification mirroring and of course the benefits of using Cortana as your assistant on both phone and PC. If you use Cortana on your Windows 10 PC a lot, it's a no-brainer to download it to the Galaxy S8.
Recent updates have allowed access to the lock screen, and because it's Android, it's a simple process to make Cortana your default assistant.
Download Cortana from the Google Play Store (opens in new tab)
Set up OneDrive camera backup
OneDrive is a terrific cloud storage service to use, particularly if you're also an Office 365 subscriber with that 1TB allowance to fill. The OneDrive app for Android is nicely done, but one feature you should look at enabling is the camera backup.
While moving photos to your PC en masse with Phone Companion is good, if you want to back up to the cloud, you'll have a two-stage process. By enabling it in the OneDrive app for Android, any new snaps you shoot with that awesome camera will be auto-magically sent up to the cloud for you.
OneDrive is also preloaded on the Galaxy S8, so if it's anything like recent devices you'll likely get some free storage added to your account for two years, as well.
Time to relax
If Groove is your music service of choice, not only did you choose well but you'll have a solid experience with the Android app. And if Xbox is your preferred console, the old Smartglass app has now been replaced by the newer Xbox app.
Neither are completely on par with their Windows counterparts, and the Xbox app, in particular, lags behind. But both are important parts of the Microsoft ecosystem, so it's good to know you won't have to relinquish either by using a Galaxy S8:
Can android's Outlook app integrate TASKS from a regular Exchange server? That's the missing piece I've been waiting for.

I don't think outlook can use exchange sync. I use nine just for contacts and calendar sync and outlook for email.

Outlook does support Exchange on Android. It does not, however, support Tasks. Microsoft will suggest using Cortana for task management.

I seriously don't understand that choice. Why would the developer of the most popular task manager in all of business NOT want to support using it for tasks in its own mobile application?

After 8 yrs with Windows Phones moving over to Android was very intimidating for this one reason- integration. For the most part the transition was simple. All Office apps are available. The Xbox app is just as polished for Android as it is on Windows. OneDrive works flawlessly. Cortana unfortunately is restricted based on location so Canada doesn't have access to it. But I'll admit I rarely use it on Windows anyway. My 2 major complaints are the Outlook app didn't have an unread email notification on the icon (similar to what you get when you have unread sms) and transferring Music playlists from Windows PC to Android is pretty much impossible. I have a number of playlists in Windows Media Player and Groove and there is no simple sync option to move these over. I can drag and drop the music files or albums but I have to re-create and re-order the playlists on my Galaxy phone manually which is a huge pain if you have a playlist that you update often with more than 100 songs.

OneDrive is great on Android, as is Outlook. I use Outlook to keep my company email separate from my personal. And its's nice that includes my email, contacts, calendar all in one tidy package.

I've got Office 365 with over a terabyte of online storage. It was a no-brainer to back up photos to OneDrive. It's fantastic. I've had all my photos through 5 phones now thanks to OneDrive.

If you want to make your Android beautiful I highly suggest the free Evie Launcher, download and apply the Pixel icon pack, and use the Microsoft Next Android lock screen app. You'll be in heaven.

I've had all my photos on all my devices thanks to Google photos. Talk about a no brainier. It cost me about zero dollars a year.

I've considered using Google Photos or Amazon Prime Photos. I'll have to see if Google Photos has an offline storage option for my laptop.

Yeah, but as with all things Google, you give up privacy of what you talk about (email) and with your photos which Google can access and share with 3rd party. Yeah. Google are making their money. Believe that.
You and your data are the commodity. One drive is private. Microsoft does not take rights to use your data like Google does.

Cortana, however, is not surpported in some regions, so how can make this work? I live in Zambia. So, buying an S8 Microsoft Edition is pointless. By the way is Bixy surpported in all the regions?

Well, one feature not working doesn't make the entire purchase "worthless". Just an FYI - Bixby voice won't work in any region at launch.

OneDrive camera backup only works with a OneDrive Personal Account. My wife and I have Office 365 Business Premium, not camera backup allowed with business accounts I guess.
Android Central Newsletter
Get the best of Android Central in in your inbox, every day!
Thank you for signing up to Android Central. You will receive a verification email shortly.
There was a problem. Please refresh the page and try again.