5 reasons you should buy a 360-degree camera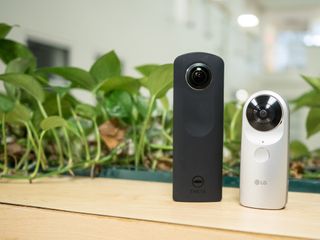 With just a small 360-degree camera, you can capture your reality in a fully immersive, interactive way, allowing people to experience what it's like to fly a jet, explore the bottom of the ocean, be in the crazy crowd at the Superbowl, and so much more.
Besides capturing stunning photographs and videos, what else can 360-degree cameras be used for, and why are they worth spending money on? There are a ton of reasons why you should own a 360-degree camera; here are five of the best.
Costs are starting to come down
While some 360-degree cameras can be a wee bit expensive – Nokia's OZO costs around $60,000 – there are much much much less expensive options available out there.
Sure, you probably won't find a phenomenal 360-cam for less than $100, but think of what you're getting when you're looking to buy a camera like this! Spending a bit extra on a higher quality piece of equipment is the way to go so you can capture nearly real-life footage in the clearest ways possible.
You can find a good range of 360-degree cameras for less than $1,000 that still shoot amazing video and flawless photography. LG's 360 Cam (opens in new tab) costs less than $200 and has rave reviews online about the camera's photo and video quality, while the $400 360Fly captures incredible 360-degree footage in one convenient, wireless little ball.
Check out our list of the best 360-degree cameras that you can actually afford!
Some are small and portable
Most 360-degree cameras are wireless, tiny, and very easy to store & carry around, making them the perfect hassle-free tool to have in your arsenal.
While big DSLR cameras require storage for lenses, microphones, tripods, and all your other gear, a small 360-degree camera like the Ricoh Theta S is perfect for quick shooting and storage because it's only about 5 inches tall.
You never have to worry about setting up big rigs or scrambling to set up your gear to catch the perfect shot anymore. 360-degree cameras are portable and inconspicuous enough to be set up almost anywhere.
Complicated in the most simple way: They're easier to use than you think
Figuring out all the bells and whistles on a DSLR or even with phone photography can be a bit of a pain in the butt if you're not a pro or simply don't have the time to become a super expert with whatever you're shooting with.
Most 360-degree cameras are relatively simple to set up and start using, despite what you may think. Some even have one or two buttons, and that's it for capturing footage! While the technology may be advanced and intimidating, the way these cameras work is easier and easier to figure out on your own.
For example, the Giroptic 360-Cam has a simple five step set-up and clearly breaks down the buttons, charging, and other important things you need to know about their state-of-the-art camera. It's straightforward to shoot with, despite the complicated technology it uses to work.
Installation is simple with most 360-degree cameras: no headaches involved!
Browse, browse, browse: There's a huge selection to pick from
A couple of years ago, there might have been only a handful of options for good-quality 360-degree cameras, but now there's a huge variety to browse and pick from!
Almost every 360-degree camera out there has its specialty and does something different from the next one. This means you can really do your research and pick from dozens of options, rather than two or three.
Looking for a great sport/action 360-degree camera? Check out the shock, dust, and waterproof V360 or 360fly cams. Want a camera that shoots flawless video for your live stream? Why not pick up the Bublcam (opens in new tab)? Want a super simple, point-and-shoot 360-degree pocket cam? Then the Ricoh Theta S (opens in new tab) might be the best way to go.
Whatever you need, there's sure to be a 360-cam for you.
Get creative: There are a ton of uses for a 360 camera
The best part about these cameras is being able to share, and you have plenty of choices, from Facebook and YouTube to sites like Flickr or Ricoh's own website if you use the Theta S.
But you don't need to use a 360-degree camera for just capturing incredible footage and photography; there are some other creative ways in which you can use a camera like this in your day-to-day life!
The Giroptic 360-degree camera has a light bulb adapter available for $79, making it the perfect security camera to use at home. Just screw in the camera to any light fixture it fits in, and use your phone to check in on your house if you're out of town or on vacation.
What will you use your 360 degree camera for?
Do you have a 360-degree camera?
Do you own and use a 360-cam? What made you take the plunge? Sound off in the comments below!
Android Central Newsletter
Get instant access to breaking news, the hottest reviews, great deals and helpful tips
I'll add this to the pile with the 3D camera in the basement.

I got the LG 360 Cam but only because i got it for free from the T-Mobile promotion. But i have to say that I've gotten to use it a ton and its an awesome addition to the tech drawer. To be honest, i might not have gone out to buy one if i was going to spend money on anything since i still don't see it as a necessity, but i am enjoying it for the novelty it brings. Posted via my T-Mobile Sidekick Slide

I'll give you a dozen reasons why I don't need one.

Only a dozen I thought that you might have 360. Posted via the Android Central App

How many 360 photos do you need of the room with the pc anyway ? Posted via the Android Central App

I love mine, and now that sharing is starting to improve, it will be much more relevant.

I got the LG 360 free when I bought the G5. It is small enough to keep in your pocket and not notice it. At first I didn't think I would us it that much but I'm starting to use it more than my phone camera. Facebook now has the 360 pictures and video so it is easy to share. Posted via the Android Central App

So what. 360 cams aren't necessary. But as a previous commenter said, they're still fun. I've built my own (Brahma Duo). Here's one of my first test videos: https://youtu.be/vZXelKhWfoM

They are fun. I have a video of us playing ping pong at work. I uploaded it to YouTube and let people watch it with my Google cardboard. Watching people's face and talking about how cool it is, is very neat to watch. I'm excited to see where this goes.

When it comes down to 15.00 maybe ill get one for a gift.... In other words, don't need it, maybe use it once or twice... and later, much later WHY DID I BUY THIS AGAIN? Posted via Android Central App

I was able to pick up a free LG 360 cam as a promotion when I bought a G5. Overall, this camera is awesome. It has its shortcomings in terms of blowing out highlights and sometimes the stitching is a bit noticeable, but this thing is super fun to use nonetheless. I can't wait until next year's update.

Wasn't thinking about buying a 360 camera until I read this. Maybe I could get one and rig up a 360 dash cam. Posted via the Android Central App

I have the LG 360 cam and I'm considering returning it and trying the Ricoh Theta S. The picture and video quality of the 360 cam and software is kind of disappointing. Posted via my Nexus 6P

I'd really love one but as a live at home university student I can't justify forking out $500AUD for one. Sure, they're awesome but I simply can't afford it. Side note, does anyone know of one that could do a 24hour time-lapse (and show a starry sky at night)? Because that'd look awesome. Blackberry Priv
Nvidia Shield "Portable"
Sony Xperia Z3 Tablet Compact

Except for "prices are starting to come down", this article fails at providing reasons why I should own a 360 camera. The author didn't give me a single use case for this type of camera. Posted via the Android Central App

The Giroptic doesn't come with the lightbulb adapter. It's an add-on. Also, it doesn't exist yet.

I think they are still a little high on the price side.

For 360 degree photos, just download: https://itunes.apple.com/us/app/360-camera-shoot-save-360/id1086600190?m...

Back in like '98, I got one of the first cheap digital cameras (the Apple Quicktake 200) because it was cheap (compared to what a lot of digital stuff went for) and photos weren't awesome but they existed at all and it was still way cheaper than film. I've still got those photos and a lot of them are really important to me today. That's how I feel about my 360 cam (the Giroptic), I'd rather have the pictures it takes than nothing at all.
Android Central Newsletter
Get instant access to breaking news, the hottest reviews, great deals and helpful tips
Thank you for signing up to Android Central. You will receive a verification email shortly.
There was a problem. Please refresh the page and try again.