4 reasons I want a Lenovo Smart Display over a Google Home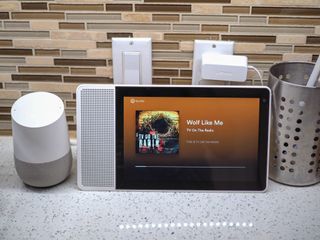 Ever since Google first announced its Smart Display platform back at CES in January, I've been more than eager to get my hands on one to experience the future of living with the Google Assistant in my home. I use my Google Home and Home Mini every day for a variety of things, and as much as I love them, the idea of essentially having one with a screen slapped on top sounds like a dream come true.
There are a few Smart Displays that have been announced, but so far, the one that's peeked my interest the most is Lenovo's.
The Lenovo Smart Display is the very first one to hit the market, and even though it's a bit more expensive and has a few kinks to work out compared to the tried and true Google Home, there are a few reasons why I'd like to have it over Google's iconic speaker.
Video support
The screen on the Lenovo Smart Display is obviously the biggest draw to it over the Google Home, and one of the reasons I'm most excited for this new addition is that it means I'll have a new screen for watching videos on.
Like most people, I spend a lot of my time in the kitchen. Whether I'm cooking dinner, unloading the dishwasher, or scrubbing down the counters, there's a lot of time spent in that room of my apartment. I typically play a YouTube video on my phone for some background noise while going about these tasks, and while that's fine, it means having to move my phone around the kitchen with me so I can hear it and glance at what's on its screen.
With the Lenovo Smart Display, I'll be able to just ask the Google Assistant to play a YouTube video and have it showcased on a large 10.1-inch display with speakers that are far better than what's on my OnePlus 6.
I don't think I'll be sitting down around a Smart Display anytime soon to watch full-length movies, but for those times when I want something to glance at every now and then while doing chores or preparing dinner for the night, I'm ecstatic to have something that's been designed with that sort of use in mind.
Deeper control of apps/services
Video support is one feature the Lenovo Smart Displays offer that's completely nonexistent on the Google Home, but along with charting unexplored frontiers, the use of a screen on Lenovo's machine also allows for richer experiences that are already available with audio-only Assistant speakers.
For example, I can talk to my Google Home and ask it to dim my Hue Lights or change the temperature with a Nest thermostat all day long. The same exact thing can be done with the Lenovo Smart Display, but after that first command is given, you've got access to on-screen controls to fine-tune your lights or AC even more.
Another way this can come in handy is with music. With the Lenovo Smart Display, you can actually browse through various playlists and decide which one you'd like without having to pick something specifically with just your voice. Once a song is playing, you can quickly glance at the screen to see what it's called, fast forward, or see how much time is left with that particular track.
The Google Home can read aloud recipes, but with the Lenovo Smart Display, you get visual step-by-step directions and pictures of the dish you're making to make the experience even more helpful. You can set timers on Google Home without any trouble, but on the Lenovo Smart Display, watch the seconds tick by without having to constantly ask "Hey, Google, how much time if left on my timer."
You get my point.
A lot of what the Lenovo Smart Display does you can already do on Google Home, but because of the screen, the way you interact with these commands/questions is much more useful and seamless compared to an audio-only experience.
It's a digital photo frame for the modern era
Along with all of the smart home control, powerful speakers, and everything else the Lenovo Smart Display has to offer, it's also the best digital picture frame you can buy in 2018.
Digital picture frames have been around for years, but whether it was due to low-resolution screens, huge bezels, wonky controls, etc., the execution of them has always left something to be desired. The Lenovo Smart Display fixes all of that.
The HD or Full HD panels on the 8-inch and 10.1-inch models, respectively, look great, the bezels aren't overly large, and best of all, your pictures are seamlessly added through your Google Photos account.
In addition to being able to pull up specific photos with just your voice, you can also set certain albums/pictures to regularly cycle through to ensure you've always got a memory to look at when walking by your Smart Display. And, since these are all pulled in from the cloud, you don't have to mess with loading photos on an SD card.
The price is right
Last but certainly not least, the Lenovo Smart Display absolutely kills it when it comes to price.
For the 8-inch model, you'll need to hand over just $199. On its own, that's already a good price. When you compare it to the Google Home and realize it's just $50 more than Google's screenless-speaker and $30 less than the Echo Show, it becomes an even better deal.
The larger 10.1-inch variant is more expensive at $249, but it's still a much better purchase than the Echo Show despite the $20 price increase.
The 10.1-inch screen is certainly nice to have, but for most people, the $199 model offers the same experience in a more compact form factor. And, for technically less than $200, I can see a lot of folks picking this up as a Christmas present come the holiday season this year.
Why do you want the Lenovo Smart Display?
Those are the reasons why I think the Lenovo Smart Display is a better purchase over the Google Home, but what about you? Are you excited for the Smart Display future or are you perfectly happy not having a screen for the Google Assistant? Let me know in the comments below!
See at Best Buy (opens in new tab)
Android Central Newsletter
Get the best of Android Central in in your inbox, every day!
Joe Maring was a Senior Editor for Android Central between 2017 and 2021. You can reach him on Twitter at @JoeMaring1.
I used you use my old Nexus 7 on a tablet stand as a "smart screen" in my kitchen. It's was pretty awesome. Recipes, Pandora (Bluetooth to under cabinet speaker) youtube, calender, etc.. I always wondered why they don't make this a thing.. But here we are. Finally.

I can agree with these reasons but also Jerry's reason about having the option to turn the camera off.

I'll finally be able to replace my decade old Chumby!

Nice. I replaced mine with a Sony Dash and regretted it after the Dash platform was abandoned. Wish I had kept the Chumby as the tinkering community was strong....

I actually like the idea of having it as a photo frame while its not being used as a Home device. The Home just sits and does nothing until you need it, this is useful 100% of the time.

I just can't see myself buying this until it supports multi-room audio. It's crazy to me that it can't be added to existing groups in the Google Home app.

I agree completely. This wasn't mentioned in really any of the reviews that I had seen. I didn't realize it until I set mine up over the weekend.

The smart display can push audio to other Google Home products, i.e. telling your Smart Display to play music on your Google Home Mini in another room.

Already ordered ours. One of the rare times my wife is more excited about a tech product than I am...

No Pandora support? No stereo speakers? How about GPM or Vudu so I can watch a real movie instead of video clips on YouTube?
This 'thing' could be so much more.

Pandora and Google Play Movies are both supported. Not sure on Vudu.

From the review on this site: ( yes to GPM, but NO Pandora or SlingTV) We need to talk about the Netflix-sized elephant in the room: despite being a Cast target for audio, most video services don't yet support the Smart Display. That means no Netflix, DirecTV Now, Sling TV, and many other video services. There's no technical reason for the omission, and it's possible the companies just need to whitelist the smart display ecosystem, but until then, the video casting experience is going to be hit or miss. Here's what does support the Smart Display right now: YouTube (also available directly via voice search)
YouTube TV
Facebook video
Google Play Movies & TV
HBO Go/Now
Hulu
PlayStation Vue
Spotify Connect
Tablo
Vimeo That's a fine list indeed, but given Google Cast's ubiquity, it's strange to see so many omissions.

Unfortunately, Android Central isn't always 100% accurate. Mr Mobile couldn't get Casting to work, Phil couldn't get YouTubeTV to work (which, BTW, also works via Voice), and whichever reviewer told you that Pandora wasn't supported was also incorrect. There are many other video reviews and written reviews that discuss and even show all of those features working. In addition to the wonderful AC family video reviews, I recommend watching Dieter from the Verge (sorry, Phil), lon.tv and Tech with Brett.

You got that right. AC and WC reviews have a lot to be desired. I read an article about the Amazon Cube and the Nvidia Shield that made some claims about functionality that were totally wrong.
Pandora is not in the list of supported apps in the review I quoted from this site.
I stopped looking for reviews after I saw that it didn't have stereo speakers.
Does SlingTV cast to it? Sling TV won't even cast to AndroidTV w/ Chromecast built in and puts up a message to use the native ATV app instead.
Also, can it be part of a Chromecast audio group?
If I do go for a device like this, I'll probably get the JBL version w/ stereo speakers.
I was hoping the Nvidia Shield would bring Google Assistant / Home functions to a screen based environment, but it didn't deliver either.

YouTube TV can give you access to live TV. HBO Now, CW, Google Play Movies & TV and Crackles play shows and movies too. New services arrive on the Smart Displays with the Google Assistant regularly.

Is there an app that can turn an older Android tablet into a Smart Display?
Android Central Newsletter
Thank you for signing up to Android Central. You will receive a verification email shortly.
There was a problem. Please refresh the page and try again.