4 reasons I want a Lenovo Smart Display over a Google Home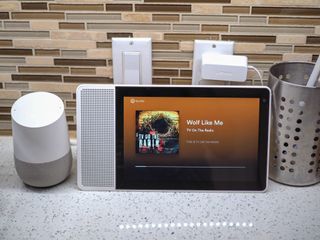 Ever since Google first announced its Smart Display platform back at CES in January, I've been more than eager to get my hands on one to experience the future of living with the Google Assistant in my home. I use my Google Home and Home Mini every day for a variety of things, and as much as I love them, the idea of essentially having one with a screen slapped on top sounds like a dream come true.
There are a few Smart Displays that have been announced, but so far, the one that's peeked my interest the most is Lenovo's.
The Lenovo Smart Display is the very first one to hit the market, and even though it's a bit more expensive and has a few kinks to work out compared to the tried and true Google Home, there are a few reasons why I'd like to have it over Google's iconic speaker.
Video support
The screen on the Lenovo Smart Display is obviously the biggest draw to it over the Google Home, and one of the reasons I'm most excited for this new addition is that it means I'll have a new screen for watching videos on.
Like most people, I spend a lot of my time in the kitchen. Whether I'm cooking dinner, unloading the dishwasher, or scrubbing down the counters, there's a lot of time spent in that room of my apartment. I typically play a YouTube video on my phone for some background noise while going about these tasks, and while that's fine, it means having to move my phone around the kitchen with me so I can hear it and glance at what's on its screen.
With the Lenovo Smart Display, I'll be able to just ask the Google Assistant to play a YouTube video and have it showcased on a large 10.1-inch display with speakers that are far better than what's on my OnePlus 6.
I don't think I'll be sitting down around a Smart Display anytime soon to watch full-length movies, but for those times when I want something to glance at every now and then while doing chores or preparing dinner for the night, I'm ecstatic to have something that's been designed with that sort of use in mind.
Deeper control of apps/services
Video support is one feature the Lenovo Smart Displays offer that's completely nonexistent on the Google Home, but along with charting unexplored frontiers, the use of a screen on Lenovo's machine also allows for richer experiences that are already available with audio-only Assistant speakers.
For example, I can talk to my Google Home and ask it to dim my Hue Lights or change the temperature with a Nest thermostat all day long. The same exact thing can be done with the Lenovo Smart Display, but after that first command is given, you've got access to on-screen controls to fine-tune your lights or AC even more.
Another way this can come in handy is with music. With the Lenovo Smart Display, you can actually browse through various playlists and decide which one you'd like without having to pick something specifically with just your voice. Once a song is playing, you can quickly glance at the screen to see what it's called, fast forward, or see how much time is left with that particular track.
The Google Home can read aloud recipes, but with the Lenovo Smart Display, you get visual step-by-step directions and pictures of the dish you're making to make the experience even more helpful. You can set timers on Google Home without any trouble, but on the Lenovo Smart Display, watch the seconds tick by without having to constantly ask "Hey, Google, how much time if left on my timer."
You get my point.
A lot of what the Lenovo Smart Display does you can already do on Google Home, but because of the screen, the way you interact with these commands/questions is much more useful and seamless compared to an audio-only experience.
It's a digital photo frame for the modern era
Along with all of the smart home control, powerful speakers, and everything else the Lenovo Smart Display has to offer, it's also the best digital picture frame you can buy in 2018.
Digital picture frames have been around for years, but whether it was due to low-resolution screens, huge bezels, wonky controls, etc., the execution of them has always left something to be desired. The Lenovo Smart Display fixes all of that.
The HD or Full HD panels on the 8-inch and 10.1-inch models, respectively, look great, the bezels aren't overly large, and best of all, your pictures are seamlessly added through your Google Photos account.
In addition to being able to pull up specific photos with just your voice, you can also set certain albums/pictures to regularly cycle through to ensure you've always got a memory to look at when walking by your Smart Display. And, since these are all pulled in from the cloud, you don't have to mess with loading photos on an SD card.
The price is right
Last but certainly not least, the Lenovo Smart Display absolutely kills it when it comes to price.
For the 8-inch model, you'll need to hand over just $199. On its own, that's already a good price. When you compare it to the Google Home and realize it's just $50 more than Google's screenless-speaker and $30 less than the Echo Show, it becomes an even better deal.
The larger 10.1-inch variant is more expensive at $249, but it's still a much better purchase than the Echo Show despite the $20 price increase.
The 10.1-inch screen is certainly nice to have, but for most people, the $199 model offers the same experience in a more compact form factor. And, for technically less than $200, I can see a lot of folks picking this up as a Christmas present come the holiday season this year.
Why do you want the Lenovo Smart Display?
Those are the reasons why I think the Lenovo Smart Display is a better purchase over the Google Home, but what about you? Are you excited for the Smart Display future or are you perfectly happy not having a screen for the Google Assistant? Let me know in the comments below!
Get the Android Central Newsletter
Instant access to breaking news, the hottest reviews, great deals and helpful tips.
Joe Maring was a Senior Editor for Android Central between 2017 and 2021. You can reach him on Twitter at @JoeMaring1.