In 2021, I want to see a truly mobile (and useful) version of Alexa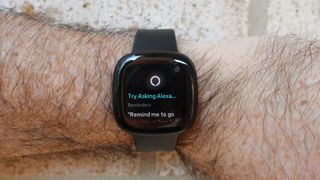 (Image credit: Jeramy Johnson / Android Central)
At the beginning of this year, before things went coo-coo pants crazy, I made a case for Amazon to resurrect the spectacular failure of its Fire Phone in order for Alexa to become a truly useful, first-class mobile assistant. While I stand by my belief that Amazon needs to continue to do everything it can to bring Alexa out into the real world to make it a universal mobile voice assistant on par with Google Assistant and Siri, I'm now less sure that an Amazon-branded phone is the way to go. Don't get me wrong, I'd still be interested in seeing what the company could come up with after six-plus years of hindsight, but it seems clear to me that the future for a more mobile Alexa is in wearables, not smartphones.
So as we look forward to positive changes in 2021, I wanted to take a look at the state of mobile Alexa vs. her competitors and speculate on how a truly mobile Alexa could thrive.
Competition
The mobile voice assistant wars have largely been won by the two biggest mobile OS platform owners, Google and Apple. Say what you want about Wear OS's glitches or Siri's shortcomings — I hear you. The simple fact is that both Android/Wear OS and iOS/watchOS are much more ubiquitous and capable of providing on-the-go assistance than Alexa currently is.
The Apple Watch SE and Series 6 are arguably the two best smartwatches available, and both feature easy access to full-featured Siri for assistance. Even though the Wear OS platform trails watchOS in many respects, it has continued to be updated with new features and functionality, and there are still several OEMs making some of the best Android smartwatches with Google Assistant support, such as Oppo, Mobvoi, and Fossil.
With the recent news that Google's Fitbit acquisition is going forward soon, we can expect that future Fitbits like the Sense 2, Versa 4, or whatever comes next, will no longer support Alexa as the Versa 3 and previous models have. Sure, Amazon still has a presence on other third-party wearables like the Wyze Band or others from Amazfit, but those experiences generally pale in comparison to what the first-party providers can offer.
Where-ables?
Amazon has been trying for the past few years to make Alexa more mobile through first-party devices and Day 1 Edition products, but it still has a ways to go to catch up to Google and Apple.
Amazon's first attempt at its own version of Alexa in the car, the Echo Auto, was kind of a dud in both its capabilities and its rollout (no pun intended). There have been a number of other similar third-party car accessories for Alexa, but they haven't fared much better. After CES 2020, I proclaimed that the time was right for a better Alexa Auto experience in 2020. While things are still slow-going, I do have hope that the company can continue to work with automakers (opens in new tab) in 2021 to integrate the assistant into future infotainment units to be more on-par with Android Auto and Apple CarPlay.
In 2021, will we finally see a smarter, version 2 of the popular Echo Buds? We've already seen version 2 of the Echo Frames (or at least, version 1.2). Due to size constraints and other limiting factors, these two accessories aren't necessarily suited for full Alexa independence, at least not by the end of 2021. But you know what could be? An Alexa-powered smartwatch.
Possible solutions
We've looked at how Amazon has tried to get Alexa out into the real world and how the competition is leaving her in the dust. So what can Amazon do about it? Well, I have a few ideas that could someday show up in a truly mobile Alexa wearable.
For years, Amazon has offered more expensive versions of its Kindle e-readers (opens in new tab) that offered "free" 3G cellular connectivity, worldwide. Wouldn't it be something if Amazon could find a way to offer this in a future wearable featuring Alexa, whether it was "included" in the price, available as a more expensive upgrade, or even as a non-essential but kinda essential add-on in the way the Halo subscription health monitoring service is to the Halo band?
Just think — anyone could get the more traditional mobile Alexa from this new wearable via a phone and Bluetooth connection, or it could even take advantage of the growing Amazon Sidewalk network in certain areas for a connectivity boost. Alternatively, you could pay something like a $20 premium for an upgraded version of the device and/or a small monthly fee to get "worldwide" 4G real-time connectivity with access to the full suite of Alexa features for $3-$4 per month. That's roughly what Amazon is charging for its Halo fitness subscription, and more importantly, it's about a third of what it costs to have a mobile plan for your cellular Galaxy Watch or Apple Watch.
Delivering a reliable data connection like this through Amazon could be seamless. It wouldn't need to be tied to an existing phone number; rather, it would be connected to your Amazon Alexa account in the cloud. This sponsored data method could be the key to freeing Alexa, though it would certainly have some scalability issues. There's a big difference between downloading a Kindle e-book over 3G versus streaming the latest Taylor Swift album on Amazon Music. Presumably, you would have already shared your contacts with the Alexa app (or have the opportunity to do so), so you could have the option of sending basic messages or emergency messages through Alexa, and you could, of course, stream Amazon Music, Audible, etc. (in addition to on-device storage).
Amazon is already working with third-party health and fitness services like WeightWatchers, OrangeTheory Fitness, Headspace, and Aaaptiv, just to name a few. What if it expanded those health and fitness partners from the Halo experience to a new Alexa fitness wearable and brought on other tracking partners like Strava and MayMyFitness. This could encourage more widespread adoption and usage of such a device, particularly if you could ask Alexa to document your meal or start a workout (like you now can with Echo Buds!).
2021 is almost here, Alexa!
It should come as no surprise that I would be at the front of the line to try out an Alexa smartwatch or next-generation wearable. Would you? If not, what direction do you expect Amazon to take over the coming year to make Alexa more mobile? Share your thoughts in the comments below!
Get the Android Central Newsletter
Instant access to breaking news, the hottest reviews, great deals and helpful tips.
Jeramy is the Editor-in-Chief of Android Central. He is proud to help *Keep Austin Weird* and loves hiking in the hill country of central Texas with a breakfast taco in each hand. You can follow him on Twitter at @jeramyutgw.
So after using all the voice assistants for an extended period, it is painfully obvious that Google works far better than Alexa but everyone is so hung up on Alexa. I can't tell you how many times I have to repeat thing for my fire TV's to hear me and even when they do, it does some other command. "Alexa, change the channel to ESPN"
The b**ch opens the ESPN app. "Alexa, change the channel to 23"
It is currently 23 degrees and snowing Wtf

I use Google Assistant almost exclusively (Bixby on my watch, due to no option) and if it's really that much better, then the situation is frankly pathetic. Because it sucks.

Alexa is pretty brutal in the house never mind mobile. My Echo dot gets used for controlling my living room TV and that's it. Google Assistant in every room in the house plus phone are far more useful and reliable

Why would anyone want to pay $ 4 a month for mobile Alexa when they already have a mobile assistant they probably don't use?

This article perfectly describes what we are building with TalkSocket. We've also got a few more tricks up our sleeves that you didn't cover yet. https://voicebot.ai/2020/09/10/talksocket-wants-to-bring-always-on-hands...

I would love a truly mobile Alexa experience. We are almost exclusively an Alexa household and love it. We have 5 people in our house, all different ages, and all of them have no issues with Alexa. Google assistant is good too but not as capable for our needs. Plus everyone hates saying "hey google" which I know sounds petty but you gotta keep the family happy. Alexa controls our tvs just fine and controls our smart home stuff perfectly. Come on Amazon you can produce this.