Picture this: the zombie apocalypse is happening. You have to evacuate. You run to your driveway and notice a flat tire. What do you do? Give up, succumb to the zombies, and die? Nope. You grab your $9.89 Tacklife 12V Tire Inflator that you bought on Amazon with coupon code N4N7CAB8. You inflate your tire, and you hit the road, leaving the zombies in the dust.
This inflator sells for $22 when it isn't on sale. There aren't any reviews yet, as this is a new product, but other options from this brand have great reviews and we don't expect this one to be any different. At only $10 it's a small investment that could pay off big time. Just like emergency blankets and road flares, a tire inflator is one of those things that you'll be glad to have when you need it most. You'll get free shipping with your purchase today by spending at least $25 or using Amazon Prime.
Pump It Up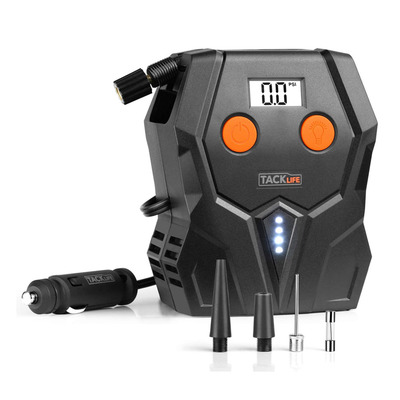 Seriously, though, every vehicle should be equipped with a portable air compressor. This model makes it really easy to add more air to your tires. You just plug it in, set the ideal PSI, and let it do its thing. At only $10, it's a steal.
$9.89 $21.97 $12 off
This compressor is really easy to use. Simply plug it into your car's cigarette lighter outlet and attach the nozzle to your tire's tube. Select your desired PSI and turn it on. It'll automatically inflate your tire until it reaches the PSI you selected. The large backlit screen lets you see what's going on, and it can even double as a flashlight. The portable design makes it easy to stash this in your trunk. It would work well for other inflatables, too, like bike tires or swimming floaties. You'll get a few different nozzle tips as well as a year-long warranty with your purchase.
We may earn a commission for purchases using our links. Learn more.