ZTE Geek announced again, this time with Tegra 4 and 1080p display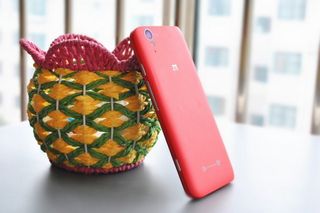 Rather than watch its flagships be leaked over and over again, ZTE has jumped out in front of speculation and announced the ZTE Geek, the world's first Tegra 4 phone. The name "Geek" may ring a bell, and that's because ZTE had previously announced this device back in April as an Intel CloverTrail+ processor device. Following leaks of a "ZTE U988S" device that looked very similar, ZTE spilled the beans today that the ZTE Geek will indeed be a Tegra 4 device, with a few other subtle changes from the original announcement.
This updated ZTE Geek, which is headed only to China Mobile for the moment, bumps up the 5-inch display's resolution to 1080p from 720p, the camera to 13MP from 8MP and will be the first phone to run a 1.8GHz quad-core Tegra 4 processor along with 2GB of RAM. Because this red Tegra 4-powered version will be exclusive to China Mobile for the time being, we're not sure about the fate of its original Intel-powered predecessor or the international availability of either handset.
Source: Engadget
Andrew was an Executive Editor, U.S. at Android Central between 2012 and 2020.
ZTE and flagship don't belong in the same sentence.

Yeah, I'm not "feelin' it".

Specs beat the rumored Moto X. There's a Moto X forum that asks the question, what would make the Moto x disappointing or why would it not be considered a flagship device for Google. Well this is why. Because the specs on other devices, even minor players like this ZTE, are going to be better.

It's a flagship device because of its features. The original S4 chip is still powerful and they upgraded the GPU from 225 to the 320, not to mention 2GB of RAM.
You have to realize the Moto X is far superior to the GSIII with just the GPU and Voice upgrades. Put that together with pretty much stock Android.
Wow!
I'm running an AOKP ROM on my GSIII right now and it fly's. Now if I could only get an upgraded GPU and Voice. Posted via my themed "WHITE DRAGON" LiquidSmooth Sprint GSIII.

If you think your S3 flies on a AOSP, you should see it on an AOSP device. My LTE gnex with a an optimized AOKP build and franco kernel was rock solid stable (of course)and much faster than my not so stable SGS3 on AOKP despite the "slight" hardware advantage. So far, I've yet to use any device that comes even close to as fast and smooth as AOKP PUB (aokp optimized for the S4 pro) and franco M3+...and I certainly try to find it. Doubt that'll change until the N5 (since AOSP S4 and One haven't). It's nearly instant. Can't get much faster than that. Curious to see how the Moto X performs as they're focusing on optimizing the software to the specific hardware (much like my PUB build on N4). It's all about the software (ala Apple doing "more" with less specs)

Except for like 90% of the population specs might as well be magic talk. They just want a phone that works well, which the Moto X probably will.

my next phone will have a tegra 4 chip.... but not this one

Still cheap chinese crap. Bad enough my country bugs my conversations, dont need the communists to do the same

It's a twofer! Posted via

Just not feeling the Tegra 4 in a phone. Is it just me? Posted via Android Central App

Seriously, why? Nexus 7 with Tegra 3 is pretty nice. Posted via Android Central App

Just seems Qualcomm is killing it with their Snapdragon chips. They are in all of the most popular phones making the idea of creating Tegra optimized games less & less unlikely to me. I just think the T4 will be like the T3 was with phones with a few devices here & there available with the chipset. Maybe I'll be wrong. Posted via Android Central App

The HTC One X had Tegra 3, and it was a great phone. Posted via Android Central Beta App on Manta.

I'm not saying it would make a phone bad, in fact I think the opposite, it's just Qualcomm seems to be doing things better on the phone side and it seems the people making the phones agree. Posted via Android Central App

A 5.5" phone w/ 1080p screen, Qi wireless charging, onscreen navigation buttons, Tegra 4i @ 2.2+ GHz, NFC, WiFi ABGN+AC, HSPA+/LTE (AT&T + Tmobile), Bluetooth 4.0 LE... Thats my ideal device.
Until this "Über-phone" comes about, I think I might stick with my Nexus 4/Nexus 7.

Tegra gots to prove its self again Posted via Android Central App
Android Central Newsletter
Thank you for signing up to Android Central. You will receive a verification email shortly.
There was a problem. Please refresh the page and try again.