YouTube Music's new Play Music-inspired library design is now rolling out widely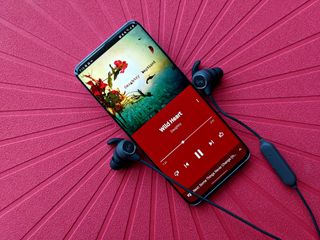 (Image credit: Ara Wagoner / Android Central)
What you need to know
Google is pushing out an update to the YouTube Music library.
It now works a bit more like Google Play Music used to.
Songs you add to your library will now have their artists automatically added to the Artists list.
While a valiant effort by Google to take on the likes of Spotify, YouTube Music clearly needs a lot of work before it can truly hold its own against the incumbents in the streaming industry. It's been working toward that goal with blazing speed, though, adding new features all the time.
But sometimes older is better. Case in point: the latest update to the organization of the library in YouTube Music (via Android Police). The Google Play Music app that succeeded it did a perfectly good job of organizing your library, and in the transition to YouTube Music, Google kind of mucked it up.
So, it's taking a cue from its older product, and making the library a bit more like it used to be. In doing so, it's also solving a number of gripes users had with the product. For example, if you added a song to your library, its artist would not automatically be added to the Artists list in the library. That's now fixed.
What's also been fixed is that if you add a bunch of songs to your library in the form of an album, the individual songs will now also show up in the songs section of the library. I know! It's amazing that this wasn't true before.
The update is seemingly rolling out server-side, so while one lucky Redditor is already showing it off, your luck may vary. Just hang tight, and I'm sure the Google gods will grant you their favor soon enough.
Update: Rolling out widely
Android Police reports (and we can confirm) that the interface update has started rolling out widely to more devices. YouTube is also rolling out a new interface design, though that (and the new Explore UI) are separate affairs to this one.
It would be nice if they could migrate your Play Music info to YT Music

I think they are going to discontinue play music at some point.

I like this app, but I won't move until I'm able to migrate my library and playlist over.

Google has a bad "I can make it better from scratch" habit. Instead of updating a good product and making it better, they start over and don't always equal what they had. See Play Music vs YT Music, Hangouts vs Allo/Duo/<insert other messaging they have tried>

That's one thing fixed. Now we need Recents and library/playlists migration from GPM.

Are you looking for a way to get high quality songs of any genre? Learn how to get them at https://www.cleanyloves.com/gratisindomp3/

This is completely stupid. Now if I have any song in any playlist the artist is added to the Artist list no matter what (which I hate). So why also have a Subscription list as well. Also now I noticed sorting is broken on most.

I've been cautious to add anything to my "library" in YTMusic ever since I went through and did that when the service launched, then realized that it filled my regular YouTube subscriptions with a bunch of musician's channels. If they're gonna make YouTube Music a thing, they really need to separate it out from my regular channel subscriptions.

Oh wow, I'm glad I read the post. That's the last thing I want on YouTube!

I like YouTube Music but it is still not ready to truly succeed Google Play Music. Still has problems and the it doesn't always play your music in a full loop. It's music library gives it a whole lot of potential but it still needs more time.
Android Central Newsletter
Thank you for signing up to Android Central. You will receive a verification email shortly.
There was a problem. Please refresh the page and try again.