You'll soon be able to use Allo's web client independent of your phone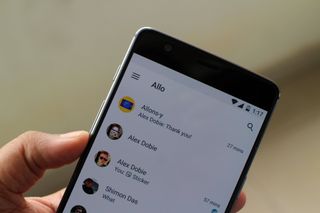 In Google's neverending quest to create the perfect messaging service, Allo is one of its most interesting attempts. There's a lot that Allo gets right, but at the same time, there are features that are totally absent that you can find in Hangouts and Google Voice.
Allo finally got a web client last August, and while this was a step forward, it has one big caveat — you need to have your phone turned on and connected to data/Wi-Fi in order for it to work. Thankfully, according to the head of Google Duo, Justin Uberti, this is something that should be changing in the near future.
When asked about this on Twitter, Uberti said:
Yes, we are in the process of migrating the backend system to support completely independent devices.Yes, we are in the process of migrating the backend system to support completely independent devices.— Justin Uberti (@juberti) March 8, 2018March 8, 2018
Once Google implements this change, you should be able to use Allo on your computer without having to touch your phone. This is something that should have been there in the first place, but as the saying goes, better late than never.
Download: Google Allo (free) (opens in new tab)
Joe Maring was a Senior Editor for Android Central between 2017 and 2021. You can reach him on Twitter at @JoeMaring1.
This is good, but they really need to implement allowing users to sign in from multiple devices concurrently. Not just from a web browser. I should be able to log on from my iPad and also from my Android phone if I want to, for example.

At this point I'm more interested in RCS for Android Messages.

SMS Integration or it's not worth it at this point.

So, is this going to be a Chrome extension? I will give it a shot once it arrives. I'm interested.

This is good. I like Allo but Google makes it a little too complicated to use.

This is coming along. A little too slowly, but I love using it.

Exactly. Nowhere in that tweet does it say "soon" or "near future" - just that they're working on it. Probably announce at I/O and we'll get it in October when the Pixel 3 comes out.

Android messages, Duo and Allo should be one application. It makes no sense to have to use 3 different apps.

Does anyone use Allo or Duo?

It's too little too late. I've often wondered why Google constantly introduces half-baked apps without improving things that already exist... the answer can be found in Michael Lynch's post: "Why I quit Google". I'd post the URL, but apparently that isn't allow here. Just do a search and you'll find it. Basically, you aren't rewarded for fixing or improving things... you are only rewarded for new shiny objects.

This is a good sign. It seems that Google is super slowly trying to make one really good integrated messenger. Duo is an excellent app, imho tithe best they make, Allo is nearly great, with the obvious glaring flaw. Messages it's ok but really far behind most other text apps is doing the basics. I wonder if they are taking their time because they are trying not to be sued for copywriter infringement.

I wish Google's never-ending quest was to make ONE perfect messaging system, not half a dozen.

Big assumption on my part, but it feels like they are trying for a wechat competitor

Do I still have to use Chrome if I want to use this?

Does Allo come with default end to end encryption? Else not worth it
Android Central Newsletter
Get the best of Android Central in in your inbox, every day!
Thank you for signing up to Android Central. You will receive a verification email shortly.
There was a problem. Please refresh the page and try again.