You may not think you need a phone case at home, but you really, really do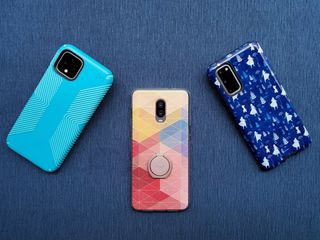 (Image credit: Ara Wagoner / Android Central)
Our days are looking quite different than usual right now. Mine have actually changed less than the average person since I already worked from home — I just can't pick up and go work from Walt Disney World for a few hours when I get tired of my boring apartment. While we're all spending much more time at home than normal, our phones have become even more of a lifeline than they normally are.
We're video-chatting with our family and friends, we're using apps and games to help fill the time we'd normally be out for a pick-up game down at the park, and we're using fitness apps to try and keep ourselves healthy. And since shipments of phones have been delayed as retailers try to prioritize essential goods, if your phone breaks, you could be waiting weeks for the replacement to show up.
If ever there was a time to get your phone a protective case, it's now.
The only time I've given myself an "OMG I just dropped my phone and that sounded PAINFUL" heart attack in the last few years, it slipped off the bathroom counter onto the tile floor, landing on the right edge. Thankfully, it was wearing an ArmadilloTek case, so it was perfectly fine.
That said, drop protection isn't the only thing a case offers up: there are several other factors to a case that are really important when you're using one for hours and hours every day in close quarters.
Get a grip
Every few years the material that covers the back of our phone changes to the next en vogue thing, but right now we're still firmly in the glass era. Glass allows for better compatibility with wireless charging and cellular radios compared to metal, and it's more premium in the hand than plastic. Unfortunately, while we keep making advances to make glass more durable, it's still prone to shattering.
More importantly, while glass can be textured, glass phones are slippery as eels and you need to put on a case just to keep a stable grip on one for more than five minutes.
The most important aspect of a case. in my mind. is not drop protection — but grip. After all, if your case has good grip, you shouldn't ever need to test the drop protection claims. A case with good grip on it is also healthier for your hands: if you can easily hold a phone just by the back and sides, you'll be less likely to use an unhealthy hold on your phone like pinky-propping.
Of course, you could always use a phone grip, but I really recommend attaching those to a case rather than directly attaching them to your phone's backplate.
A clean case makes a happy phone
People love to throw around the "your phone is dirtier than a toilet seat" line — and don't get me wrong, PR firms just love to do it, too — but right now when everyone is doing everything they can to keep everything clean and sanitary, a sturdy, long-lasting phone case is another line of defense against germs.
I'm not saying everyone should go buy anti-microbial cases, because while their microbe-killing prowess could possibly be beneficial, they are required in their fine print to specifically say that they do not kill disease-causing bacteria and viruses. I've been keeping my anti-microbial Tech21 cases is heavier rotation with my Galaxy S20 for the last month, but that's because they're pretty and have good grip.
How a case keeps your phone clean and you healthy is that you can take off a case and wash it the way that you can't wash a phone: in warm, soapy water for 20 seconds. This is where TPU and good ol'-fashioned polycarbonate are actually better than leathers, metals, and woods for a phone case: plastic and silicone can hold onto germs for days, but they'll easily let go of them in a quick wash and dry.
And, of course, if you want to kill everything living on your phone and your case, you should invest in a UV phone sanitizer that you can use to kill germs on your case and on your phone. Just remember that you should run the case and the phone through a sanitizer separately so germs don't hide between the case and the phone.
Show your spirit
I'm not going to sugarcoat this one: being stuck inside for weeks at a time with only time outside to grocery shop and maybe walk around the block.... again.... for the twentieth time this month? Yeah, that sucks. And while there's a lot of ways to try and help keep your spirits up, one of the ones that puts a smile on my face every time I see it are my Disney phone cases from Skinit.
While a solid colored case can still have personality, like the bold and beautiful Tech21 Studio Colour (opens in new tab), franchise designs with trademark characters and teams can help pick us up during a time when we can't go out to the movies and all sports are postponed. Bummed that you can't go to a Red Sox game? There's a case for that. Woeful that Wonder Woman 84 is delayed? There's a case for that, too! Like your current case too much to switch? That's what PopSockets are for!! (opens in new tab)
Hell, I'd be happy if you just stuck some waterproof vinyl stickers on your current case (opens in new tab) so long as your case is big enough for the sticker to be completely flush with your case and not hang over the sides. (If it hangs over the sides or has any creases, germs can get into and hang out in the adhesive where it's exposed.) But since you can't spend money on movie or game tickets right now, spending them on a festive case doesn't sound like a bad alternative, does it?
Whether you need some cheering up or to keep your phone clean and safe, there's absolutely no reason to let your phone go naked even at home. Not only is having a case on your phone the sensible thing to do, but a happy case might also help keep you sane. And I'll take every advantage I can get right now; shouldn't you?
How I'm using my Fitbit to stay healthy during self-isolation
Ara Wagoner was a staff writer at Android Central. She themes phones and pokes YouTube Music with a stick. When she's not writing about cases, Chromebooks, or customization, she's wandering around Walt Disney World. If you see her without headphones, RUN. You can follow her on Twitter at @arawagco.
I still go with the phone naked when I can! It just feels SOOooo good.
I do have 5 or 6 cases, but I use them when I know the phone is at risk, or when going into a hardcore gaming session. Favorite for gaming is the Ringke Fusion. On top of that, there's a SLIGHT difference in available choices, lol. Amazon search for S20 cases: Eight thousand.
Amazon search for U12+ cases: Twenty three.

Don't let your phone be a streaker! PUT ON A CASE! I can't help you with selection; I wish there was a way to fix that.

But does it matter if it's a streaker if no one is looking? 😉
I did find another case today with a kickstand, which brings the total number of kickstand cases to 2, lol. It's ugly, but I ordered it anyway because I'm bored. Speaking of bored, what are you doing with yourself now that the Magic Kingdom out of the picture?

Listening to park music and eating lots of discounted Easter chocolate as I cry myself to sleep? lol? Actually, I'm watching lots of stuff on my NVIDIA Shield TV, listening to park music, playing Disney Sorcerer's Arena, and eating chocolate.

Guacamole and chips for me. I finished my last raspberry chocolate bar, and opened what I THOUGHT was dark chocolate truffles, only to find out they were salted milk chocolate. Disappointed!

True. Personally I never drop my phone outside, i drop it at least a couple of times a week at home though lol.

Wow, just found a Batman case made of aluminum, with a bat-shaped kickstand. NFC is not gonna work at all with that thing, but it's still cool.

Metal cases will screw with all your wireless radios unless they're exceptionally well designed. Not worth it.

You're totally right, and the thing looks like it would weigh half a pound!

I have 3 cases for my Note10 +. 1) Spigen Neo Hybrid
I love that herringbone design on the back. It gives the phone texture so it doesn't slip, yet remains slim with good lip protection. 2) Gear4 Battersea
This is the best case I own. It has that D30 moldable shock absorbtion inside that is great for drops, and the outside bumper has a soft rubberized grip. The back has a fingerprint style ridge pattern. This case is solid, yet a tad expensive. 3) Galaxy Friends Deadpool Rugged Smart case.
I just got that one as a guilty pleasure. In this day and age, unless you are a perfect human, outside of personal preference, you need a case. You spend $1,000 on a phone, I would think you'd want to protect your investment.

That Deadpool case looked so sick, but I couldn't bring myself to buy any more cases because I'd already been sent dozens (and I knew I was going to trade in the Note 10+ for the S20, which I did)

I hate to take away from the design of the device, so I apply skins on phones with slippery backs, like my Note9, for grip instead of using a case. My Pixel 4XL on the hand doesn't necessarily need a skin to aid with grip or minimize fingerprints, but I don't like the white back, so I slapped a skin on it. I haven't cracked a screen yet, but if I ever do, there's insurance for that.

Seldom use a case, waiting for a phone that has a case type back.

I went through my history, and I purchased 6 cases for the U12, including the one that arrived today. For someone who does not care for cases, I sure have a lot! However, I believe I order so many because I'm hard to please in that department. Today's case was, ironically, by Nakedcellphone. It's a rubberized black plastic case with a kickstand that can be used in portrait or landscape, and the angle is perfect for video calls in both orientations. Downside is that the case is slipperier than the phone, and I dropped it the first time I used it! NOT a good gaming case, as the sharp edges dig into your fingers.

One good reason to get a case: keeping resale/trade-in value. Even if you never drop your phone, without a case it can still pick up scratches. I have a clear ESR case on now & a Moko shockproof for when I travel (Galaxy S20U).
Android Central Newsletter
Thank you for signing up to Android Central. You will receive a verification email shortly.
There was a problem. Please refresh the page and try again.